In the United States, Built for Zero is now a movement of 105 communities committed to measurably and equitably ending homelessness. More than 70 million people— about a fifth of the U.S. population — live in these communities. Together, their leaders are building a new reality where homelessness is rare and brief, if it ever occurs.
---
What kind of communities are in Built for Zero?
22 Large Cities
34 Midsize Cities
11 Rural
17 Small Cities
20 Suburban
2 Other (*The two communities in this category are West Virginia Balance of State and Downtown Cincinnati.)
---
Our Aim
Our goal is to marshal overwhelming proof to drive a tipping point across the country. By 2026, at least 50 U.S. communities will have reached functional zero homelessness for 75 populations, including veterans, youth, families, single adults, and people experiencing chronic — or long-lasting or recurring — homelessness. Five of these communities will have proven it is possible to make homelessness rare and brief for everyone.
---
Our Approach
We recognize that the myth that homelessness is intractable is a powerful self-fulfilling prophecy. In partnership with a movement of communities, we are proving that homelessness is solvable.
Ensuring homelessness is rare and brief requires systems that can help people exit homelessness quickly and positively (outflow) and prevent people from becoming unhoused in the first place (inflow). As part of this work, we help communities implement the essential features of a resilient, effective, and equitable homeless response system that can dynamically respond to homelessness.
We have found that there are seven features of local housing/homelessness response systems that can effectively reduce and end homelessness:
A shared aim and belief that homelessness is solvable
A collaborative, community-wide team that is accountable for reducing and ending homelessness
High-quality data that support a culture of continuous improvement
An aligned system wherein all providers:

Allocate housing and services through a single process and according to shared protocols (also known as a coordinated entry system) and
Participate in recurring, collective problem-solving efforts to remove barriers to housing (also known as case conferencing)

Establishment of a racially equitable homeless response system
Policy mechanisms to clear structural and administrative barriers to ending homelessness
Strategic, data-driven investments to reduce homelessness long-term and flexible financial resources to clear immediate barriers to housing
Communities in Built for Zero focus on reaching functional zero for target populations as steps on the way to achieving functional zero for all populations. A study by the Urban Institute found that reaching functional zero for one population sets up the community to make progress for subsequent populations.
---
Landscape
In 2022, organizations and agencies working to reduce and end homelessness struggled to absorb an influx of federal resources as a confluence of factors impacted their overall operations and capacity. In every city and county across the country, the workforce for health and social services has been depleted, with attrition outpacing hiring. Based on a national survey conducted by the National Council of Nonprofits in 2021, 26% of nonprofits reported vacancy rates between 20-29%, with human-service jobs constituting most openings. This trend continued throughout 2022 and had a tremendous impact on homeless services. Senior leaders in Built for Zero communities expressed that insufficient staffing capacity was among their most pressing and ongoing challenges.
As these organizations struggled with diminished capacity, communities continued to absorb a significantly increased influx of Covid-related federal funding. Despite the opportunity presented by the resources, many communities were not set up with the staffing, support, and processes to effectively allocate and expend the resources to drive lasting and measurable change. This phenomenon highlighted the critical importance of not only having sufficient resources to end homelessness, but having the organized, coordinated, and sufficiently supported systems to deploy them to achieve measurable and equitable reductions in homelessness.
In 2022, Community Solutions made investments in Built for Zero communities to support new system-level positions and broadened its strategy for improving communities' ability to attract, hire, and retain staff dedicated to improving systems. More on those efforts is detailed in Solving Key Data and Collaboration Challenges.
In the 2022 Annual Homeless Report, the U.S. Department of Housing and Urban Development estimated that throughout this period, rates of homelessness — specifically unsheltered homelessness — continued to rise, particularly in large cities on the West Coast.
These circumstances could easily paint a picture that feels overwhelming and dire. But despite the challenges that local leaders face, a sample survey of Built for Zero communities found that 90% were "hopeful" to achieve functional zero. In findings from our evaluation partners — ORS and Equal Measure — and our own analysis, we see not only reason for hope; we see clear progress toward ending homelessness.
---
Milestones
Communities that have reached functional zero: 14
Number of functional zero proof points: 17

12 for veteran homelessness
5 for chronic homelessness

Communities that have achieved quality data: 64 of the communities in Built for Zero have achieved quality data
State partners: 2 (Colorado, Maine)
Number of people housed by communities:

13,917 housed in 2022
155,997 people total housed since 2015
---
Progress
Since 2015, 14 communities in Built for Zero have achieved functional zero for one or more populations, and numerous communities are on the path to achieving functional zero in the next year.
As of 2022, Community Solutions is a little more than one-quarter of the way (28%) toward its aim of helping at least 50 communities that have achieved functional zero or at least one population. With some communities achieving functional zero for multiple populations, this group has achieved functional zero for 17 populations.
In 2022, 20 communities achieved a downward shift, which means that a community has made a measurable, meaningful reduction in homelessness and a major improvement in their system. A shift occurs when six data points in a row fall above or below the median — in this case, the number of people experiencing homelessness over the course of six months. This downward shift would with statistical confidence indicate that the baseline state of the system (or the definition of normal) has changed.
Currently, there are 13 Built for Zero communities in the last mile of functional zero, indicating that they are on the path to achieving functional zero within the next 12 months. Communities in the last mile have consistently reduced homelessness and have a community-wide commitment and strategy to reach functional zero.
To date, small-to mid sized cities and rural and suburban communities have made the most progress in achieving functional zero. The 14 communities that have reached functional zero for at least one subpopulation are rural communities, small, and mid-sized cities, or suburban communities.
Three large cities made significant reductions in their veteran homeless populations (-27% on average from 2020-2022) and have substantially strengthened their homeless response systems to improve coordination and care across multiple programs and systems. These reductions are significantly higher than the national reduction in veteran homelessness over the same timespan (11%). Community Solution is working with 22 large cities, which include 21 of the 50 largest cities in the United States.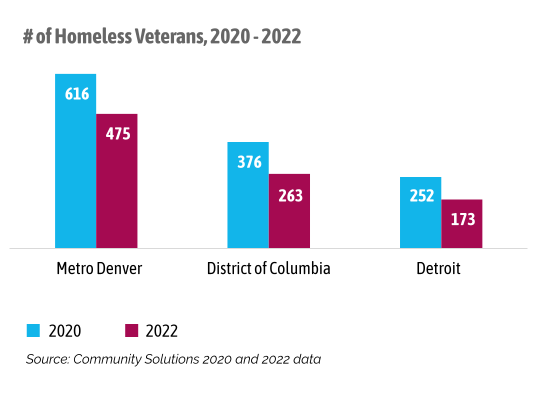 No community — in Built for Zero or in the country — has yet solved homelessness for all populations, but a select group of communities are making progress toward this goal. As communities in Built for Zero worked toward functional zero for veteran and chronic homelessness, they raised the fact that there was no definition for solving homelessness for all populations — within Built for Zero or outside of it.
"We were getting a little frustrated as we worked toward zero for all," said Jennifer Jaeger, Community Services Director at the City of Rockford, the first community in the country to achieve functional zero for both veteran and chronic populations. "There was no way to measure our progress. We were finding our way in the dark."
In December 2020, Community Solutions began working with 14 Built for Zero communities and a group of individuals with lived experience of homelessness to understand what it would take to prove that homelessness had been solved for all populations. In October 2021, Community Solutions presented a definition that captured our thinking to date with the communities in Built for Zero as part of our Learning Session.
Community Solutions is tracking the progress of the cohort of communities that are farthest along in their journey to functional zero for all populations. It is probable that the nation will see the first community reach functional zero for all populations in the next year.
"You start digging in and most of what you find is problems," said John Meier, a leader in Abilene, Texas, a community that has reached functional zero for both veteran and chronic populations. "You get disappointed and wonder, 'How have we been operating like this?' But without the challenge of ending homelessness for all populations, a lot of these problems would stay in place. It's an opportunity to dig in and make sure we're doing continuous improvement on the overall system."
Communities are creating systems of stronger coordination and collaboration. Our external evaluator assessed data from 65 Built for Zero communities and found expanded ownership and collaboration across these communities, enabling them to better understand and effectively address homelessness. One example is the significant progress throughout the Built for Zero network in improving outreach to people experiencing unsheltered homelessness in a manner that helps to ensure that all unhoused people across a geography are known by the system responsible for connecting them to housing.

Communities are making progress toward functional zero through other backbone intermediary organizations supported by Community Solutions. The movement to end homelessness is greater than any single organization. Community Solutions partners with other field catalysts operating domestically and internationally to support communities beyond our immediate reach to achieve functional zero homelessness. We provide tools, design, strategy, and coaching support to these backbone organizations and regularly exchange learnings to strengthen the global movement to make homelessness rare and brief. Internationally, Community Solutions provides design and strategy support to the Australian Alliance to End Homelessness and the Canadian Alliance to End Homelessness, which are supporting national campaigns modeled on Built for Zero to help communities reduce and end homelessness. Two communities in Canada — London, Ontario, and Medicine Hat, Alberta — have achieved functional zero for a population, and two more are in their "final kilometer" of achieving the milestone. Community Solutions also provides similar advisory and initiative design support to early-stage efforts in the United Kingdom, France, and Denmark.
---
Challenges and Learnings
Establishing community-wide accountability for reducing and ending homelessness is an essential component of getting to functional zero. In every community, there is a constellation of organizations and agencies working to serve the homeless population. Regardless of the quality of their individual programs, organizations working in silos cannot see the entire picture of homelessness in their community or alone drive population-level reductions in homelessness across an entire geography. Organizations must learn to function as a coordinated system to ensure that the entire unhoused population is accounted for and that their collective efforts are equitably driving that number toward zero.
Communities reported that establishing this community-wide accountability requires overcoming structural, operational, and even interpersonal barriers. Operationally, communities noted the challenge of ensuring that changes or turnover among leaders or champions do not interrupt the work and the commitment to collective accountability for reducing and ending homelessness.
Structurally, organizations and programs are funded to provide or fulfill certain activities, such as outreach or sheltering services, rather than to drive overall reductions in homelessness. This reinforces the challenge of knitting together siloed programs into an effective, collaborative, community-wide system focused on reaching functional zero. Transforming disparate programs into a cohesive system can also require addressing partner misalignment in priorities and ideological differences.
Communities reported that the process of establishing a shared goal with shared measurable objectives has been essential to creating community-wide accountability and necessary collaboration at the program level. To reinforce the shared aim and commitment to collective accountability, some communities regularly report their population-level data and progress to the broader community.
Communities are also expanding and diversifying partnerships beyond what has historically been seen as their homeless response system. The team may now include health care providers; people with lived experience; schools and youth-serving organizations; public health agencies; landlords; departments of corrections; municipal departments such as police, fire and rescue and code enforcement; and state-level policymakers.
"If I don't know someone that has come to the health care clinic, someone in the fire department might know, or someone on the street might know," said Shelton Kay, Vice President Community Services of Crusader Community Health, a local partner in Rockford, Illinois. "And we really work collaboratively and partner to make sure that somebody knows these folks."
Not all communities that have reached functional zero are sustaining those gains over time. Ending homelessness is not a finish line. It is a standard that must be sustained. At Community Solutions, we celebrate the moment a community achieves functional zero — the milestone where communities have proven that they have measurably and equitably ended homelessness for a population. Getting to that moment is often the result of years of dedication from countless people. Acknowledging this momentous achievement is important for honoring that work and provides proof of what is possible. But leaders themselves will tell you that ending homelessness is not about a single moment of achievement. The work of sustaining an end to homelessness is a continuous practice.
"Sustaining functional zero is about our credibility of ending homelessness in the community and for the populations we serve," said Amanda Harris, Chief of Services to End and Prevent Homelessness for the Montgomery County Department of Health and Human Services in Maryland. Her community reached functional zero for veterans in 2015. "It's not enough to have achieved it on one day, to check a box, and forget about it. It's important we're able to keep our foot on the pedal."
According to their monthly data, over half of communities that have achieved functional zero are sustaining that achievement. In order to tailor our support, we conduct a regular review of community data and work with communities to understand the risks that are challenging a city's ability to ensure homelessness is rare and brief. The factors that threaten a community's ability to sustain functional zero were highly unique to each city or county. In 2022, examples of challenges included diminished workforce capacity and staff turnover, which in turn affected the community's ability to address competing demands on the system. Many communities also expressed the challenge of trying to sustain functional zero for one or more populations while simultaneously working toward that milestone for subsequent populations. To better support those communities, we are gleaning insights from communities like Rockford, Illinois, and the Gulf Coast Region of Mississippi that have sustained functional zero for multiple populations over the course of several years. We are also working with our evaluation partners to incorporate insights from a qualitative review of communities that have achieved functional zero in order to strengthen our definition of sustaining.
Our goal is to work with communities to ensure this is a sustained reality, and that by 2026, 90% of communities that have reached functional zero are sustaining those results and have the systems in place to sustain functional zero over time.