For John Meier, ending veteran homelessness is personal.
After serving in the U.S. Marines Corps, Meier experienced a layoff and then an eviction. With no other housing options, he slept in his car for three months.
Meier was able to escape homelessness, through the support of the VA and a dedicated case manager. He's grateful for the assistance and support he received, which helped him regain housing and then employment. Now Meier works to help house veterans experiencing homelessness in Abilene, Texas.
"I came into this field by personal experience. So I look at every homeless veteran, and think: that's me," he said.
On Thursday, Meier and his team at West Texas Homeless Network and Home Again West Texas announced that they've functionally ended veteran homelessness in Abilene. They also became the fastest community to achieve functional zero, Built for Zero's standard for measuring an end to homelessness, just 10 months after joining the movement.
Built for Zero communities like Abilene, Texas have made a commitment to ensuring that homelessness is a brief experience when it occurs for any veteran in their city — and never a sustained or defining part of someone's life.
"Abilene is a very caring and committed community to serving the people who live there and making sure everyone is taken care of," says Tiffany Hart, the Systems Change Coordinator at Texas Homeless Network. "That's not something we see everywhere."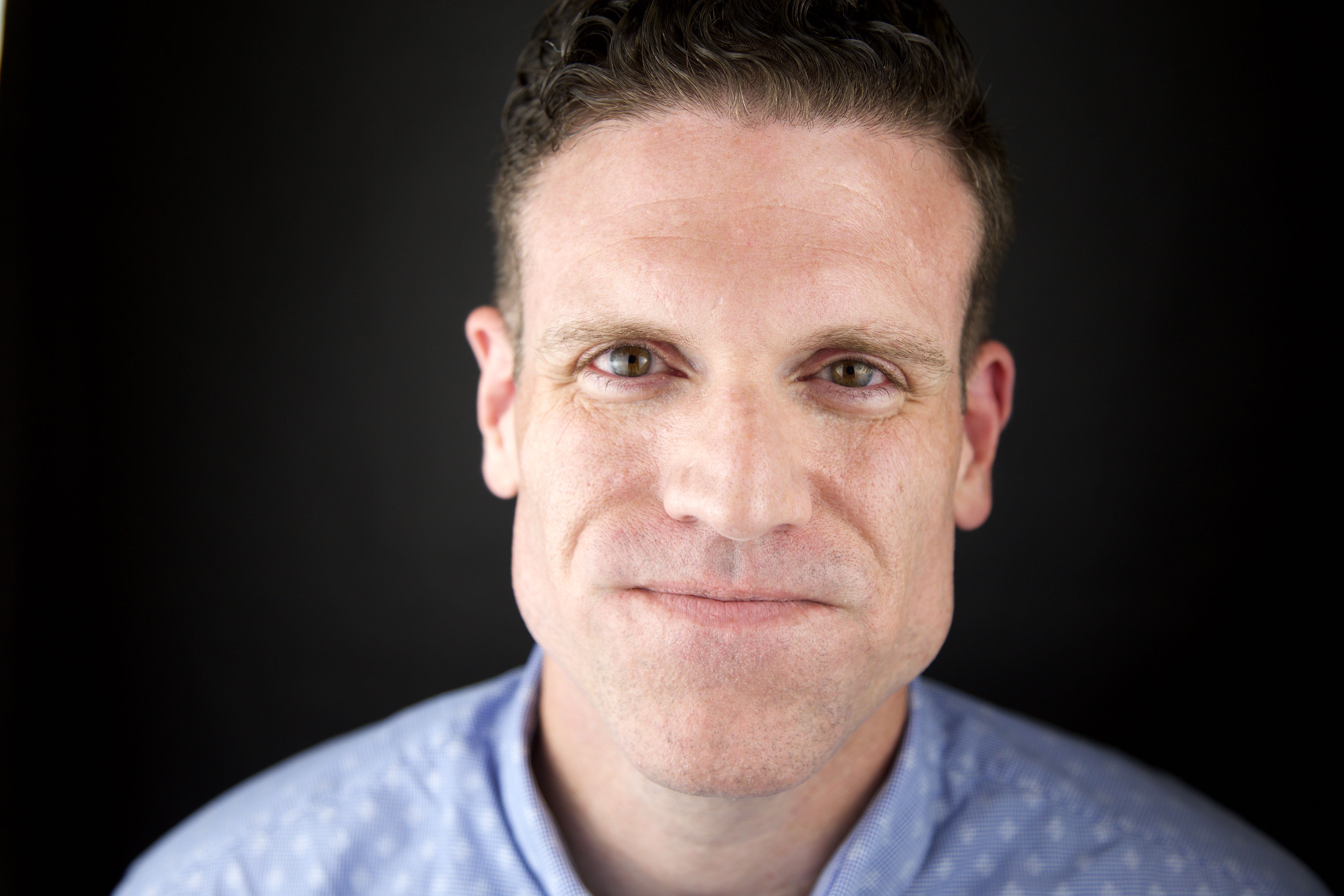 I came into this field by personal experience. So I look at every homeless veteran, and think: that's me.
-John Meier
How Abilene ended veteran homelessness
1). They made sure they'd accounted for everyone
First, Abilene had to find every veteran in their area experiencing homelessness. They met each person, learned what challenges they were facing, and collected this information in a by-name list. Using Built for Zero's assessment tools, they were able to ensure that they'd accounted for every veteran experiencing homelessness in their region and made sure that they were keeping track of each person who enters or exits homelessness there.
2). They worked together
In many communities, there is no single agency or organization accountable for ending homelessness. Abilene was like many communities where resources, efforts, and insight into the nature of homelessness were siloed across many agencies.
"People were operating and doing their programs, but very much alone," says Michelle Parrish, the grants director at the Community Foundation of Abilene.
All the agencies focused on homelessness in Abilene came together to form a command center. Their shared aim: ending veteran homelessness. They began meeting twice a month to start shrinking their By-Name List by making housing plans for every veteran. Each meeting, they reported on how many veterans were experiencing homelessness and what actions they could take to help them into housing. This regular contact and collaboration across agencies created accountability and momentum, as they saw the number of veterans experiencing homelessness dropping as a result of their actions.
"It's different now: the relationships between our providers, our local homeless coalition, our 211 director," says Parrish. "We really have ownership over our problem, our community. It wasn't like that before."
3). They tried new ideas
The shared accountability created through the command center "keeps people coming back," says John Meier, a program manager at the West Central Texas Regional Foundation. "The focus is continuously on the new goal put out in front of us and we're always looking at ways to meet that goal and improve our systems."
Armed with reliable data on every veteran experiencing homelessness in Abilene, the team tested strategies to better serve them. Some ideas were aimed at preventing more veterans from losing their homes, while others were designed to house veterans actively experiencing homelessness.
Working together, they improved their outreach to local landlords to expand housing access for people experiencing homelessness and piloted a new diversion script to use on their local 211 helpline, which would better assess if callers needed to enter into the homelessness system or if there were other resources that could help them. All the while, the Abilene team was tracking the progress of the veterans in their community experiencing homelessness, so they could measure which interventions were helping.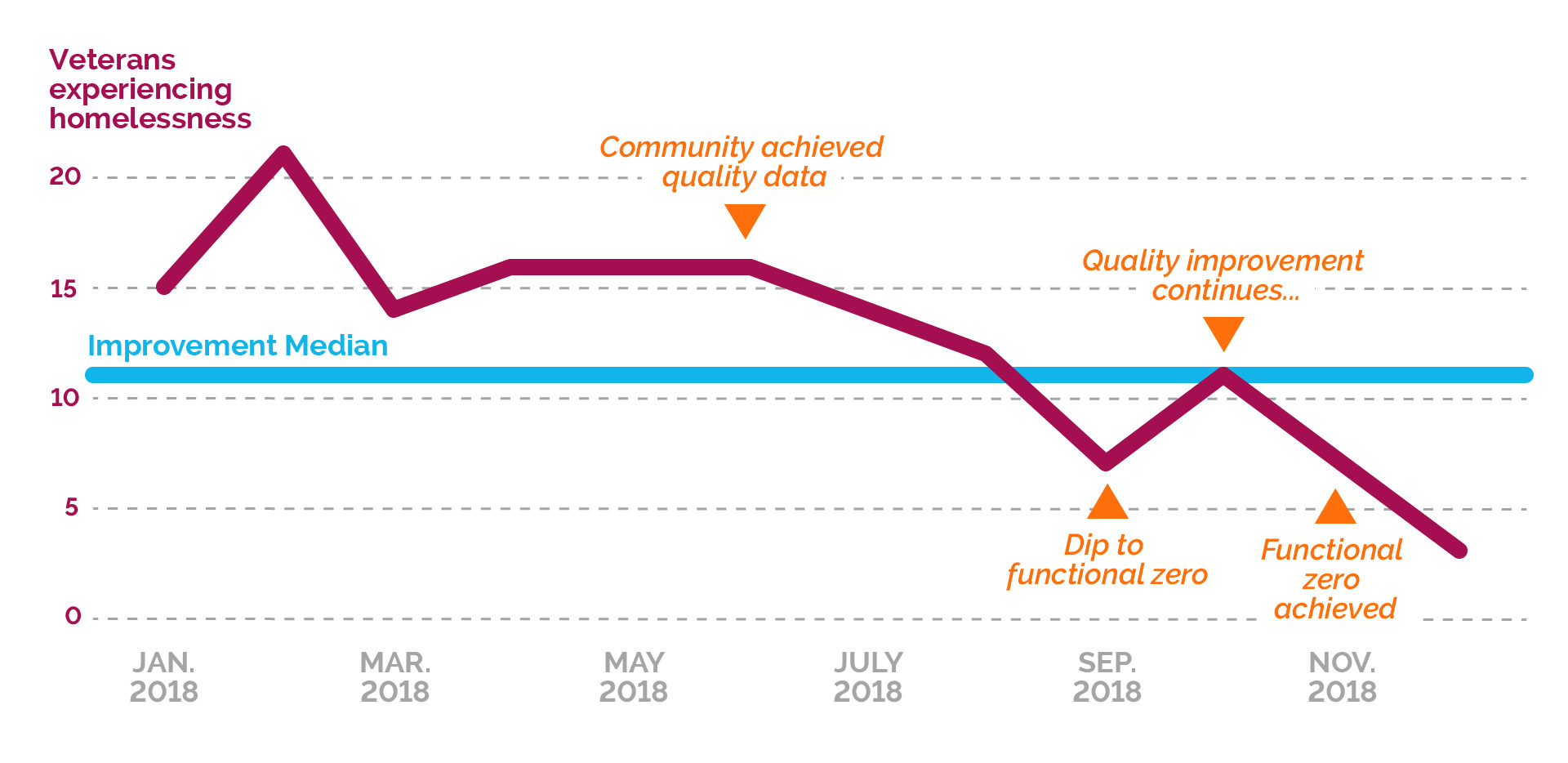 Taken together, these strategies worked: Abilene got faster at housing veterans experiencing homelessness, reducing the average length of time it took to place a veteran into housing from more than 40 days to 26 days. They kept the momentum going with creative new ideas to rally their community around their goals, like a 100-Day Mayor's Challenge to help them end veteran homelessness.
What's next
Now Abilene is focused on maintaining this achievement and working on an end to chronic homelessness.
They know their work isn't over. Functional zero isn't a destination— it's not like once a community achieves this milestone, they're done. Instead, communities must continually work to maintain this progress, adapting their solutions as the problem of homelessness changes over time.
"We're not done. I don't know that we'll ever be done," Meier said. "We're going to constantly shift and evolve to meet the needs of our population."