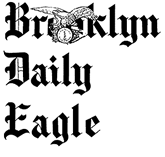 If you're looking for the "best" in Brownsville, you might start at the northeast corner of Livonia and Rockaway avenues.
There, in the shadow of the Rockaway Avenue station on the elevated IRT No. 3 line, with towers of the Tilden Houses looming nearby, you'll find a six-foot-tall, four-foot-wide sidewalk kiosk titled, on both sides, "Best of Brownsville."
On one side of the kiosk are four mini-murals, one bearing the image of an elderly man, another of a young girl, still another with the message, in large pink letters, "Yesterday I was, Today I Am," and the fourth imprinted with the words, "We Rise Together. I Am a Man."
On the other side of the kiosk, to the left, is a subtitle, "Brownsville Destinations," over text that reads, "What are the qualities that make a neighborhood home? The answer is different for everyone. In Brownsville, we're looking to showcase the very best of what we see in our neighborhood and give all of our neighbors a chance to answer this question through photography."
Down lower, more text says "The Best of Brownsville Photo Project is a public art installation under the Livonia Avenue elevated train track. For 11 months, Brownsville youth working with the Brownsville Community Justice Center will curate photographs taken by their neighbors on a rotating basis and publicly display them as the central aspect of the installation."
To the right of the text is a detailed map of the neighborhood, identifying both special points of interest and mainstay neighborhood sites, such as Betsy Head Park and Betsy Head Pool; The Stone Library/Brownsville Heritage House; the Project Eats Farm; the Brownsville Community Justice Center; the Van Dyke Community Center and the 3 Black Cats Café and Youthmarket.
On the map, the locations of neighborhood libraries are shown with an icon depicting a stack of books, the sites of public murals are identified with a paintbrush icon and local parks are labeled with a tree icon.
Also shown are the locations of local housing developments, including the Tilden Houses, Brownsville Houses, Seth Low Houses, Howard Houses, Langston Hughes Apartments, Glenmore Plaza, Van Dyke 1 and 2 and the Woodson Houses. They are displayed on a map of the Brownsville neighborhood roughly bounded by Newport Avenue, Grafton Street, East New York Avenue and Van Sinderen Avenue.
At the very bottom of that side of the kiosk is the legend, which says that the Best of Brownsville Photo Project is presented by The New York City Department of Transportation Art Program, the Brownsville Partnership, the Brownsville Community Justice Center and the Center for Court Innovation, ioby, a nonprofit organization, and New Yorkers for Parks.