Tanesha Travis has worked with Sacramento Steps Forward since March 2022 and is currently serving as the Partners with Lived Expertise Coordinator. In this role, she works to support the organization's partners with lived experience of homelessness, collaborating with them and the broader homeless response system. Prior to joining the organization, she served as a community advocate focusing on topics like human rights, Black Lives Matter, and the Anti Police-Terror Project, while also working as a racial equity educator in the union space.
Sacramento, California, joined Built for Zero in March 2019. As the lead agency in the Continuum of Care, Sacramento Steps Forward is responsible for funding, training, and support for all the providers within its homeless response system.
We're honored to have brilliant, dedicated Black leaders working to end homelessness in Built for Zero communities around the country. In this series, we're recognizing some of the Black leaders in the movement to end homelessness.
---
Can you share some of what do you do at your organization?
We've discovered that meaningful engagement involves integrating our partners as compensated colleagues in the work — from inception to design to implementation — and sharing power in decision-making spaces.

tanesha travis
I have a significant background with health care and operations, racial equity education, and human rights advocacy, so it's been a sweet marriage of all that experience in this job. I'm also a person with lived experience of homelessness — five consecutive years and a few subsequent bouts related to domestic violence, so in total about seven years of my life. Putting all those things together, this was a dream job for me to really take everything I've been through, all my experiences, and try to make this response system more equitable.
My role as Partners with Lived Expertise Coordinator involves all things that support our partners with lived expertise and liaising between them and the system. We began with a cohort of three partners and have grown to 10 over the last year. When we first started our work, we had a limited idea of what this program was going to be. We knew we needed the voices of persons with lived experience to drive this work, but we had no context or structure of how to do that.
Over the last year, we've really worked to define what meaningful engagement means. We've discovered that meaningful engagement involves integrating our partners as compensated colleagues in the work — from inception to design to implementation — and sharing power in decision-making spaces.
What are some things you are working on now?
Our Housing Problem-Solving Community Initiative has been a highlight in our community. We created a 42-hour program to train the trainer for our Partners with Lived Experience. The training focuses on technical pieces of housing problem-solving. Our partners know the human-centered, trauma-informed, and equitable approaches needed to create the foundation for Housing Problem-Solving conversations. They graciously share their experience to make these concepts very real for the providers that are taking the training. We hope to onboard six additional trainers this year as that training space lives with our partners — they are the lead trainers and facilitators on Housing Problem-Solving for our community.
We are also working on an assessment tool for our community through our Core Equity Team, which includes our partners with lived expertise, plus providers from the community, Sacramento Steps Forward staff, and Continuum of Care (CoC) members. We've built a prototype assessment to try to specifically address the racial disparities or racialized outcomes that the VI-SPDAT (a common triage tool called The Vulnerability Index – Service Prioritization Decision Assistance Tool) gives in our community.
In our community, the VI-SPDAT historically prioritizes white men, but according to our data, the most underserved are Indigenous and Black folks. Our Black community is four times more likely to experience homelessness, and our Indigenous community are seven times more likely to experience homelessness. We're being intentional about creating this tool with the goal of implementation by the first quarter of 2024. It's a huge lift, because it touches every part of our system — every single coordinated access point, the majority of our Homeless Management Information System data, projects, and interventions.
How is your community working to address racial equity within your homeless response system?
Sacramento Steps Forward developed a Racial Equity Action Plan in 2019 focused on internal and external equity education as well as strategies and goals for Sacramento Steps Forward, the Sacramento CoC, and the homelessness response community at large. Within this framework, we have a racial equity specialist and a racial equity committee that really is prioritizing that work. We examine progress and reevaluate this plan every year, and it will continue to be a focus of the work. To achieve this, we focus on using our data to identify disparities and inequities to see who is overrepresented in our homeless response system and who is being underserved and to work toward more equitable and balanced outcomes.
Do I ever think we will hit the entire mark on equity? I don't know, because there are so many national systems outside of our own that press down on our homeless response system. These national systems are inequitable — they're rooted in racism and capitalism. So, can we ever get there? I don't know the answer to that question, but we need to see when we reach benchmarks so we can measure our progress. We must shift our personal bias/internalized racism and challenge our own organizational structures, as well as our government and other inequitable structures. When I say the lift is heavy, that's likely the biggest understatement I could possibly ever make.
Why is improving racial equity important in your community's broader efforts to end homelessness?
Ultimately, racism is one of the major factors that contribute to persons experiencing homelessness. Systemic racism in this country oppresses Black, brown, Indigenous, and additional communities of color. If you ask most people to define racism, often the response is discrimination against someone for the color of their skin. There are even dictionaries that define racism in this way. However, it's so much more than that! Racism is robbing those cultures of their resources, be it intellectual, financial, educational, spiritual, etc., and redistributing it to whomever you want to have the majority of power.
So, it's more about resources and power than the color of skin. And because we've robbed these same communities of their resources for hundreds of years, it's no wonder we have a disproportionate representation of people experiencing homelessness. Redlining is real. Predatory bank lending still happens today. Inequitable access to higher education is real. School-to-prison pipeline is real. It's important to examine and work to address the impact of said systems.
What do you think people need to understand about racism and homelessness?
Solving our issue with homelessness is deeply connected to solving our issue with racism. I really want us to understand that they connect.

tanesha travis
You can't solve for one without doing the work to solve for the other. Solving our issue with homelessness is deeply connected to solving our issue with racism. I really want us to understand that they connect. Increases in rates of homelessness are directly tied to housing costs and availability, and racist policies around home ownership have been well documented. Systemic racism has created other significant disadvantages in this country for Black, Indigenous, and communities of color. Racism is one of the largest contributing factors to homelessness — they're deeply connected. You can't unpair them, and you can't solve for one without solving for the other.
Why do you think it's so important to involve people with lived expertise into this work?
We can't build a system to service persons that are experiencing homelessness if you don't understand how the experience is for them, where the gaps exist, and work collaboratively to create solutions that render better outcomes. It's like major corporations working alongside their customers to find out what their experience is and being responsive to their needs.
There's a stigma to experiencing homelessness. Even now, in various spaces, people will underestimate our partners with lived expertise of homelessness; dismissing their abilities and skills, or assuming that they need significant education or hand-holding. This couldn't be further from the truth. Our partners have their own organizations. They educate on equity, and they are human rights advocates, cultural brokers, mediators, trauma-informed care educators, AOD (Alcohol and Other Drug) counselors, outreach workers. They have other work and life experience. Like any of our colleagues, they have significant skills and strengths that add so much and are integral to the work,
Every community is different: You can't take the blueprint in our community for meaningful lived experience engagement necessarily and apply it to your community. While there are core values that apply to honoring and working with persons with lived experience, each community will ultimately accomplish this in different ways. This work is relational and not transactional. We move at the speed of trust and relationship. I know consultant agencies that exist where you can contract with a person with lived expertise for project feedback, specific interventions, etc. That process will give you some lived experience perspective but may not highlight and bring forward the voices and concerns of those experiencing homelessness in your community. Ultimately building relationships with and working alongside persons who have experienced homelessness within your own community helps to shift the culture within your organization, your CoC, your provider space and even local government efforts. This engagement highlights the needs of your community and the gaps in services that need to be addressed, and creates a collaborative space in which to be responsive to those elevations.
Meaningful transformation happens when we move from performative to transformative work, and centering the voices of people with lived experience is a critical part of achieving transformation within homelessness response.
Why do you think homelessness is solvable?
It has to be. I don't think our country can keep going like this. If the majority of America realized that they may be half a paycheck away from being in that situation, they would want to solve the problem too.
I hold hope for this being solvable. It's my hope that we continue to move towards ending homelessness by simply doing the right thing for humans. If we took every empty building in America that was just sitting there unused and got the opportunity to repurpose them for housing, we could house people. To me, it's often the bureaucracy and capitalism that gets in the way. And that's sad, but it's true. We have a lot of internal work to do. We have grassroots organizing work to do. We have legislative work to do. It's not impossible — it's just hard. If it were easy, we would have done it by now.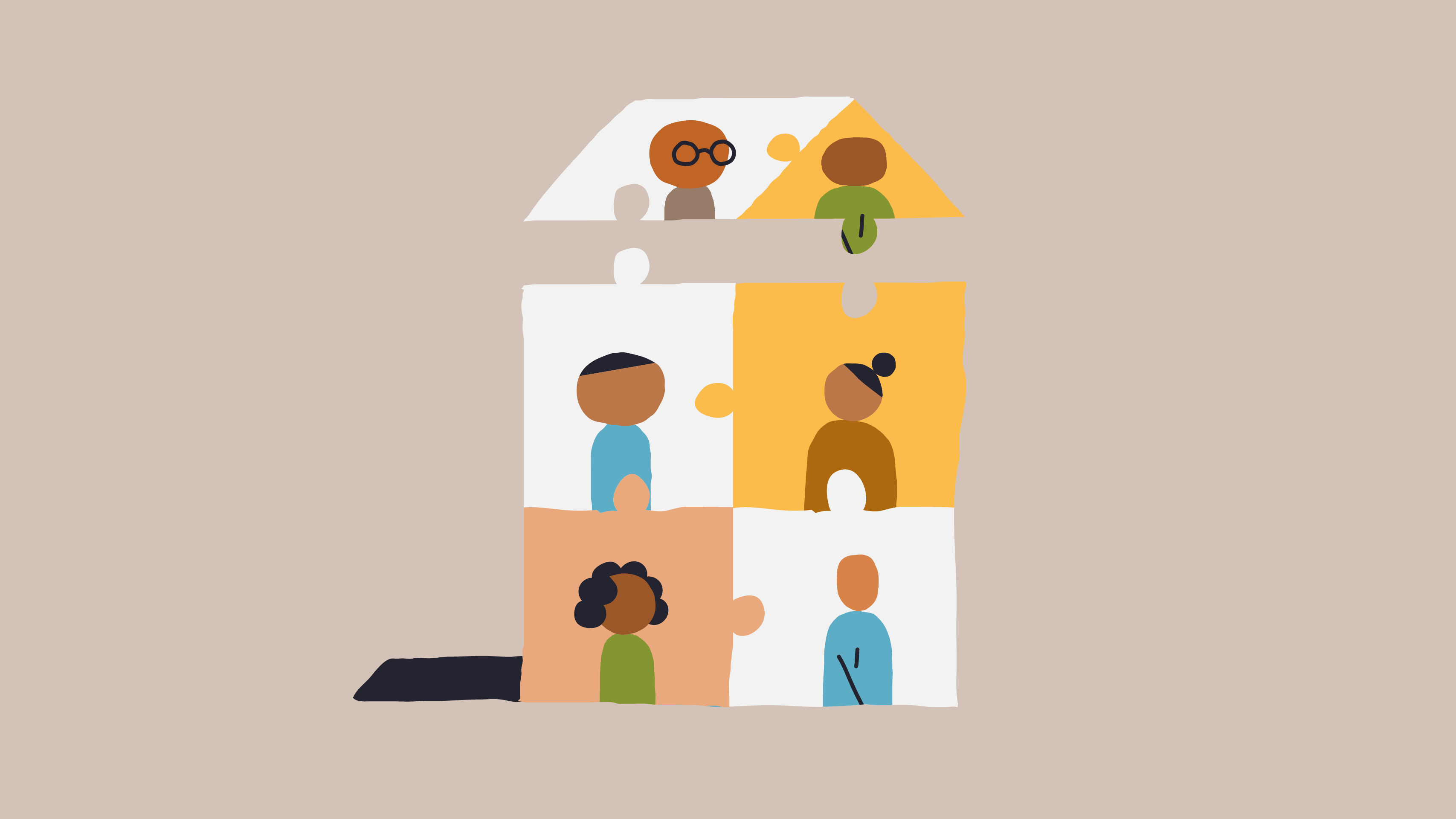 Read more Q&As with Black leaders in the Built for Zero movement.