With the end of our fiscal year approaching, we are sharing a review of our organizational finances and fundraising efforts and how they enable our ambitious work.
We are a year into our five-year strategy to reach a national tipping point where homelessness will become rare overall and brief when it occurs. At that point, communities of every size and type will have successfully ended homelessness, and major policy barriers will be removed so that any community can — and is expected to — end homelessness.
Our work received an extraordinary boost earlier this year from the MacArthur Foundation's 100&Change competition, which awarded Community Solutions a five-year grant totalling $100 million to expand our work. The competition selected a single global proposal with the potential to solve a critical problem of our time. Reflecting on our journey to this moment, we are overwhelmed with gratitude for the funders and supporters who believed in our work and invested in us early, and who continue to support us today.
Because the MacArthur grant is specifically aimed at scaling the proven elements of our work beyond our present level of engagement with communities, our continued progress depends on the ongoing generosity of our donors. We must continue to raise our base annual budget of approximately $15 million.
What does Community Solutions fundraise for?
Our annual base budget of $15 million includes approximately $1.5 million per year devoted to testing new approaches to preventing homelessness and  expanding access to affordable housing. It covers the salaries and benefits of our core Built for Zero team, the costs of two annual learning sessions that bring together all 98 community teams, and our communications team that provides direct support to communities. It also includes operations and finance teams that keep everything running. These administrative costs amount to 8% of our budget. Another 7% of our budget goes toward fundraising. These lean overhead costs put us well below the typical nonprofit overhead standard of 25%. In fact, we've received a perfect score from Charity Navigator, which conducted an independent assessment of our fiscal discipline and effectiveness. 
Community Solutions' Base Budget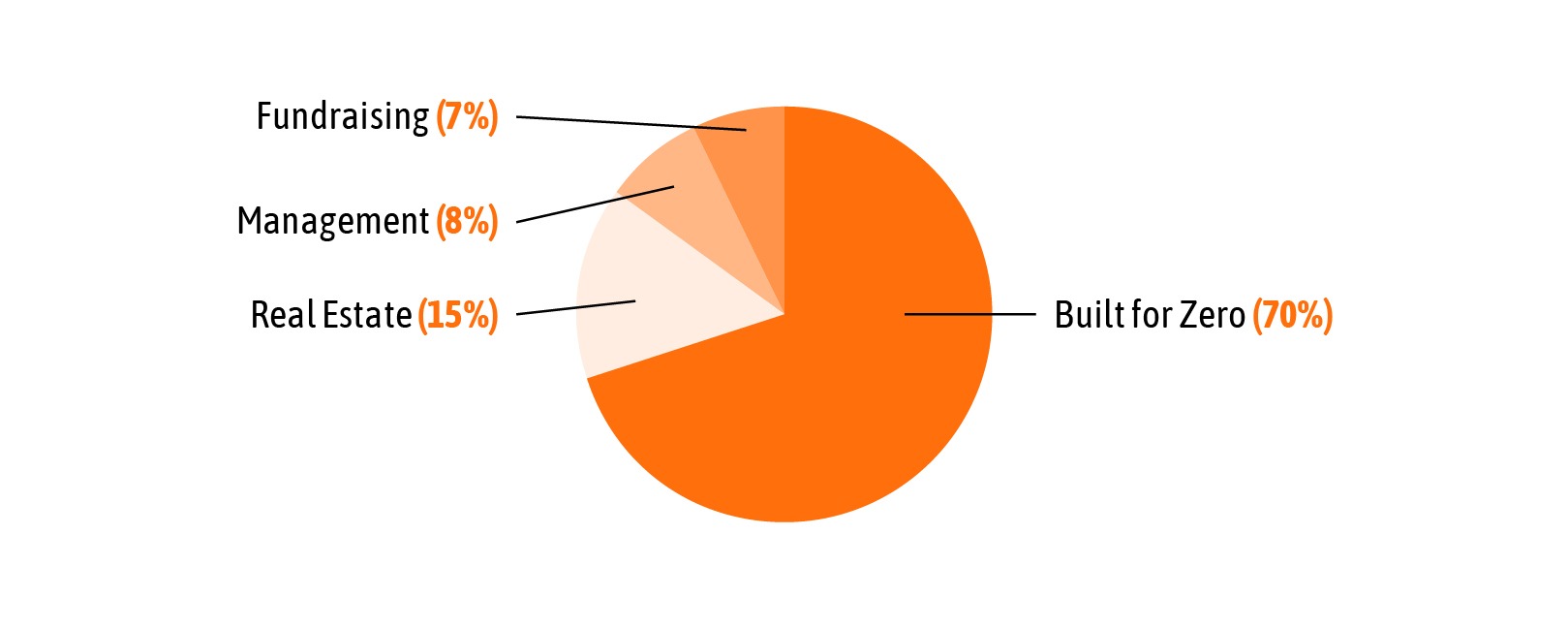 What will the MacArthur funding support?
The MacArthur 100&Change investment provides supplemental funding each year through 2026 to scale our work to additional communities and go deeper with the 98 communities that are currently part of Built for Zero. Specifically, it will allow us to:
Bring on additional staff to expand and deepen our coaching and data support to communities
Assist targeted Built for Zero communities in acquiring existing properties to close housing supply gaps
Allocate funds to support critical staff roles in every Built for Zero community
Advance understanding and action on homelessness as an urgent and solvable public health and racial equity challenge through a newly formed policy team.
The MacArthur investment is a powerful validation of our work and a timely investment in building the capacity of Built for Zero communities to make optimal use of new federal resources to end to homelessness.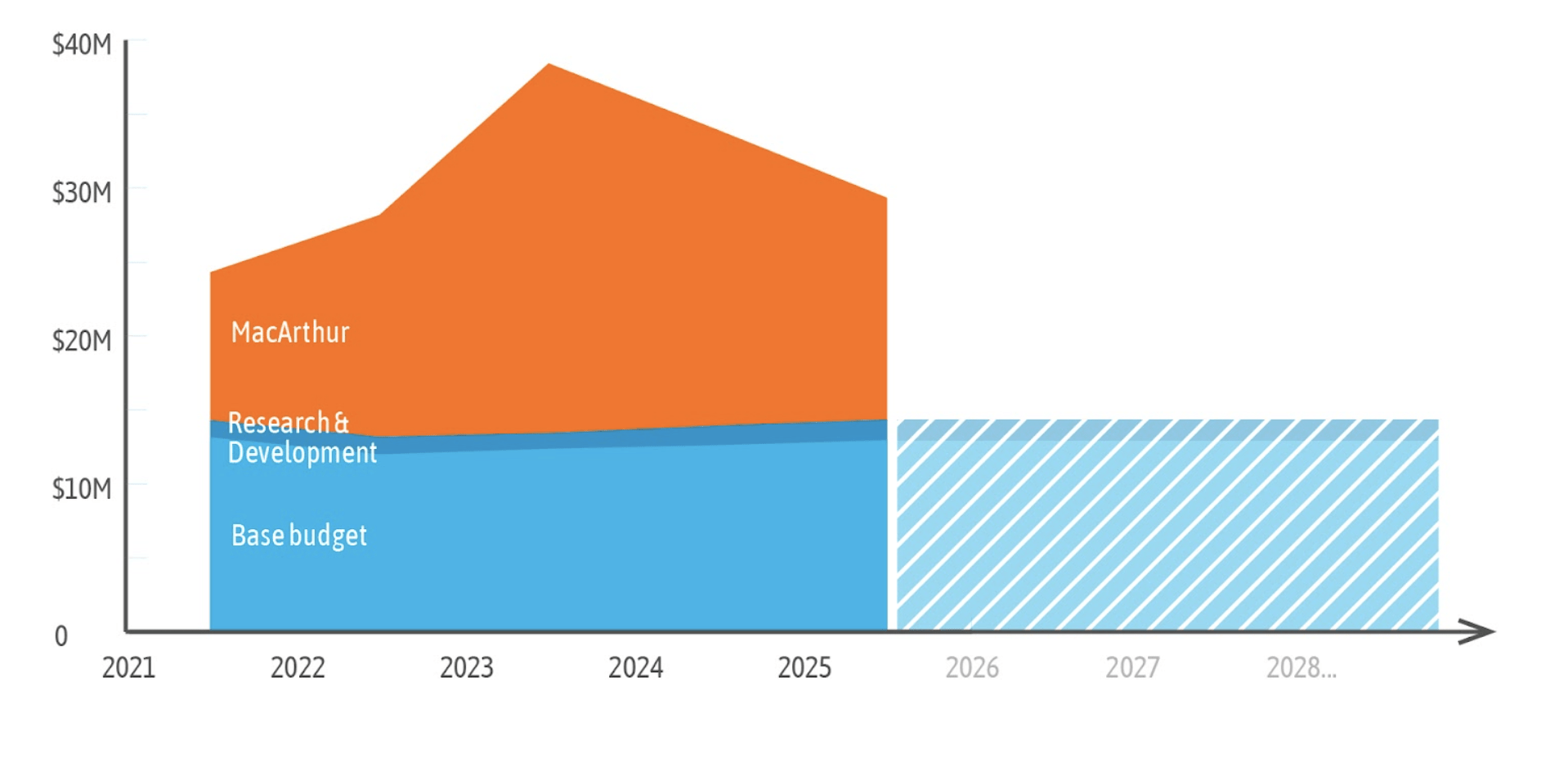 With MacArthur's support, we aim to have a critical mass of communities of every size and type reach functional zero for one or more — or all — populations by July 2026. Our goal is for 5o communities to end homelessness for at least one population (veterans, chronic, single adults, youth and/or families) by that date, and to create the policy conditions to accelerate an end to homelessness throughout the country.
MacArthur Surge Funding Budget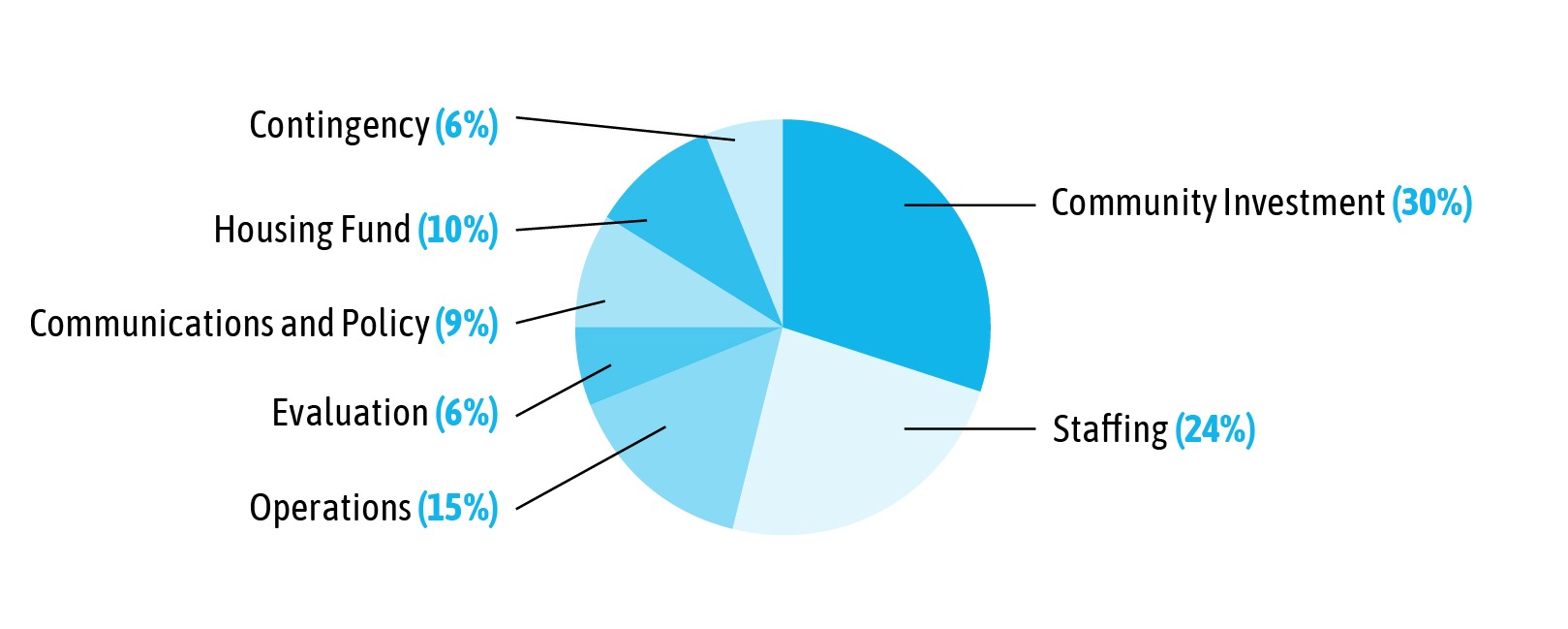 Thank you!
Your generosity has allowed us to learn what it will take to end homelessness by working directly with the extraordinary local teams that have stepped up to be part of Built for Zero. Your continued support will help us make homelessness rare, brief, and non-recurring-for everyone.
For questions about our funding priorities or to learn more about making a gift, please contact Megan Helbling at mhelbling@community.solutions.