Community Solutions was awarded the MacArthur Foundation's 100&Change grant: $100 million to solve a critical problem.
---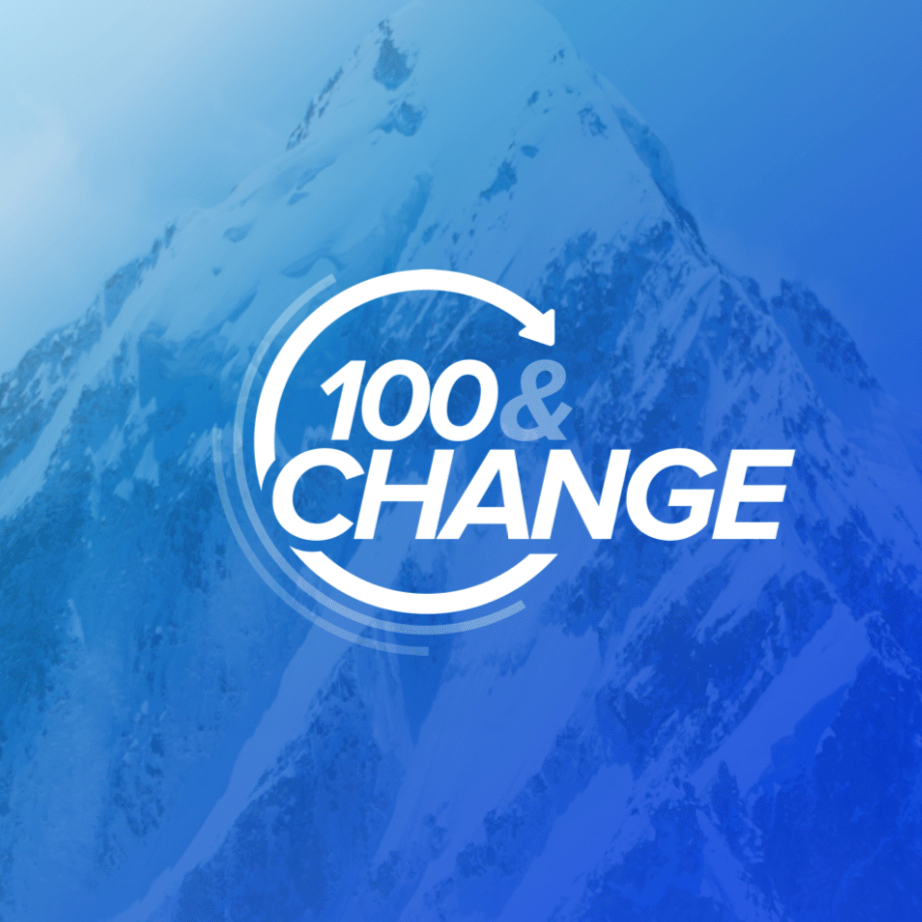 100&CHANGE
100&Change is the MacArthur Foundation's global competition for a $100 million grant to fund a single proposal that promises "real and measurable progress in solving a critical problem of our time." This competition is open to organizations and collaborations working in any field, anywhere in the world and began with 755 proposals.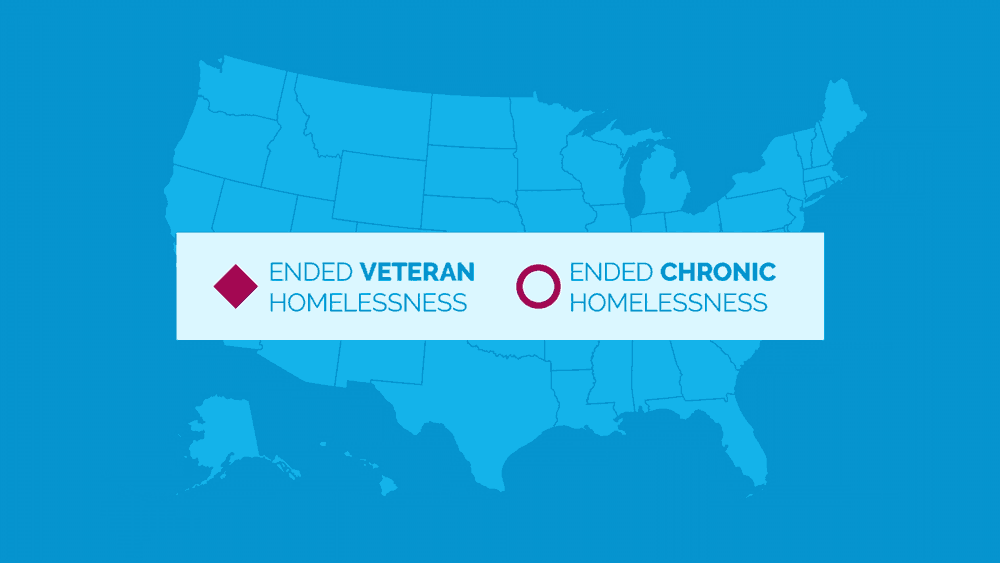 OUR PROPOSAL
With this grant, Community Solutions aims to accelerate an end to homelessness in the United States. Through its Built for Zero initiative, Community Solutions will help a critical mass of at least 50 geographically and politically diverse communities achieve 75 proof points by reaching and sustaining functional zero for chronic or veteran homelessness by 2026.
In order to create more enabling conditions for all communities to reduce and end homelessness, the organization will also target data and technology requirements, funding incentives, and public policy.
---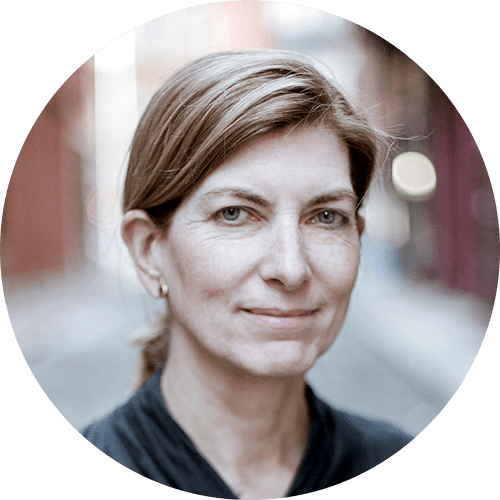 A New Chapter Begins in the Movement to End Homelessness
A letter from the Community Solutions Executive Team
Our team has sought a comprehensive solution to homelessness since modern homelessness emerged in our country in the 1980s. By last year, with evidence in hand, we could confidently describe what a future without homelessness would look like and how it could be achieved.
I am writing with the exciting news that this vision has been selected as the award recipient of the MacArthur Foundation's 100andChange competition.
The Foundation has awarded a grant of $100 million over five years to Community Solutions to accelerate an end to homelessness in 50 communities and create the conditions that help all communities end homelessness.
MacArthur's recognition is, first and foremost, a testament to the leadership, ingenuity, and powerful results of Built for Zero communities, which have demonstrated that homelessness is solvable.
More than half of the 83 cities and counties participating in Built for Zero have reduced homelessness. Fifteen have reached functional zero chronic or veteran homelessness, a milestone for making homelessness rare and brief. Three communities have ended both veteran and chronic homelessness.
They are applying our rigorous public health approach that rests on community-wide collaboration toward the single goal of measurably ending homelessness. Each of these communities are using comprehensive, real-time information on the dynamics of the issue, and an accurate accounting of every person experiencing homelessness to inform action and investments. By using tools adapted from other sectors, they are continuously improving their systems — understanding always that homelessness is a solvable, systems problem.
We are deeply honored by MacArthur's selection, and so proud to have been a finalist alongside remarkable organizations that are addressing other pressing issues of our time: the Clinton Health Access Initiative & Murdoch Children's Research Institute, National Geographic Pristine Seas, Project ECHO, Report for America, and the World Mosquito Program.
This investment from MacArthur is an investment in the movement to end homelessness in America.
With this support, we will be able to help 50 diverse communities end homelessness for at least one population. This will include assisting Built for Zero communities to address critical staff and change management needs and to help large cities secure properties to close identified housing supply gaps.
It will also help us clear the path of policy, technology, and other barriers to make it easier for any community to end homelessness.
This award comes at an extraordinary time, when the stakes for those experiencing homelessness and for our communities and country have never been higher. The health risks for those without a home, particularly during the pandemic, demand that we accelerate the spread of effective solutions.
Homelessness holds a mirror to racism, with Black and Native Americans vastly overrepresented among people experiencing homelessness. Solving homelessness means tangible progress toward racial equity and justice.
And unprecedented federal resources through the American Recovery Plan could eliminate homelessness in communities that are prepared to do so. Built for Zero communities have created the map and shown what it will take.
Simply put, communities can choose to make homelessness a thing of the past. MacArthur's award equips our team to help them meet this moment.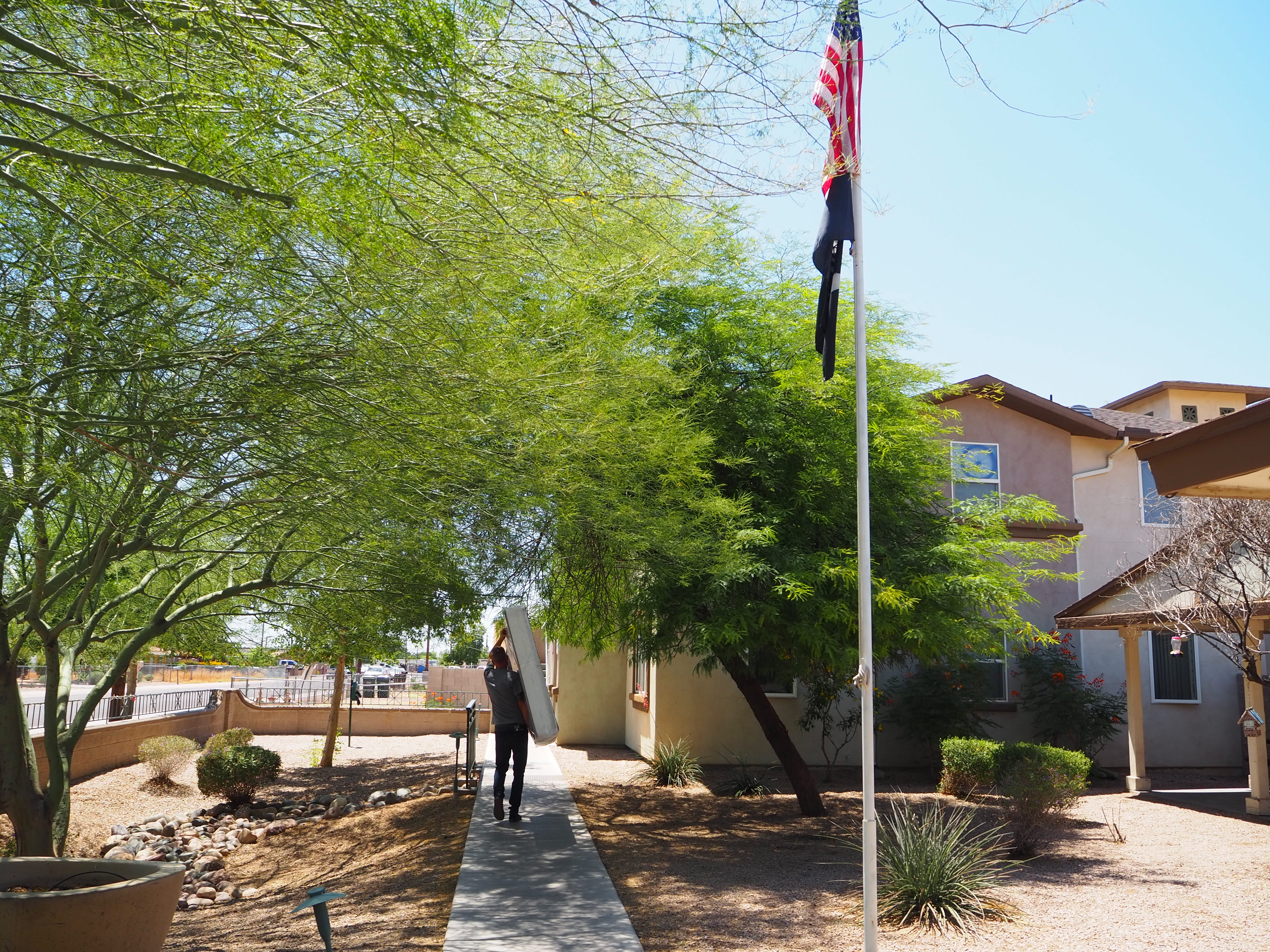 Simply put, communities can choose to make homelessness a thing of the past. MacArthur's award equips our team to help them meet this moment.
Of the many things we learned during the 100&Change application process, the most important was just how large a team we have.
We have been overwhelmed by the scores of communities, organizations, funders, and citizens who share our belief that homelessness should not exist in our country, endorse the Built for Zero approach, and stepped forward to offer help.
We are enormously grateful to the MacArthur Foundation, to its Lever for Change team that guided the 100&Change competition, and to all of you who are committed to the success of this growing movement.
We especially appreciate those of you who have been with us on this long journey to discover how to achieve a lasting end to homelessness, for everyone. Thank you for being part of it and for your faith in us.
Onward!
With gratitude,
Community Solutions' Executive Team
Rosanne Haggerty
Dave Foster
Anna Kim
Jake Maguire
Paulette Martin
Beth Sandor
Jamie Schleck
Jessica Venegas

---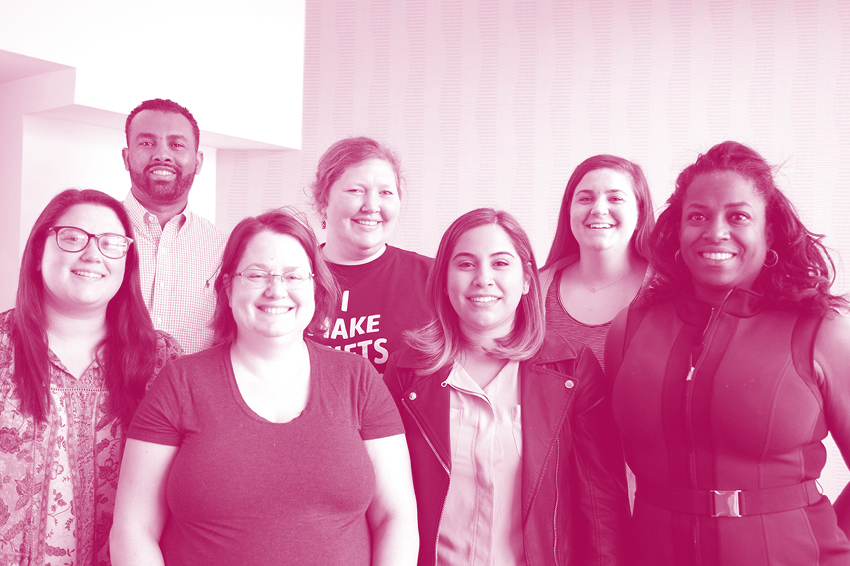 "You are the reason this movement is worth investing in."
Our open letter to Built for Zero communities
---
Watch the reveal
In the press
HOW BUILT FOR ZERO WORKS
COMMUNITY SOLUTIONS' JOURNEY TO END HOMELESSNESS IN THE U.S.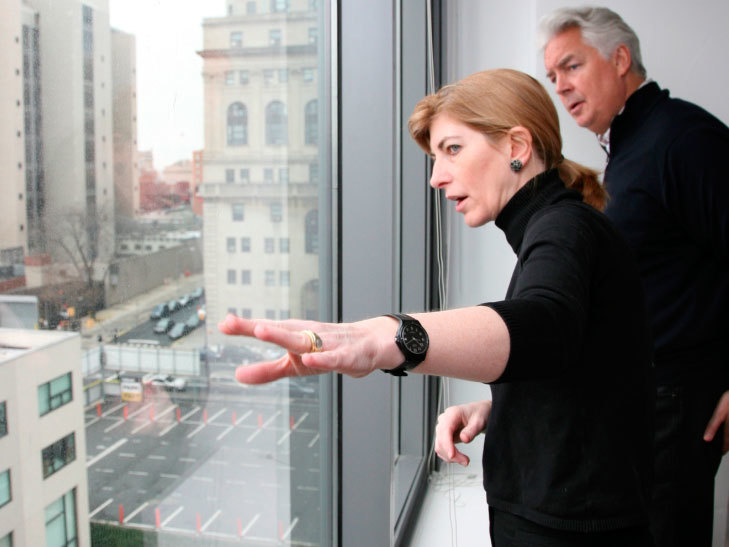 1990 – 2010
Build affordable housing
Rosanne Haggerty founded Common Ground Community,* that created nearly 3,000 affordable homes in New York City. Though these buildings ended homelessness for its tenants, overall homelessness in the city continued to rise.
*Community Solutions is not affiliated with Common Ground, which now operates under the name "Breaking Ground."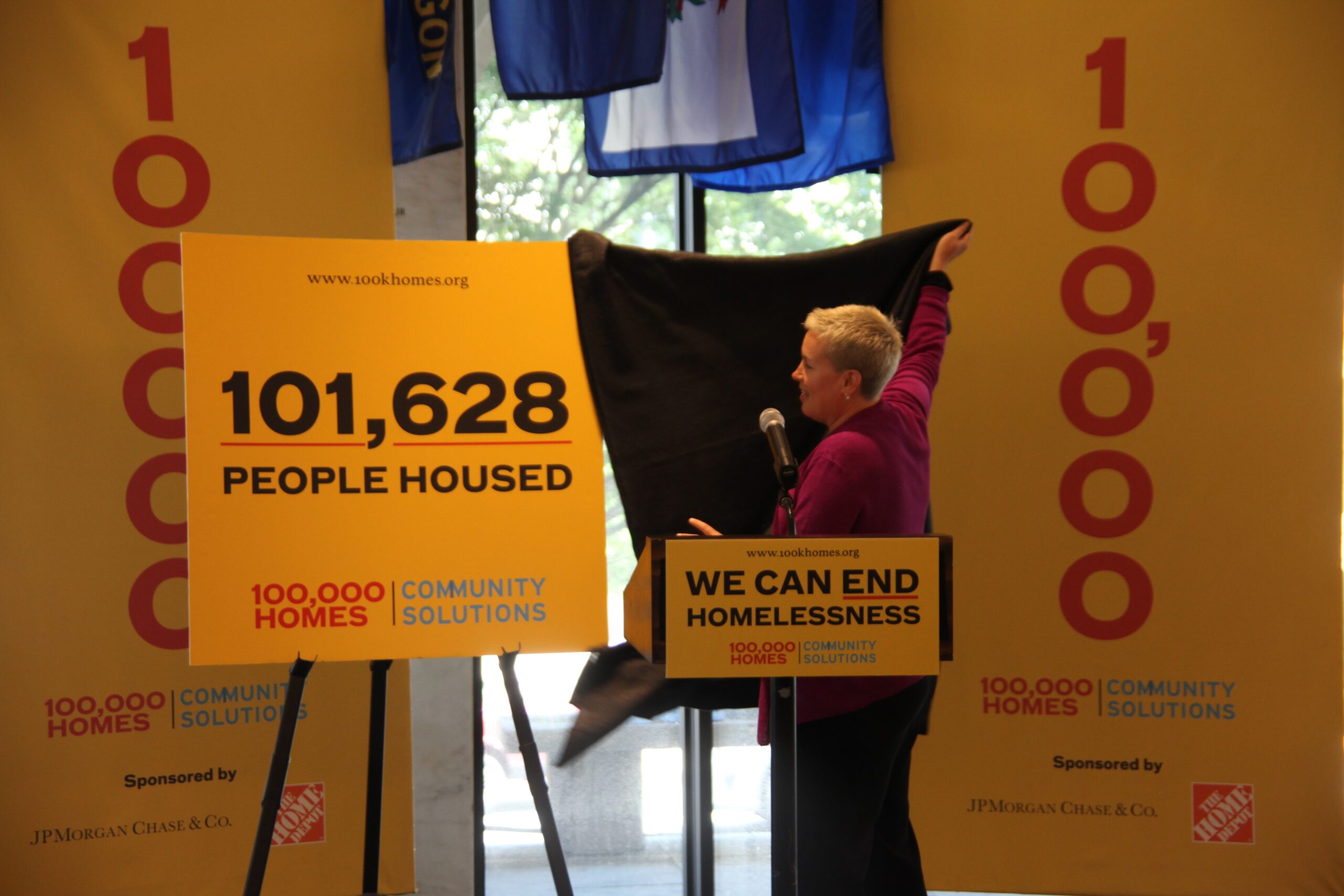 2010 – 2014
Help communities house 100,000 most vulnerable Americans
Community Solutions leads 100,000 Homes campaign, and participating communities house more than 105,000 Americans. But no community ended homelessness.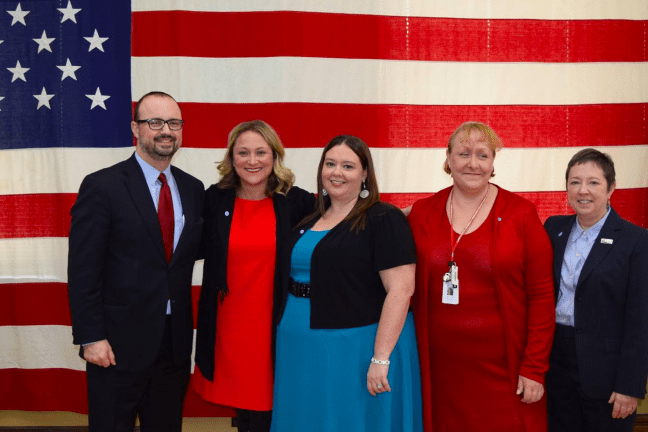 2015 – 2020
Prove communities can drive homelessness down to "functional zero"
Built for Zero initiative launched to learn what it takes to not just house more people, but drive overall homelessness down to "functional zero." Thirteen communities end veteran and/or chronic homelessness.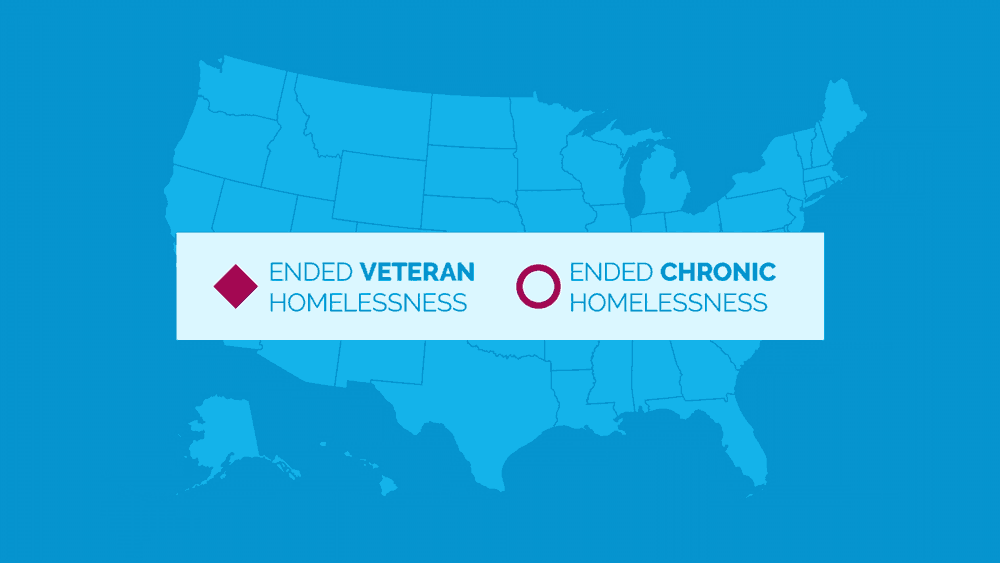 2021-2026
Create a tipping point for ending homelessness in the U.S.
Community Solutions awarded the MacArthur Foundation's #100andChange grant to accelerate an end to homelessness in the U.S. Through Built for Zero, the organization will help 50 diverse communities reach functional zero and create conditions that help any community end it.