We have a confession: Community Solutions' 100&Change proposal is not a special project. It is our strategic plan. By 2026, we aim to reach a "tipping point" in the U.S. where homelessness is treated as a solvable, public health, and racial equity challenge, and conditions are primed for every community to end it.
To get there, we are accelerating our plan to end homelessness in 75 communities by providing overwhelming evidence of how homelessness is solved in a racially equitable way, and clearing the path for any community to reach that goal.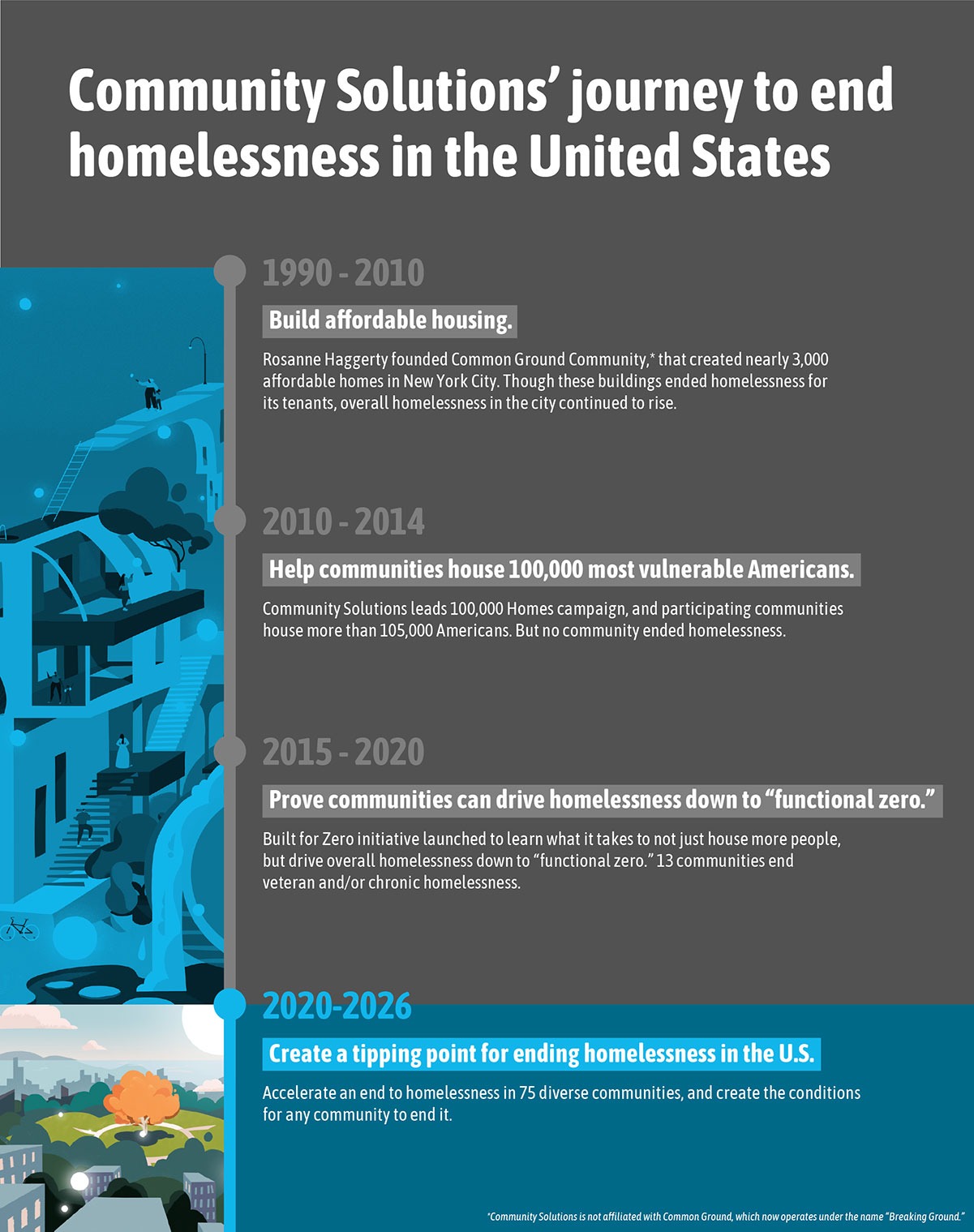 When the 100&Change competition was announced in early 2019, we were entering the final year of our prior strategic plan. For four years, we had worked to help multiple communities prove that homelessness could be solved.
As a result, 13 cities and counties in our Built for Zero network ended chronic or veteran homelessness. Dozens of others took steps toward a measurable reality where homelessness is rare and brief, should someone experience it. They were beginning to drive reductions in homelessness.
We learned that reaching "functional zero" required a local team of key homeless service organizations, all committed to ending homelessness across the whole community.
Each team needed the ability to collect person-specific, real-time information on who was experiencing homelessness across their population, providing an unprecedented view of the full scope of the problem in their community. Having this detailed and dynamic picture of homelessness meant that for the first time they could see which policies and approaches were successful in reducing homelessness and where to target resources to get results.
Community Solutions equips, knits together, and grows the network of extraordinary teams across the country working in this outcomes-focused way. We capture and spread key learning and clear barriers standing in the way—whether by coaching communities, spreading our innovative model to close housing supply gaps, or addressing data challenges.
Our role has been described as a "field catalyst," or hub of action to propel a field up and over the tipping point. The last four years were focused on helping some communities prove homelessness is solvable. The next five will be dedicated to accelerating this movement so it is eventually expected, widespread, and the norm in the country.
To develop the strategy, we called on our staff and board, leaders from Built for Zero communities, funders, and partners. To challenge our thinking, we consulted leaders in public health, racial equity, behavioral psychology, climate, technology, and organizations that had successfully scaled innovations.
The need to act on homelessness as an urgent public health crisis was clear well before the COVID-19 pandemic. And, the persistent overrepresentation of Black and Native American individuals among those experiencing homelessness demands bold action.
That work is underway, made more urgent by the pandemic and the threat of significant new homelessness among the newly unemployed. We are grateful that our 100&Change proposal highlights the potential for an alternative, successful course.