As cherry blossom trees started their annual bloom in Washington, D.C., eight youth homeless service providers gathered for a two-hour, collaborative session to visualize and better understand youths' journeys through the foster and homeless response system.
This is one of a series of workshops designed and facilitated by Dr. Cheryl Heller in Built for Zero communities that introduce design tools and collaborative processes to identify solutions that support youth in achieving secure, healthy adult lives by helping them avoid homelessness and housing insecurity.
"Most people recognize that young people should be at the table, and that their voices should be heard, but they don't know how," said Heller, who has spent over a decade improving design processes. "Design is how. Design is a practice, like fly fishing or being a quarterback. You can't learn it in theory, you need to experience it. That's why we're here."
Blending lived experience to create a composite
D'vontay Hope is a young adult who has experienced homelessness and now works diligently to advocate for young adults with lived experience to be a part of the change by creating job opportunities in the sector.
"I'm not going to somebody who's learning about me from a book, or learning about my experience from watching a documentary, or reading about it or going to a training on it," Hope said. "I'm actually getting help from people who have been through it, have actually succeeded and have gameplans and even ways to cut corners and be successful. That's really what it all comes down to." Hope's lived experience with homelessness aided in the understanding of the reality of the work it takes to prevent and end homelessness – both in terms of the problems that exist and the knowledge of the services and interventions that are the most effective solutions.
After a round of introductions from employees and social workers from the Interagency Council on Homelessness, Office of Youth Empowerment, D.C. Department of Human Services, and youth engagement center employees, the group was ready to dig into the work.
Before we can imagine someone's journey through the homeless response system, we have to have someone in mind. A persona isn't intended to be a single individual who actually exists, rather it's a composite of typical stories or people within the system.
Imagining this character makes the design session exercise tangible. This group was particularly primed to create realistic composites based on either their own lived experience with homelessness or years of work in the field. As they huddled around the whiteboard, a vision of a young adult experiencing homelessness came to life.
Meet Blake Greene, a 19-year-old Black youth who is aging out of foster care. He completed 10th grade but his untreated ADHD and depression stymied his enthusiasm for school. Like many kids his age, he enjoys basketball, music, sneakers, and emulating social media influencers. Since living on the streets, bouncing around government programs, and couch surfing, he's developed trust issues. His future, like many homeless youths, is uncertain.
With this persona in mind, the group was ready to begin journey mapping.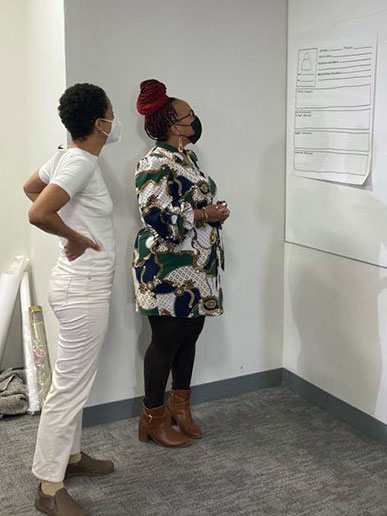 Journey mapping how someone moves through the system
A journey map allows us to map out how someone moves through the homeless response system. Participants were asked to put themselves in the mind of their recently created persona and write down key moments in that person's journey through the system and then place those moments on the whiteboard.
Depicted on a whiteboard was a typical journey for homeless youth, broken into categories based on learnings from other communities. Each category on this journey — school, health, transition planning, financial support, to name a few — marks periods in everyone's life where pivotal moments may occur. Participants were invited to write out and place key moments in Greene's life where the system failed him.
For example, when Greene was between the ages of 14–17, he couldn't focus in school and was reading at the 8th-grade level. When he aged out of extended care he was on the streets for about a year.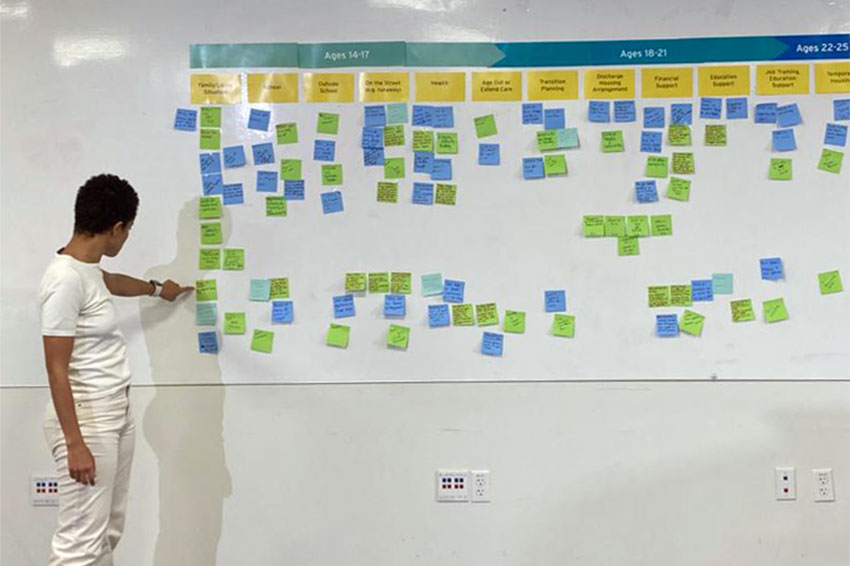 Connecting the dots
Taking a step back to reflect on the system mapping, participants could clearly see pain points in the youth homelessness journey.
"They're bouncing all over the place," said Hope. "The people that are helping these individuals are not coming together to create a plan for success."
Services are effective only insofar as they make sense to the person they're serving. As providers consider the services they're developing, keeping the end-user in mind grants them new perspectives.
This process will help with case management because it allows us to break down the system and dissect it piece by piece and catch a problem before it evolves into a larger problem, said Sabrina Burrell, a Clinical Social Worker at Georgetown Ministry Center, who wanted to put the learnings from activity into action immediately.
For Veronica Simmons, the biggest takeaway from this exercise was a better understanding where people were falling through the cracks in the system.
"The takeaway is not just the totality of the system from start to finish, but it's the gaps in service. Where are we not catching you so you can get to that end a lot faster?" said Simmons, who is the director of the DC ReEngagement Center (REC).
Taking action
This activity boiled down to one main point: how can agencies, programs, and services talk to each other more effectively? There is great work happening across the system, but it's siloed. Participants wanted to take action on improving the system right away, mentioning implementing quarterly strategic community resource meetings.
"If we have everyone on board and we know what we're doing, it makes the system stronger," Burrell added, referencing the power of a shared aim.
"The discussion you're having is exactly the reason why we do this," Heller added as the session came to a close. "Everybody's coming from a place of wanting to get it right. That's the most important thing to discover."
This workshop is part of an ongoing effort across many communities. Heller is also creating digital learning modules to support other communities in using design to support youth through their journey.