Our 2020 Annual Report describes the progress of Built for Zero communities to reduce and end the crisis of homelessness.
Some crises, like the coronavirus pandemic, jolt us out of our status quo and force us to change our daily routines. Others, like the racial justice reckoning spurred by George Floyd's murder, remind us that our status quo itself is a persistent state of crisis.
Homelessness has become a status-quo emergency. But this moment offers a bold new choice: to no longer accept the inevitability of homelessness in the richest country on earth, and use the existing proof of what works to end it.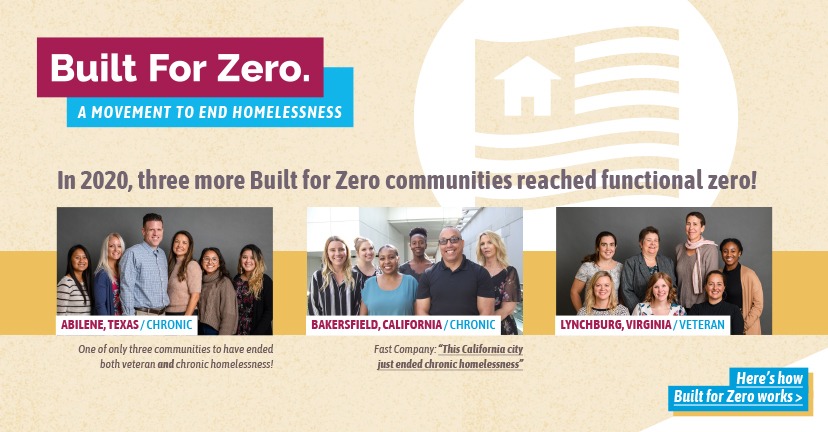 2020 Annual Report
For a lasting end to homelessness that leaves no one behind.
It's been said that when a crisis occurs, whether change happens depends on the ideas that are "lying around." Our Built for Zero approach proved ready for this crisis and was poised to drive real change.
In the past year, we doubled down with the more than 80 communities in the Built for Zero network to see that not an ounce of crisis-induced willpower to end homelessness went to waste. Decades of learning how to build systems that make homelessness rare and brief meant that Built for Zero communities gained ground on homelessness throughout this extraordinary time. We share the powerful results throughout this Report.
And the evidence that homelessness is solvable was recognized. Community Solutions was chosen as a finalist for the MacArthur Foundation's 100&Change Award (editor's note: Community Solutions was awarded the 100&Change grant), which will fund a single proposal that promises real and measurable progress in solving a critical problem of our time. The honor of being considered for this award highlights the effectiveness of our approach and the possibility of ending homelessness in any community across the nation. 
In Amanda Gorman's stirring poem on Inauguration day, she reminded us that "the norms and notions of what 'just is,' isn't always justice." We are grateful for the support of our partners and communities as we strive to reject homelessness as something that "just is" — and create a world that truly promises justice.