"Crucially — there is joy in the work when we do it together. This is hard work we are doing. Even in good seasons, in successful seasons. It's important that we're doing this together."
— Eddie Turner, Built for Zero Senior Strategy Lead
The Fall 2021 Virtual Learning Session commenced with a Plenary Day on November 2, celebrating community successes and milestones and taking a closer look at the breakthroughs achieved by a cadre of cohorts across Built for Zero.
In the Opening Plenary, Strategy Lead Garen Nigon and Network and Engagement Advisor Kris Bennett welcomed the more than 500 attendees from across the country, which included eight communities new to the Built for Zero movement, bringing the total community count to 98.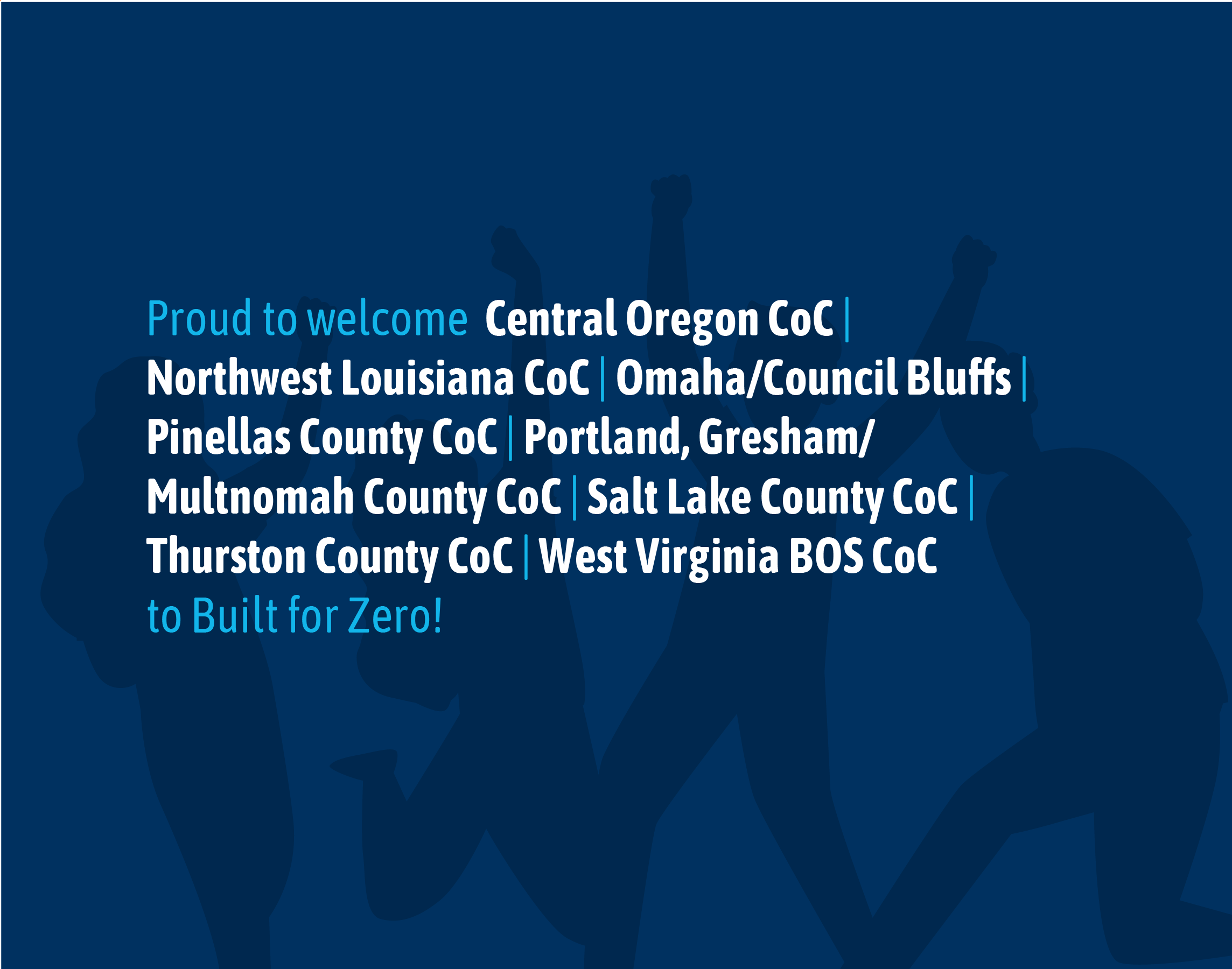 Learning Session participants also heard from Beth Sandor, BFZ Principal and Co-Director, as she commended the communities' shared commitment to population-level outcomes and a culture of measurement and learning.
"We've got to build a coalition that's willing to push past the status quo."

EDDIE TURNER
"We hope that these Learning Sessions are always a place to connect with each other in order to provide some energy and inspiration for the next leg of the journey together," Sandor said. "You're part of a network of global partners who are all moving in the same direction."
BFZ Senior Strategy Lead Eddie Turner echoed a similar sentiment: "We know that it's not just enough to have data. We've got to use that data to influence people. We've got to build a coalition that has shared goals — ending veteran homelessness, ending chronic homelessness. We've got to build a coalition that's willing to push past the status quo."
If you attended the Learning Session, please take a moment to give us feedback!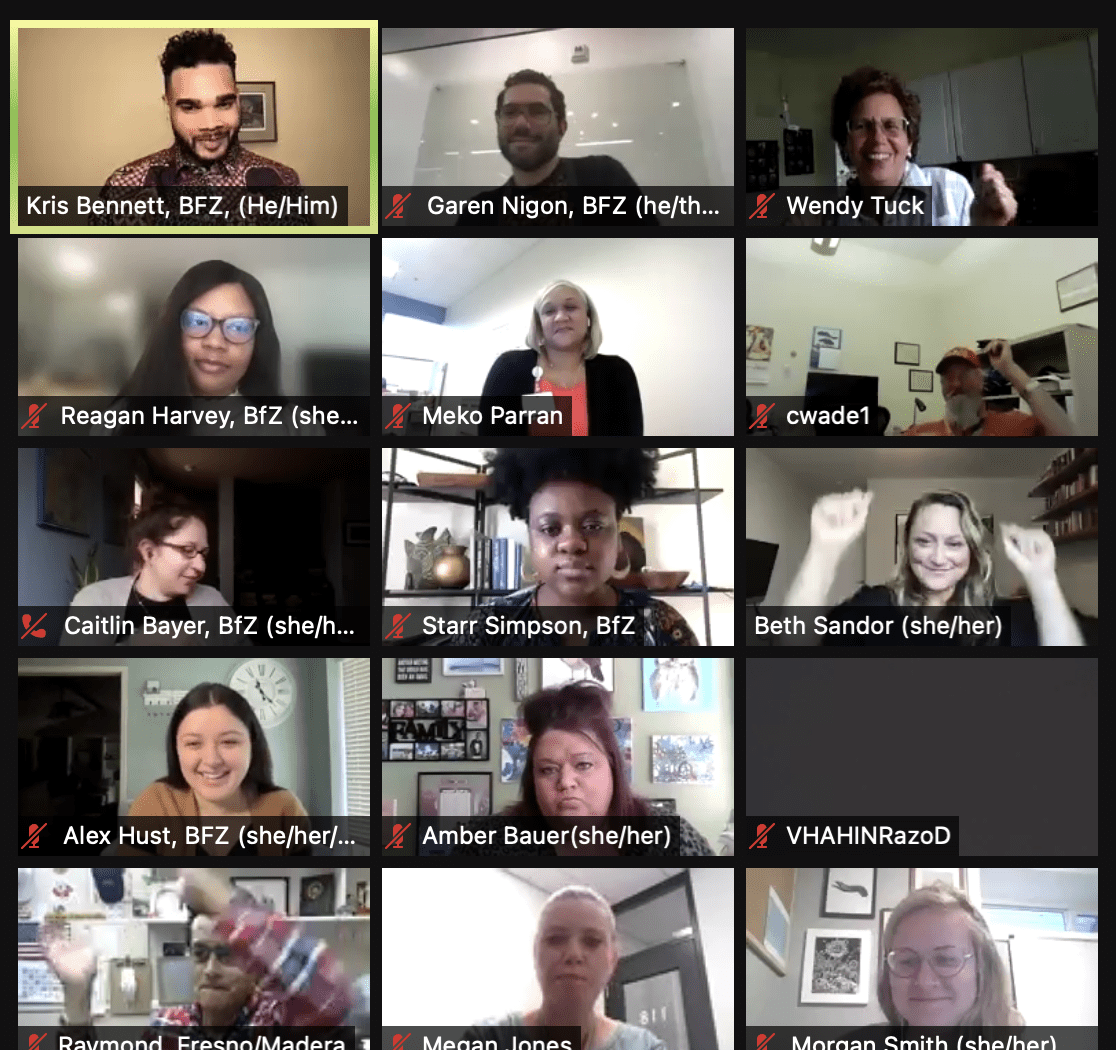 Community Celebrations
Since the last Learning Session in May, six new communities have achieved a Quality By-Name List.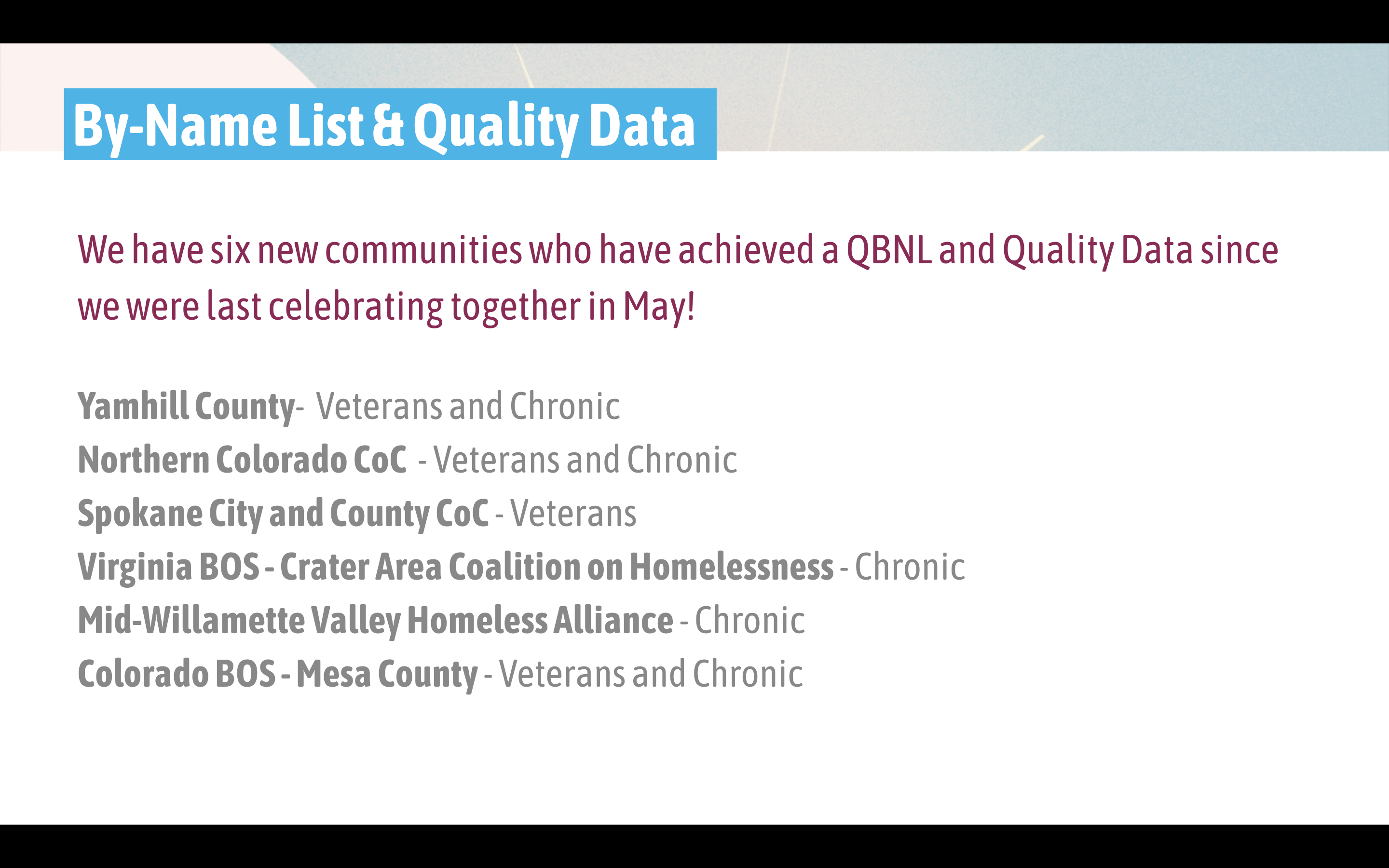 Seven communities have achieved shifts in the past six months, with two communities achieving shifts in two populations.
"A shift means that something's there. Something durable has changed in your system," Nigon explained. "Your system is now functioning at a sustainable level that is below where it was before."
Shifts are calculated from the monthly data communities submit on the number of people experiencing homelessness in their jurisdictions, and Built for Zero's Tableau dashboards calculate a number called an improvement median. When a community's data is below that median for six months in a row, that's considered a shift.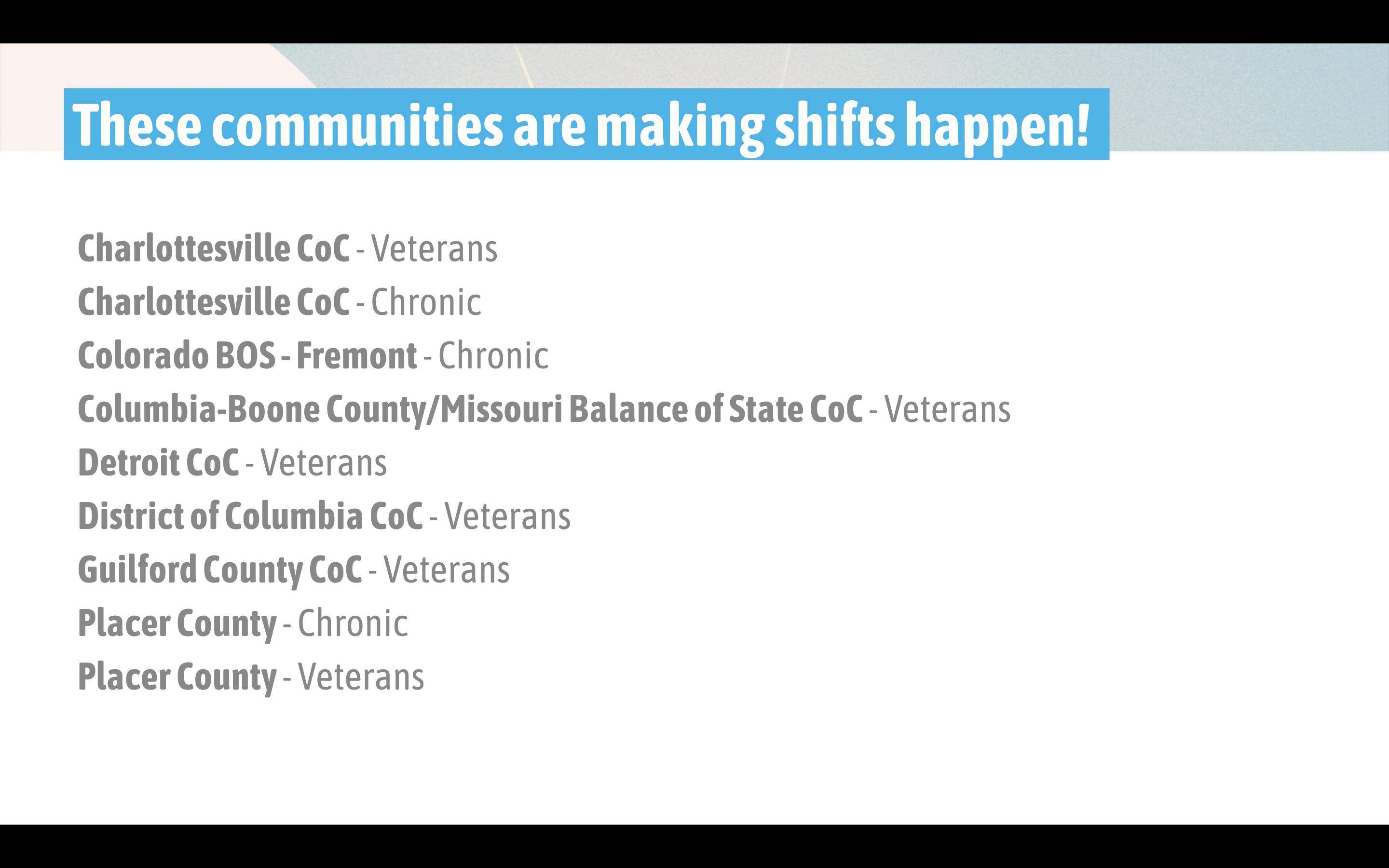 Marking a new recognition at Learning Sessions, the next celebration highlighted the progress and discoveries communities have made in cohorts over the past six months.
As Nigon explained, cohorts allowed unrecognized breakthroughs to be acknowledged and amplified. Typically, Built for Zero communities progress through steps that begin by establishing quality data, followed by achieving shifts.
"With enough shifts, you get to functional zero for a population. Then, population-by-population, you're going to end all homelessness," he said.
However, the focused, nuanced work communities have undertaken across these cohorts has allowed communities to tell a more detailed story, pointing out where to look and what's important.
"You're discovering something new, and we've never had an opportunity to share it before," Nigon said.
"You're discovering something new, and we've never had an opportunity to share it before."

Garen nigon
Cohorts officially launched earlier in 2021, with many embarking upon their next action cycle now. "Part of what we think is special about BFZ is that there's power in the cohort," said Turner. "When we do this work together, it gets easier to sustain, it gets easier to figure out, it brings joy to the work. We're figuring this stuff out together."
Participants then shared what progress has looked like in their cohort, how they have moved toward their goals, what they have learned from other community teams within the cohorts, and what has changed for their community in the past six months.
---
Cohort and Pilot Updates
Three cohorts started new Action Cycles the week of the Learning Session — Improvement System Shaper (ISS), Shift Lab, and System Flow. Each cohort is spending the upcoming weeks setting their improvement aim for the next six months. The cohorts each also have a theory of change that orders the content that community improvement teams will work on together and that Built for Zero will coach them through.
During the cohort-specific portions of the Learning Session, community teams decided how ambitious they wanted to be with their improvement aims — setting goals around beginning to report data, achieving quality by-name list data, or reducing their actively homeless numbers.
Read on to learn about the focus of each cohort and hear what community members have learned in them so far:
Improvement System Shaper
This cohort helps improvement teams form their coalition and learn how to use their data for improvement. Improvement System Shaper, is intended to be a place where teams work on building their by-name list quality data, while also preparing to reduce that list.
"We've been populating our by-name list and have really noticed how each person on that list has a unique circumstance."
– Michelle Skagen, Roaring Fork, Colorado
Shift Lab
Shift Lab builds upon those skills learned in ISS, but adds the focus on experimenting with developing parts of communities' data infrastructure and strengthening their coordinated entry systems.
"One of the great things that's changed for our community is that we have a lot more buy-in and a lot more focus. We've seen our infrastructure change a lot…Progress has not been linear. But we had a goal of a 5% reduction from May to October, and we actually hit a 20% reduction in veteran homelessness in that period."
– Morgan Smith, Spokane, Washington
System Flow
System Flow is all about speeding up the phases of coordinated entry and coming up with novel solutions for Individuals who have been experiencing homelessness for a year or longer. The cohort this cycle will have a deep focus on prevention and diversion, as well as finding new solutions to accelerate housing placements while managing their by-name list for accuracy and action.
"Progress for us is the engagement with our veterans — just communicating with our veterans and saying, 'Hey do you have any ideas? What do you need from us? Many of our veterans have taken a very active role in searching for housing."
– Mallorie Fults, Yamhill County, Oregon
Last Mile
Teams are invited to join Last Mile when their actively homeless cohort is within 20 of their functional zero threshold, when they have BFZ-certified quality data, when their coalition wants to set a functional zero goal within six months, and their improvement team is ready to make a special effort for the next six months. They are focused on running tests of change and making quick pivots, with the goal of bringing their actively homeless number down to functional zero. The current Last Mile communities have moved into the System Flow Cohort.
"A big piece for us has been managing inflow and practicing diversion strategies. The housing market is so hot, people are becoming homeless for the first time in their lives. By practicing diversion, we're managing inflow. So we won't see a deluge of new homeless veterans coming in. Our list incorporates those who are in the early stages of having to find a new place or in the late stages of losing housing. This makes sure they don't enter our homeless response system, so they stay housed."
– Brendan Phillips, Nevada County, California
Health Care Pilot
The overall aim of the Health Care Pilot is for participating communities to make measurable progress toward ending chronic homelessness, with a focus on building racially equitable systems. The pilot also intends to identify the transformative contribution that health systems can have in ending chronic homelessness in a community.
By the end of the pilot, health systems and their communities will have:
a clear understanding of interventions/ways of working that have the greatest impact,
shared accountability for racial inequities in both the local homelessness systems and the upstream systems,
a business case for both the health system and the overall community, and
an understanding of the effects of housing for the health of the chronically homeless population.
"Negotiating relationships and having conversations about how the hospitals have been approaching our homeless system of care has been really great. We're developing that trust and that relationship and that ability to have difficult conversations about how each of us is interfacing with the overall system. The health care system has a lot of info about clients that we don't have in our HMIS system, so we're working on sharing data, so we can better target a coordinated approach to care going forward."
– Lisa Bates, Sacramento, California
Sustaining Communities
During the Learning Session, communities that have already achieved functional zero and have shifted their focus to sustaining their status were invited to a special session to celebrate their progress. They also had the chance to provide input on what types of support Built for Zero could offer to help them continue to sustain functional zero.
"Sustaining — it's wonderful to get to this point. It doesn't mean you stop doing what you're doing. You keep your foot on the pedal and you continue pushing through."
– John Meier, Abilene, Texas
Large Cities
This cohort consists of a group of large metropolitan areas that are working primarily to end veteran homelessness. Large Cities' focus is to move system-level and policy barriers to reducing homelessness, right alongside engaging frontline staff and people with lived experience in their strategy and system design.
"We've seen a significant sustained decrease in inflow, for both [people] new to homeless and returned from housing. We worked on improving our diversion to decrease our inflow, and started tracking this in February. So far, we've diverted 84 veterans."
– Jennifer Tuzinsky, Detroit, Michigan
---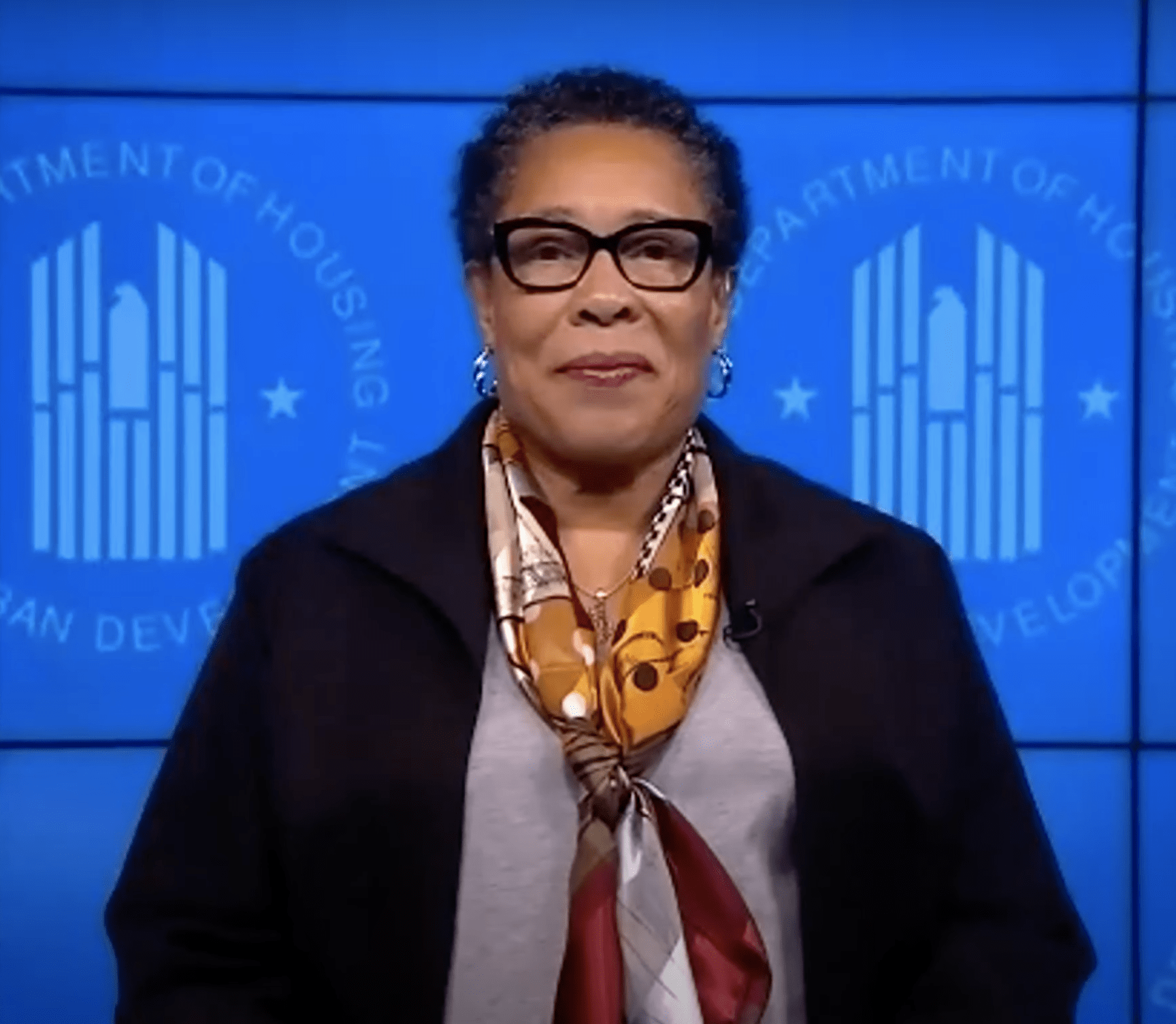 "It is past time for us to repair America's faults — those of housing and homelessness, hunger, and health care. HUD is eager to work with all of you to realize that mission. The members of Built for Zero recognize that every person counts, that every person matters, that every person deserves to live with stability, with security, and with hope."
– HUD Secretary Marcia L. Fudge
Remarks by HUD Secretary Marcia L. Fudge
Built for Zero was honored to have special guest speaker, Marcia L. Fudge, Secretary of the U.S. Department of Housing and Urban Development, join the Learning Session. During her remarks, Secretary Fudge recognized the efforts of each Built for Zero community leaders and members in the face of Covid-19:
"I know your staff members have worked on the front lines throughout this pandemic, reducing crowding in shelters, instructing people on how to stay safe from the virus, and helping them get vaccinated. Your communities will continue to rely on your services as the delta variant persists, and cold weather arrives. I know your work can be challenging and draining. On behalf of our team at HUD, I want to thank you, from the bottom of my heart, for all of your efforts. We are proud to partner with each of you to help put America on the path toward ending homelessness."
Policy Update
The latter part of the Plenary Day sought to help community members situate themselves and their work within Built for Zero's national policy change efforts. Participants heard from Community Solutions' President, Rosanne Haggerty, along with members of the Policy Team as they discussed policy and advocacy efforts that would support communities working to reduce and end homelessness.
"We know that in this world of clearing the path to make it normative to end homelessness, to reach functional zero, we're going to need mayors and county executives to play much-enhanced roles for sources of accountability locally for getting the job done," Haggerty said. She then outlined Community Solutions' five policy priorities: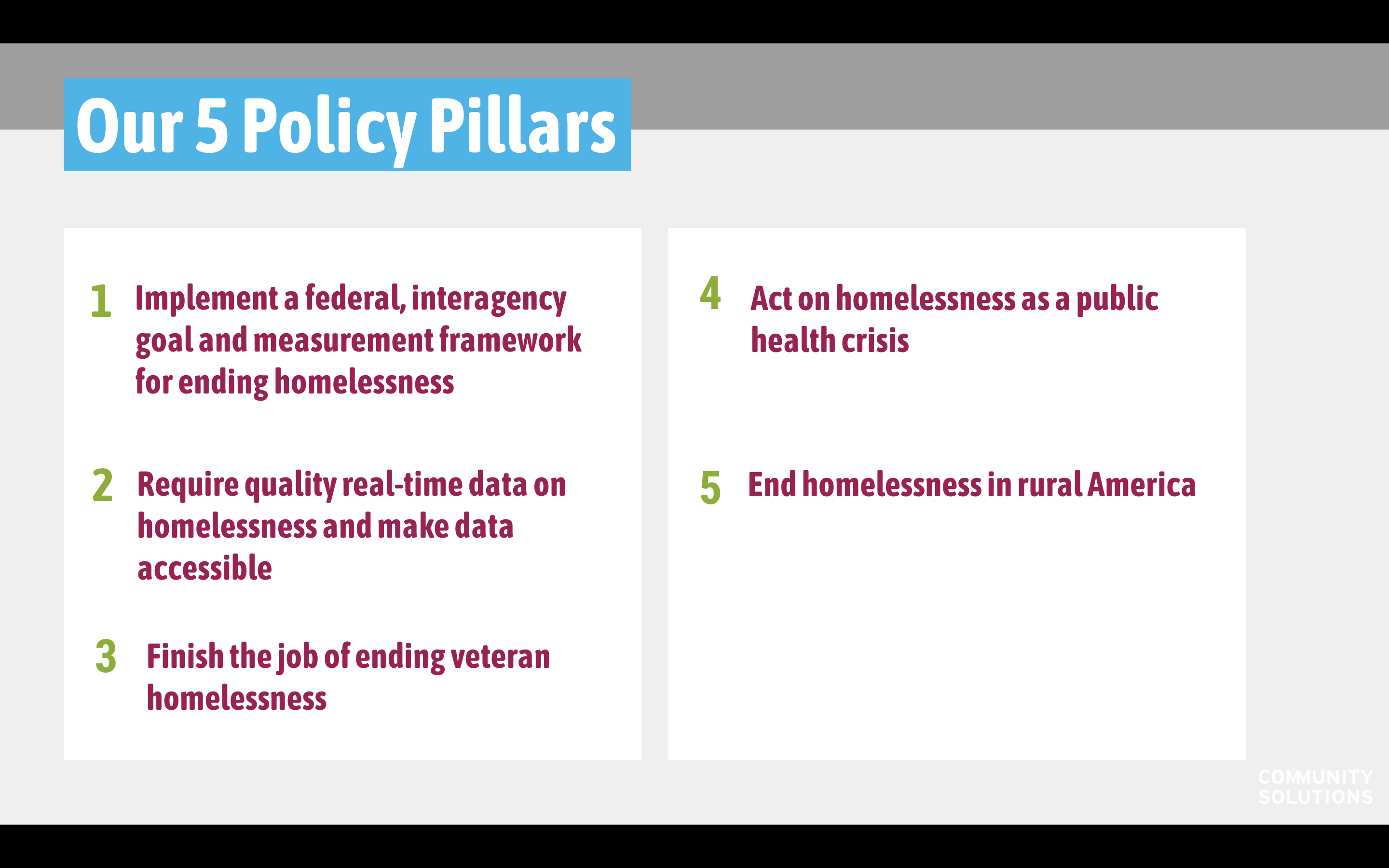 Next, Andra Stanley, Community Solutions' Senior Policy and Research Analyst, and Ali Solis from S3 Advisory Services explored congressional work to pass a large reconciliation package, the Build Back Better Act, that will fund economic programs and infrastructure across the nation, including providing access to permanent, stable housing to thousands of households currently experiencing homelessness.
Community Solutions will be advocating for three potential policy proposals to accelerate an end to homelessness by helping communities better use data and increase rural communities' capacity for outreach and service delivery to unhoused people in the coming months.
Community Solutions also recently partnered with the Menino Survey of Mayors to include a set of questions about how mayors are thinking about homelessness and the solutions in order to better understand how to educate and influence mayors about Built for Zero.
Katherine Levine Einstein, Associate Professor of Political Science at Boston University, provided a preview of the results of the set of findings from the survey that delve into local policy and homelessness, including mayoral perspectives on coordination and data challenges and measures of success. The final results will be released in January 2022 in collaboration with Community Solutions.
USICH Listening Session
Built for Zero members had the opportunity to participate in a Listening Session held by Tamara Wright, Regional Coordinator at the U.S. Interagency Council on Homelessness. Participants provided feedback for the update to USICH's Federal Strategic Plan to Prevent and End Homelessness.
Questions discussed included:
What the federal government's top priorities should be as they relate to preventing and ending homelessness
What the biggest barriers are to ending homelessness in the communities
How the federal government can more effectively center racial equity in its prevention of or response to homelessness
How the federal government can best support equitable distribution of/access to resources and equitable outcomes at the local level
What communities have learned during the Covid-19 pandemic about how the housing, health, and supportive services system can best respond to people experiencing homelessness
What goals should be included in the federal government's next plan, and whether or not to include subpopulation-specific goals and target dates
Topics highlighted by Learning Session participants included prioritizing seniors as a population, focusing on upstream work, increasing flexible funding, and ensuring people with lived expertise are at the table on every level and paid for their time and expertise.
If you were not able to participate in a listening session, you can also provide feedback online through the USICH website. They will be gathering input through the end of November.
The plenary day concluded with a community networking session using the platform called Glimpse. Despite Glimpse's best efforts to keep teams from connecting, there were 226 matches made across cohorts and communities.
Many thanks to all of the participants — especially members of our 98 Built for Zero communities — who joined us throughout this Fall Learning Session and contributed their insights, inspiration, and ideas. A special thank you to our federal partners, funding partners, and core partners for making this work possible. Onward!