Thursday in Washington, DC, we released Getting to Proof Points: Key Learning from the First Three Years of Built for Zero. This report, funded by JPMorgan Chase, documents our journey from the end of the 100,000 Homes Campaign to the present— a journey that has seen seven US communities end veteran homelessness and three US communities end chronic homelessness, the first ever to do so. In all, the 77 communities participating in our Built for Zero initiative have connected more than 85,000 veterans and people experiencing chronic homelessness to permanent homes since January of 2015.
The report highlights key learnings with implications for federal and community leaders:
The value of real-time, by-name data.
All successful communities in Built for Zero have developed the ability to know every person experiencing homelessness by name and on at least a monthly basis. This data balances from month to month, just like your checkbook. That's how we know it's a reliable capturing of everyone.
The need for a rigorous idea testing to drive reductions
The most common ingredient for success has turned out not to be a high level of funding or even any particular housing strategy. Instead it is the quality of a community's approach to testing new ideas. US communities solving homelessness are doing the same thing successful companies do— they are testing their best ideas on a small scale, using data to evaluate them quickly, and then adjusting and scaling them to drive better and better results. This way of working was not possible until communities had real-time data on homelessness so they could track actual reductions.
A focus on sustainability
89% of communities that have reached zero are also sustaining that result month over month. Each community's ability to sustain zero is tied to continuing to manage their data in real-time and respond rapidly to new cases of homelessness. The report also highlights the financial benefits of sustainability, since publicly funded systems like healthcare and criminal justice only see cost savings when the overall number of people experiencing homelessness in their jurisdiction goes down and stays down.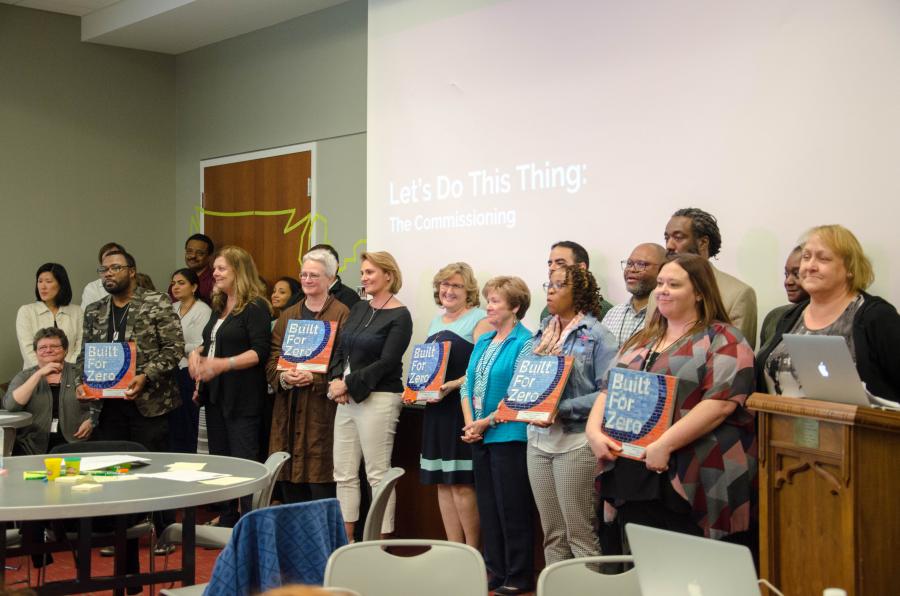 Seven US communities have ended veteran homelessness and three US communities ended chronic homelessness, the first ever to do so.
The report's conclusion outlines key recommendations for further progress. These include the need to reinvent federal guidelines around community homeless data systems and the need to break up the largest HUD-funded geographies into smaller, more manageable regions to enable greater accountability for problem-solving.
Thank you to JPMorgan Chase for funding the creation and publication of this report.