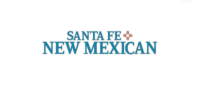 The sale of a 122-room hotel on South St. Francis Drive to provide housing to some of the most needy and vulnerable people in Santa Fe during the coronavirus pandemic — and beyond — is expected to close by mid-December.
The timing is key.
The city of Santa Fe is leveraging $2 million of the nearly $17.6 million it received in CARES Act funding from the state to help purchase the Santa Fe Suites, and it has only until Dec. 31 to spend the money.
The city is working "diligently" with a New York-based nonprofit that strives to end homelessness and is "confident" the sale could be closed by the middle of next month, Alexandra Ladd, director of the city's Office of Affordable Housing, told members of the city Quality of Life Committee last week.