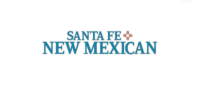 With the onset of the pandemic, the close quarters of many of our shelters became a public health hazard. To keep the most vulnerable among us safe, we stood up an emergency shelter and moved quickly to relocate homeless Santa Feans and implement robust COVID-19 testing. These actions illustrated our commitment to Santa Fe's homeless population, who in other areas across the country were ravaged by COVID-19 infections that spread like wildfire in crowded shelters. While working to address the short-term needs, we continued to build our partnership with Community Solutions and other local organizations, which enabled us to help with the purchase of Santa Fe Suites, a groundbreaking initiative that provides shelter and necessary services to housing-insecure people in Santa Fe.
We've all been challenged in more ways than we know this year, and yet as we come through, I think we'll find we're stronger and more resilient than ever. I am so proud of the staff of this city. I hope you are, too.
---
Jarel LaPan Hill is the city manager for the city of Santa Fe.