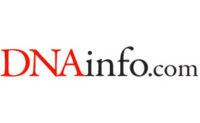 BROWNSVILLE — Lifelong Brownsville resident Linda Beckford will warn you to "be careful" strolling a block in her neighborhood, the murder capital of New York where a toddler was killed just last weekend. The 70-year-old retiree scans the street on her short jaunts to the grocery, and she avoids leaving home after dark.
But when Beckford joins forces with her senior citizen walking crew, the sidewalk becomes a runway for dance moves — and her cane is an accessory to keep the beat. When she has the security of a group, she can finally feel "relaxed."
"I feel like I'm lifting up the world. I feel great," said Beckford, a member of Brownsville's "Walk the 'Ville" walking group that departs biweekly from Tilden Senior Center and journeys to a nearby park while an iPod speaker blasts tunes. "I like the exercise…The music is going, and everybody is trying to keep up with each other."
Beckford — who bopped in her red sweatpants, black high-tops, rhinestone-rimmed glasses and concealed back brace one recent morning — is one of 150 members of the 2-year-old pack, whose oldest participant is 97.
The non-profit Community Solutions' Brownsville Partnership started the program to give seniors a viable exercise option and a focus on health, but the first location was at a park that required residents to walk through the Marcus Garvey Houses to meet the group, said the initiative's leader Nupur Chaudhury.
"They didn't feel comfortable walking through there," said Chaudhury of the infamous public housing development where the 16-month-old boy was recently shot.
So last year the group switched spots — and Chaudhury enlisted help from the group New York Road Runners, whose 74-year-old coach Sid Howard has won countless running races and leads seniors in seven other centers citywide.
"When I first came here I couldn't get eight people to walk," said Howard, whose persistence paid off and drew dozens of passionate walkers. "When they see someone their age doing it they'll try it. I want to be someone who inspires them."
The seniors — usually a crowd of about 30 people at a time and all women, Howard noted — start each morning with a round of stretches in the center, which even wheelchair-bound participants can do to build strength and flexibility.
And some members have seen such results from the indoor sessions that they've graduated to the next part of the day.
"I didn't think I'd walk again. I thought they were going to have to take my leg off at one point," marveled Willie Mae Nelson, 90, adding that she also previously had no movement in her left arm. "Now I can walk to the park. I feel good, real good."