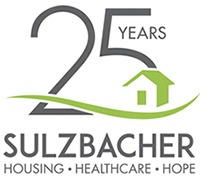 CONTACT:
Cindy Funkhouser, President & CEO
Sulzbacher
Cell: 904-923-0433
OR:
Eileen Briggs, Chief Development Officer
Sulzbacher
Cell: 904-568-8351
Jacksonville, FL, (May 13, 2020) –
Through a partnership with the national nonprofit Community Solutions, Jacksonville was chosen by Quest Diagnostics as one of two cities in the nation where homeless people would be tested for COVID-19. During the week of May 4th, Sulzbacher partnered with UF Health to administer tests at five of the largest, local homeless service providers including Sulzbacher downtown and Sulzbacher Village, Trinity Rescue Mission, Salvation Army, Clara White Mission, Hubbard House and City Rescue Mission and both Urban Rest Stop locations. The group tested a total of 679 people and Quest Diagnostics confirmed that ALL TESTED INDIVIDUALS DID NOT HAVE COVID 19; EVERYONE WAS NEGATIVE. The protocol for people who test positive is to isolate at home, however, people experiencing homelessness have no home, and group living facilities like shelters cannot provide the needed level of separation. Led by Changing Homelessness, the homeless service providers were able to leverage their existing relationships with area hotels to provide private rooms for anyone who tested positive for the virus. Local hospitals were also able to discharge homeless people who needed to be quarantined. Initial funding for the hotels came from the City of Jacksonville Urban Rest Stop grant, along with funding from private donors such as the United Way's First Coast Relief Fund.
A second 'Pop-up' Urban Rest Stop was established at the Salvation Army building on Church St. This enabled more street homeless to have a safe place to be during the day while having enough space to social distance. The group established a Community Homeless Protocol that included medical screening at all shelters and both Urban Rest Stop locations. Both medical and non-medical staff pitched in to screen every person entering any of the agency's campuses. Staff exhibited unparalleled courage and dedication – nurses, doctors and caseworkers in full protective gear reaching out to help, doing health screenings, taking temperatures, and setting up tents outside to do so. Using tablets and telehealth, frontline workers had 24 hour access to a Sulzbacher Provider if a patient needed to be escalated due to symptoms. The protocol included social distancing requirements, education from the CDC posted at all facilities, setting up two isolation facilities for those that needed to be quarantined, having staff available at the sites and delivering three meals a day. The result of the collective effort was to keep the entire population of people in Jacksonville who are experiencing homelessness safe from the spread of the virus.
Jacksonville's homeless service providers have a long history of working collectively through the coordinating efforts of our lead agency, Changing Homelessness, as well as the more recently formed group, Mayor Lenny Curry's Task Force on Homelessness. With these two conveners leading the charge, Sulzbacher, Mental Health Resource Center, City Rescue Mission, Trinity Rescue Mission, Salvation Army, Hubbard House and Clara White Mission worked together to establish a coordinated effort to protect our homeless neighbors. All agencies being equal participants, the Committee met twice a week for over a month to proactively establish a process to prevent the spread of the virus. People experiencing homelessness congregate, it's inherent in their circumstance, whether it's living in an institution, standing in line for meals or healthcare, or living in a homeless camp in the woods. They cannot self-isolate – they have nowhere to go. The highly contagious nature of the virus left this group particularly vulnerable to contract the disease. Despite the risk, the agencies' staff continued to work, putting their own health and the health of their families on the line to protect others in need.
Along with rest of the nation, Jacksonville struggled with a severe lack of Personal Protective Equipment for staff and clients. The collective group mounted a strategic effort to secure the needed supplies, leveraging every source possible. As the only provider with a health center, Sulzbacher was instrumental in securing supplies, including having volunteers sew masks at home, and obtaining donations of hand sanitizer from area businesses who had shifted their manufacturing to respond to the need. At the beginning of the crisis, there were no tests. The only people who could get tested initially were those that had cars.
The COVID testing at each location was coordinated through Sulzbacher's Federally Qualified Health Center (FQHC) in conjunction with each shelter. The testing took place during the first week of May and required an extraordinary feat of rapidly developed logistics. With a total of 679 people tested, both Sulzbacher and UF Health plan to publish research around this testing.
This collective effort has been shared nationally on COVID crisis response calls and webinars by Changing Homelessness and Sulzbacher, and on the #1 Health Podcast on Apple, Epidemic. It is hard to imagine that this result would have been possible without the partners existing collaborative relationships, some of which have been cultivated over decades. The homeless service provider community in Jacksonville is one of strong partnerships, leveraging of existing resources, and a shared mission of ending homelessness in Jacksonville.
About Changing Homelessness
Changing Homelessness was incorporated in 2001 under the name Emergency Services and Homeless Coalition of Jacksonville as the lead agency for services in support of ending homelessness in Duval, Nassau and Clay counties. Changing Homelessness guides the community effort, builds capacity to prevent and end homelessness, fosters communication, and provides training to 40 member agencies that offer direct services to people in need. The agency also provides data collection coordination for these services through the Homeless Information Management System (HMIS), ensuring useful data with the highest integrity possible. Northeast Florida has seen an 82% decrease in Veteran homelessness, 60% decrease in chronic homelessness and a 32% decrease in overall homelessness since 2009. For more information, visit www.changinghomelessness.org
About UF Health
UF Health is the Southeast's most comprehensive academic health center and part of one of the nation's Top 10 public research universities. UF Health represents the commitment of more than 26,500 employees to reach higher and farther, both translating scientific discoveries into patient care advances and implementing them to help people get back to living their best possible life. For more information, visit www.ufhealth.org
About Sulzbacher
Sulzbacher provides the opportunity for homeless men, women and children to achieve a better life. The agency's comprehensive services include street outreach, daily meals, emergency housing, case management support, veteran services, job placement assistance, as well as permanent supportive housing, scattered-site housing and a therapeutic early learning center. Medical, dental, and mental health care is provided on its downtown campus, at the beaches and at its pediatric health center at Sulzbacher Village, along with a school-based health clinic operated in conjunction with Wolfson Children's Hospital. Every day, Sulzbacher is home to more than 400 homeless members of our community – most of whom are women and children. For more information visit www.sulzbacherjax.org
Please Note
In 2018, we dropped the words 'The' and 'Center' from our name. We are now simply, 'Sulzbacher'.
About Quest Diagnostics
Quest Diagnostics empowers people to take action to improve health outcomes. Derived from the world's largest database of clinical lab results, our diagnostic insights reveal new avenues to identify and treat disease, inspire healthy behaviors and improve health care management. Quest annually serves one in three adult Americans and half the physicians and hospitals in the United States, and our 45,000 employees understand that, in the right hands and with the right context, our diagnostic insights can inspire actions that transform lives. For more information visit www.questdiagnostics.com