Our Aim
By 2026, communities can leverage powerful, dynamic ways to close housing supply gaps to accelerate progress to functional zero homelessness.
---
Milestones
$126 million committed in social impact capital
500+ units of affordable housing acquired and connected to the homeless response system
In May 2022, launched the Community Solutions' Housing Systems team
---
Our Approach
Social impact investing has opened up a critical pathway for addressing the housing gaps that stand in the way of cities working to get to functional zero, and this is particularly powerful in the largest and fastest-growing markets. Social impact financing can help deliver projects in less time at less cost while creating greater flexibility to meet the changing needs of a community over time — all while still generating a return for the investor.
Community Solutions has raised $126 million to deliver more affordable housing to help communities end homelessness for their target population. We have acquired seven buildings across four markets within the Built for Zero network, replicating the acquisition and financing model we tested at the Abrigo Apartments (Denver, Colorado), the Santa Fe Suites (Santa Fe, New Mexico), and Centra Villa (Atlanta, Georgia).
This unique model brings housing directly to the system that serves people experiencing homelessness. As units in these already-occupied buildings become available through natural attrition, they are renovated and then leased to an individual experiencing homelessness through the local "coordinated entry system." This means that units are linked directly to the community's by-name dataset to ensure they are serving those assessed to have the greatest need, and that there is a clear link between increased unit availability and reductions in homelessness. This prioritization process continues until the building reaches 50% individuals who have experienced homelessness, while the other 50% of the units remain affordable workforce units.
Social impact capital allows Community Solutions to purchase properties quickly and efficiently, to compete with private equity buyers, and minimize the traditional affordable housing transaction costs. The model guarantees long-term affordability as well. Upon the term completion of the social impact investments, buildings will be acquired by a local nonprofit partner, which will continue to meet the community's affordable housing needs in perpetuity.
We see our housing system work as a key lever for:
Creating access to housing by removing barriers to entry for people experiencing homelessness (i.e., removal of criminal background history and credit history as a basis of rental eligibility),
Improving the process of housing placement/coordinated entry in communities,
Supporting individuals in maintaining their housing through tenant success-focused property management (an approach we call Property Management Plus), and
Testing ways to streamline housing eligibility review and placement steps, troubleshoot system bottlenecks, and identify larger policy barriers for attention and resolution.
---
Progress
A wide range of investors — including individuals, health systems, philanthropies, and banks — have committed $126 million and helped acquire more than 500 units of affordable housing to help communities end veteran homelessness in 2022.
Their appetite and partnership have validated that the social impact investment model is a viable way to compete with private equity to preserve affordable housing and dedicate vacancies to achieve reductions in homelessness. In 2022 alone, social impact investment helped acquire more than 500 units in four large cities. Compared to housing built through the use of federal low-income housing tax credits, which can take years to complete, this model can deliver housing within months at less cost while creating greater flexibility to meet the changing needs of a community over time.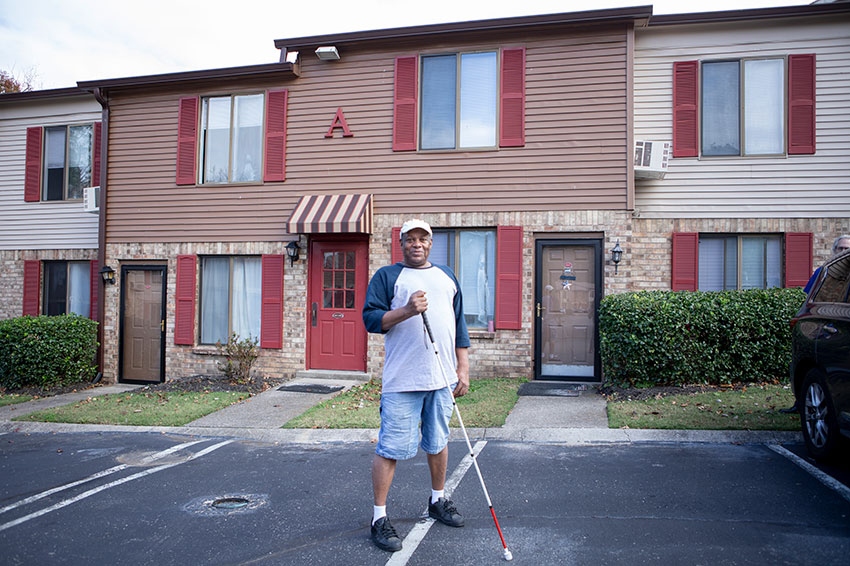 Those acquisitions include:
The Mayflower, 65 units, Baltimore, Maryland
Caroline Village, 93 units, Jacksonville, Florida
Avon North, 63 units, Metro Denver, Colorado
Avon South, 36 units, Metro Denver, Colorado
Park 16, 60 units, Metro Denver, Colorado
French Courtyard, 42 units, Jacksonville, Florida
Glastonbury Woods, 144 units, Nashville, Tennessee (shown at right)
To end homelessness, it is important to connect housing directly to the people in a community experiencing homelessness. In Built for Zero communities, homeless response systems are designed to know everyone experiencing homelessness by name, in real-time.
In communities with newly acquired buildings (Baltimore, Jacksonville, Metro Denver, and Nashville), Community Solutions supports the local team as they align their by-name data of individuals experiencing homelessness with these newly available units. This support includes upgrading of units and coordinating the work of multiple agencies to assure a rapid move-in and successful tenancy.
Ultimately, each building will contain a 50/50 mix of units for individuals exiting homelessness and affordable workforce units.
Glastonbury Woods apartments in Nashville, a 144-unit building purchased in August 2022, experienced a particularly seamless move-in process thanks to the exceptionally well-coordinated work of Nashville and Davidson County Veterans Affairs Medical Center and the City of Nashville's homeless response team.  
In late October 2022, Raymond, a veteran experiencing homelessness, moved into his own one-bedroom apartment in Glastonbury Woods. He had retired in 2016 after a career spent as an industrial maintenance worker, helping construct power plants and skyscrapers along with water and sewer lines, then fell on hard times. The apartment in Glastonbury Woods was a long hoped-for return to a more stable life.
"The process of me moving home and being closer to my family is very well appreciated," he said. "…I'm better off now than I ever was."
We continued to roll out our enhanced property management model, which aims to ensure all tenants are connected to the services and support they need to remain stably housed. We are implementing what we call Property Management Plus in all Community Solutions housing. The following features of the model are critical for tenant success and the buildings' sound operations:
Ensure that prospective tenants are being matched and then supported into housing by forging strong relationships with the Continuum of Care and VA
Create various ways for tenants to access support services within the community. This includes connecting with local advocates to provide tenants with opportunities to engage with broader community issues
Promote health and well-being with partnerships with health care providers, including local VA Medical Centers
Establish adaptable and meaningful check-ins to gauge individual tenant needs
Maintain the physical environment to a high standard
To ensure the effectiveness of the local property managers with whom we partner to deliver Property Management Plus, we established a centralized support team to orient, train, and troubleshoot challenges with on-site staff.
The Property Management Plus model is designed to align the interests of tenants and landlords and set tenants like Raymond up for success. Raymond's low credit score was not a barrier to signing a lease, and the property management team helped Raymond secure new resources, including connecting him with a dentist and an eye doctor. Upon discovering Raymond's poor vision, they also improved the lighting throughout his apartment.
We continue to help Washington, D.C., and Detroit repurpose shelters and transitional housing into permanent affordable housing. As the number of homeless veterans decreases, and the community effectively prevents new veteran homelessness, properties originally built as shelters or short-term housing can be repurposed to become needed permanent affordable and supportive housing. In Detroit, we worked with the Detroit Rescue Mission to convert their 60-bed transitional housing building to 60 permanent housing units for veterans experiencing homelessness.
Freddie Tucker, a new tenant in the Detroit property, recalled his despair in facing another night at a shelter.
"I wouldn't go check in until it was dark," he said. "When I would get off work, I would go to the park and park my car and just sit. But here, when I get off work, I come straight home, because I have somewhere I want to be."
---
Challenges and Learnings
Housing providers across the country face bureaucratic challenges in renting to people exiting homelessness. An effective housing and homeless response system must be able to account for everyone who is unhoused and rapidly coordinate and match individuals with housing that meets their needs.
As we increase the number of housing units dedicated to ending homelessness in select Built for Zero communities, we have gained important insight into the challenges that can slow down or lengthen the overall process of connecting individuals with housing.
Refining this process so it operates seamlessly and equitably for all parties is a key objective of our Housing Systems work. Streamlining the steps it takes to bring people home takes a strong system of partnerships, a real-time line of sight into the population experiencing homelessness, and a commitment to addressing immediate and chronic barriers. In communities like Jacksonville, Nashville, Denver, and Baltimore, we are testing ways to strengthen connections between landlords, property managers, and key partners in the local homeless response system, like the Continuum of Care, the Housing Authority, and VA.
We are also removing the barriers that perpetuate poverty and homelessness, like criminal background checks, credit ratings, and security deposits. Our aim is to learn what it takes to operate a strong, coordinated, and equitable housing system and to share those lessons more broadly across Built for Zero communities and the housing sector.