This week, we officially announced that Riverside County, CA had become the first large community in the country to reach Functional Zero, our rigorous definition of a clear and measurable end to veteran homelessness. Our team has worked with Riverside since 2015 as part of our Built for Zero initiative. Riverside's success offers the first proof that every community— large or small— can end veteran homelessness measurably and objectively.
Riverside County spans 7,200 square miles and is home to more than 2 million people, including a major city with a population roughly equal to Pittsburgh or Cincinnati. A year ago, the community had more than 200 veterans experiencing homelessness, but today, that number is fewer than 20— equal to the number of veterans the community can move into housing in any routine month.
How did Riverside become the first large community in this movement to reach Functional Zero? For the wonks, we've prepared a full data case study here. Here are a few key highlights:
An empowered and accountable leadership structure
The County of Riverside Continuum of Care is the central funding body that administers federal grants to end homelessness in Riverside. Last April, the Continuum selected a single lead agency to take responsibility for achieving that outcome across the county. (Think of this as making it someone's job to end homelessness. In many communities, if you can believe it, no such person or agency owns this responsibility officially.) The winner of the Continuum's selection process was the County itself, and it promptly initiated three shifts. First, it began convening all stakeholders at a single, regulary held strategy meeting. Second, it took charge of improving and redesigning local homeless data systems, which must be shared across all local agencies and groups. Finally, it drove the design and expansion of a single, coordinated set of standards for connecting people to housing across the county. In effect, the County team built a streamlined system that allowed every agency or nonprofit working on homelessness in Riverside to plug into the same process. Over time, this approach reduced the average time it takes to move a veteran from the streets into an apartment by more than 50 percent.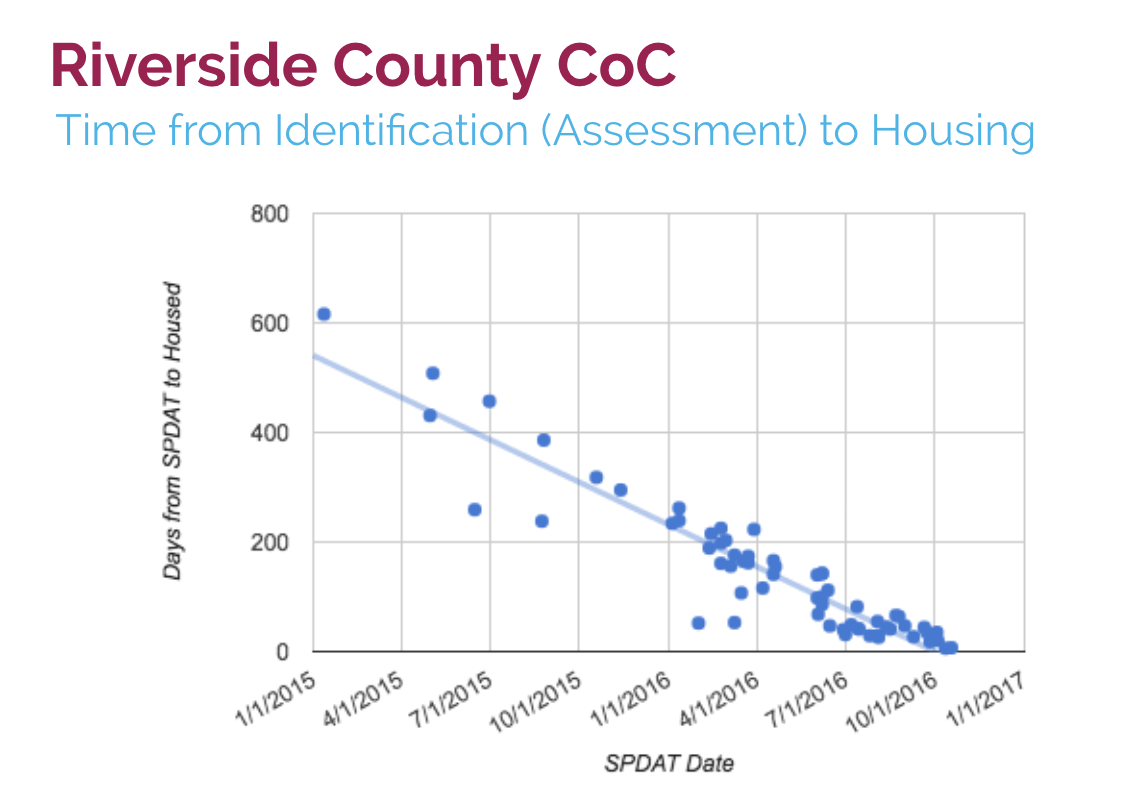 The use of real time data
Riverside focused on tracking and reporting the six key data points that an effective housing system needs to monitor in order to improve its performance. These data points are technical, but they amount to tracking three key things monthly: inflow into the system, outflow from the system, and the total number of veterans experiencing homelessness at any given time. In other words, Riverside started using real time data to drive down the number of veterans becoming homeless while simultaneously increasing the number of veterans getting housed. Developing and learning to use this complete, real time picture of a housing system is a key component of our work with communities.
A new approach to coordination across teams
Finally, Riverside brought people together to problem solve each veteran's case by name. We call this concept case conferencing— a simple way of pulling together every group that touches a veteran around the same table and working collaboratively each week to move that veteran through the housing process. Case conferencing isn't a new technology or a revolutionary approach— it's just a commonsense way for diverse groups to work together— but we are continually surprised by how many communities don't have a weekly meeting like this one. In Riverside, the results of this simple intervention speak for themselves.
Riverside's success is a big deal because it proves that large communities, not just small ones, can end veteran homelessness, and that they can measure that result objectively and in real time. This victory should encourage our belief that an end to veteran homelessness in every community is possible if communities adopt smarter problem solving approaches!