Hope was inside the Gregory Jackson Center for Brownsville in June when Community Solutions' Brownsville Partnership opened its doors to the community for The Gregory Jackson Community Celebration of Life. The event was a celebration of the life and legacy of Gregory "Jocko" Jackson, in whose honor the building is named.
Jackson, a former professional basketball player unofficially known as the "Mayor of Brownsville," was the founding director of the Brownsville Partnership. He dedicated his life to serving his home neighborhood in hopes of fostering a sense of strength and pride among his neighbors.
Jackson passed away suddenly in May of 2012, but his commitment to Brownsville and many contributions have proven durable. Jocko's accomplishments motivate our Brownsville Partnership team each day. His vision continues to resonate in the team's sharpened understanding of its role in the community, and in its determination to fulfill Jackson's vision and goals for his community.
Brownsville Partnership team member Richard Swinson officially opened the celebration and introduced Reverend Arcy Pettaway, who began with a prayer imploring residents to follow Jocko's example. Other features of the event included performances by the Brownsville Recreation Center's (BRC) Victory Dancers and The Savvy Soul Step Dancers, as well as poetry read by student Kemih Frazier and Greg Jackson's grand-daughter, Nia Nicole Thompson, whose words moved many audience members to tears. The celebration continued with speeches and special remarks by Jackson's family and community members, including Assemblywoman Latrice Walker, some of his colleagues from the BRC, and current Brownsville Partnership Director, Mary Tobin.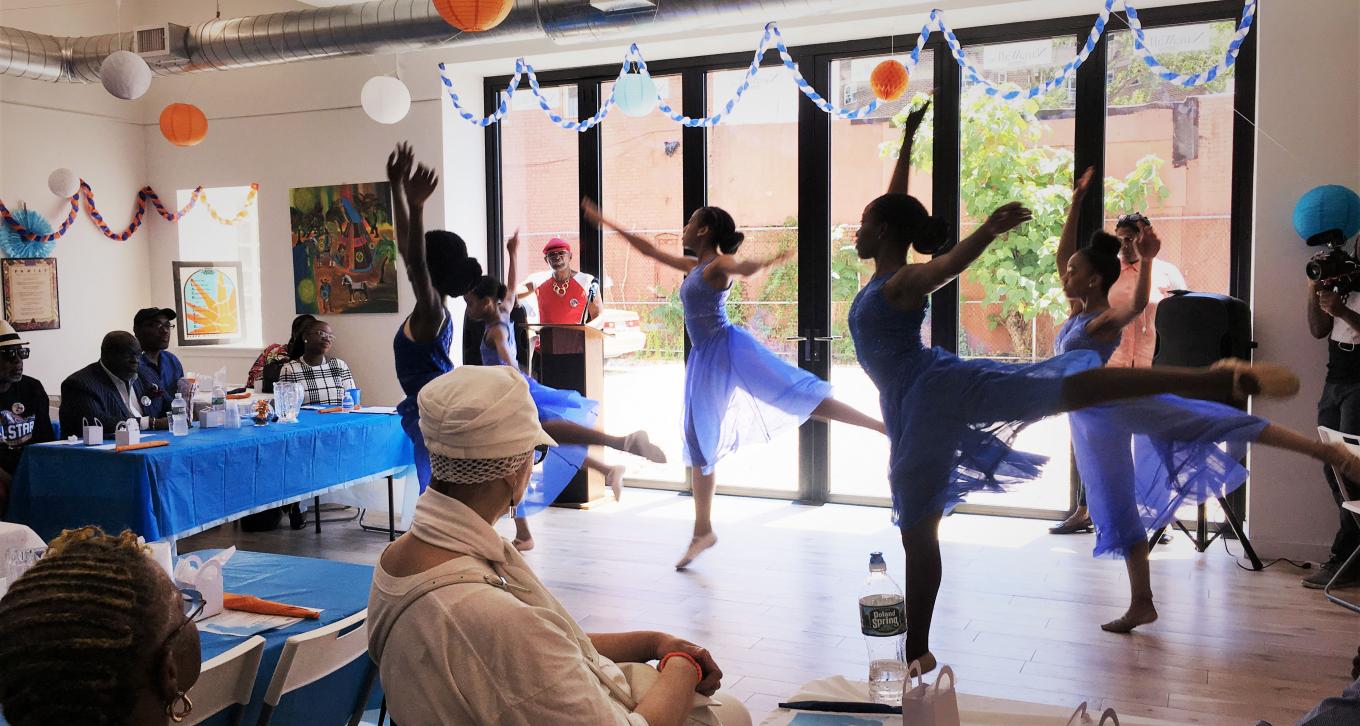 Nearly 70 community members including representatives from many of our partners whose work Jackson also influenced, attended the event. Members of Jackson's family expressed amazement at the continued love and respect that so clearly exists for his life and work, not only in Brownsville, but throughout Brooklyn and other parts of New York City.
At the event's conclusion, attendees received orange bracelets inscribed with the the words, "Hope is Inside," a well known phrase of Jackson's meant to evoke the value and potential within each person, as well as within the community as a whole.
"In my 48 years of community work, this was one of the most awesome and meaningful celebrations of life that I have ever participated in." said Richard Swinson, who had been friends with Greg Jackson since childhood. "This event was not meant to be a memorial, it was to be a celebration of Jocko's life, his legacy, what he meant to Brownsville and what he sacrificed for Brownsville," he added. "We are happy to have achieved that for him."
Community Solutions officially opened the Gregory Jackson Center for Brownsville in 2015, and it has since become a thriving community hub, vital to the operations of numerous organizations and partners who are able to use our work and/or meeting space to fulfill their community goals.
We want to thank all of the partners of the Brownsville Partnership, as well as all celebration attendees, for making this year's Gregory Jackson Celebration of Life possible. We continue to honor and build upon Greg Jackson's legacy.