Meet Will, a Colorado resident, father, grandfather, Air Force veteran — and someone who has experienced homelessness.
Built for Zero seeks to end homelessness for Will and all veterans who may experience it across the country. Our vision is that people living in Built for Zero communities can expect a system that makes homelessness rare, and keeps it from becoming an enduring, recurring, or defining force in their life. These communities have systems that are easily navigable for those who may experience homelessness, to help them get back on their feet and have a safe, clean, and quiet place to lay their head. As Will explained, for someone experiencing homelessness, "every day has a different manual."
Facing housing insecurity
Will served in the Air Force for 10 years as a radar scope operator, otherwise known as an Aerospace Control and Warning Systems Technician, providing radar air support wherever troops were based abroad. Coming out of the military was difficult, however, and he was diagnosed with PTSD, and qualified for social security disability benefits.
"A lot of us have experienced things we wouldn't have experienced for not being part of the military," he explained. "Some of it's good, and some of it's not so good."
In 2011, William moved to Colorado to pursue better employment opportunities, living in an apartment with a roommate. Due to a driver's license issue, however, Will was issued a felony offense and incarcerated for 11 months. "I came out of incarceration and I had nothing. Nothing but the clothes on my back." With his home in foreclosure, cars sold, and belongings gone, Will faced housing insecurity after exiting the criminal justice system, like many returning citizens often do.
As a result, he moved into a motel for five months, which turned out to be disastrous, he said, paying $1500 a month for poor living conditions. "You can't save any money paying that much," he said. "You can barely eat."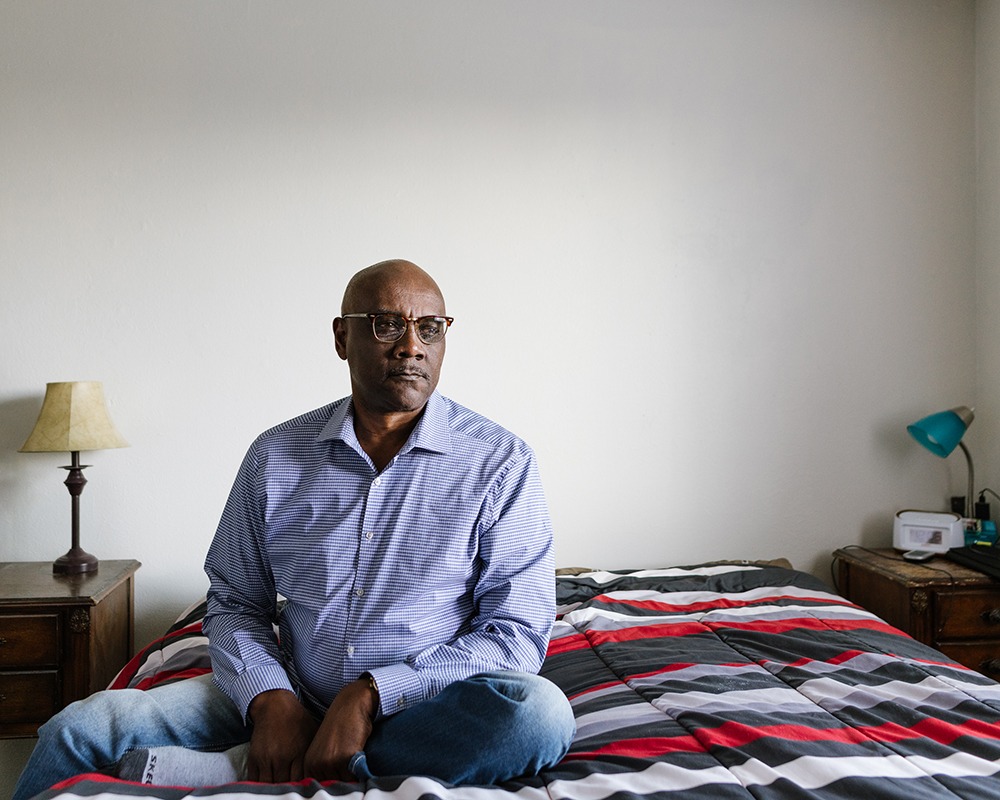 "I just needed a jumpstart."
— Will, an Air Force veteran who experienced homelessness
A place of his own
Will heard about a transitional housing facility called Beacon Place through his VA housing liaison, who helped make sure it was a good fit for his needs and experience. "It was an absolute lifesaver," Will said, because it gave him somewhere to eat three times a day, bathe, and sleep at night.
"I wasn't destitute — I just needed a jumpstart," he explained. Having a place as a homebase was a game-changer, giving him somewhere he could "come back to at the end of the day and plan the next day." Once he was able to save some money and get back on his feet, his VA representative told him about Abrigo Apartments in Aurora, Colorado.
Out of all the things he went through, Will said that securing his apartment at Abrigo was the easiest part of the entire process. Since his driving offense is a felony, it can severely restrict his housing options — a challenge he had encountered in the past when applying for housing. "Because it says 'felony'," Will explained, "it means you don't deserve getting an apartment there."
But he has now been able to call Abrigo home since May 2019. "It gives me a solid foundation to work on the many challenges I have going on. But even with my disability, I'm blessed to be able to keep a roof over my head and take care of myself," said Will. It's a giant leap from where he was, and he feels fortunate. "To have this home now gives me mine…. it's all mine."
Now in his new home, William frequently enjoys one of his favorite pastimes—cooking. "My best dish is chili. I do a very nice chili," he said. He also loves visiting his four grandchildren, aged 13 through 18, living in Florida.
Greasing the runway
Metro Denver is one of six communities in Colorado that are working toward zero veteran homelessness as part of a coordinated statewide effort. This year Denver has been focused on using their real-time data to identify process improvements to connect veterans like Will even more quickly to permanent housing.
Will also hopes to volunteer or work with the VA directly to help others who have experienced similar situations. "I know what it's like to be homeless," he said, wanting to help others with reintegration by sharing his knowledge and story. Veterans tend to have a lot of challenges based on the things we've experienced, he noted. "I want to help lessen the blow and grease the runway for others—especially veterans."