The 2022 Learning Session brought together over 80 communities working to end homelessness as part of the Built for Zero movement. This year's convening was the first to be in-person since 2019. It started by welcoming nine new communities to the movement, bringing the total number of participating communities over 100. As communities prepared for the next cycle of work, we connected with one another, shared insights, and aligned goals around measurably reducing homelessness to functional zero.
---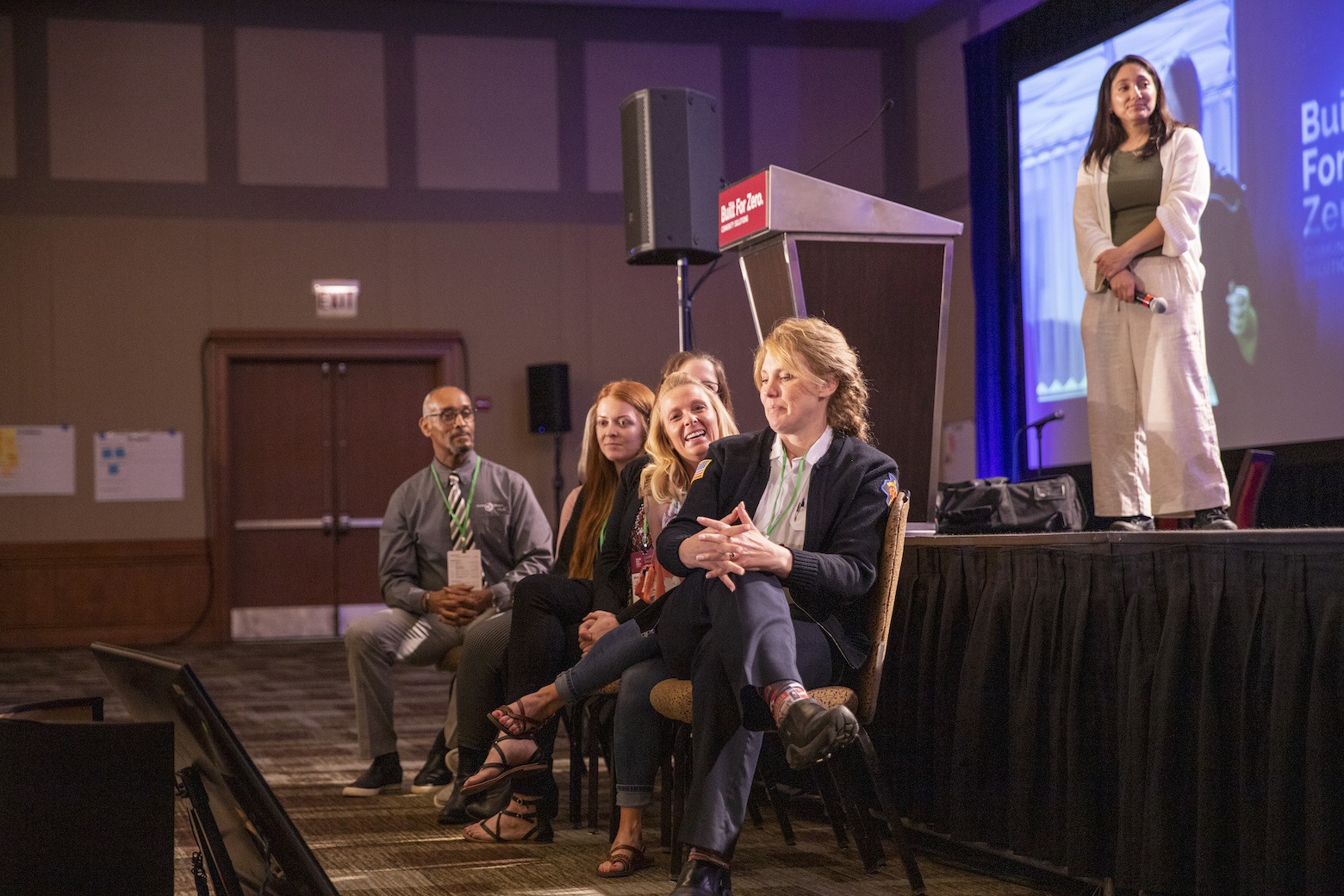 1. Built for Zero communities have proven that achieving functional zero for veteran and chronic populations is possible – now communities that have achieved these milestones are working toward ending homelessness for all.
Homeless service providers from Rockford, Illinois, and Abilene, Texas, talked about why they partnered to inform a new definition for ending homelessness for all populations, and what drove them in their work to make homelessness rare and brief, for everyone. Communities such as Rockford have leveraged systems change by working across social service networks to reach and sustain the milestone of functional zero for all populations. These multi-sectoral teams include healthcare systems, housing providers, domestic violence advocates, public schools, and city governance agencies.
"​​We couldn't do our work without the Fire Department, which also does health outreach or without code enforcement… We couldn't do our work without the health system, because so many of the people we work with have health problems," said Jennifer Jaeger, the Director of the Community Services Division of Rockford. "We can't do this work without system change."
---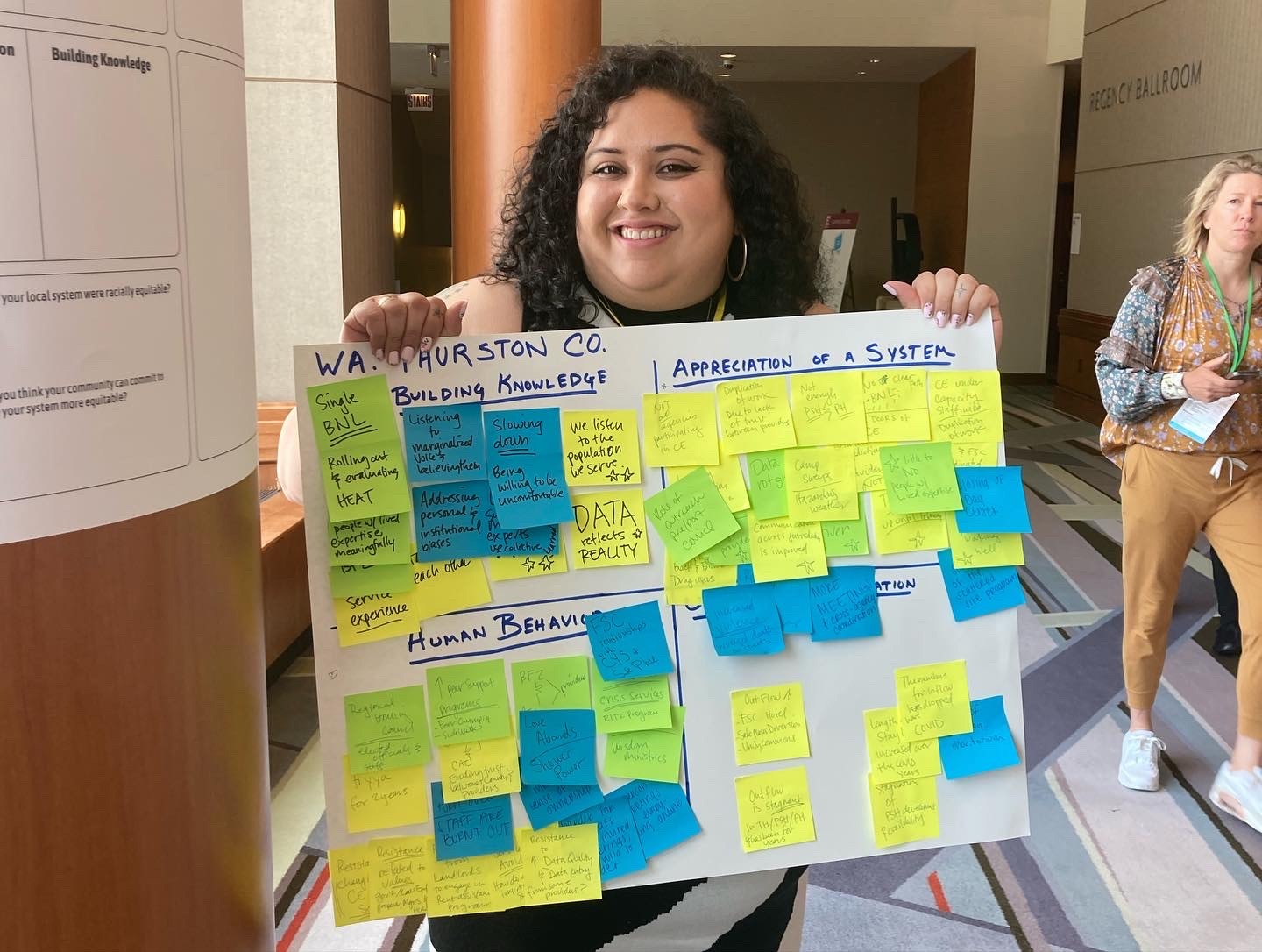 2. Quality Improvement provides a critical discipline for understanding homelessness response systems, locating challenges, and testing solutions.
Quality improvement, also known as improvement science, is based on the understanding that outcomes are the product of systems, and that improving outcomes requires changes to the system.
Niñon Lewis, from the Institute for Healthcare Improvement, introduced a framework from quality improvement to help communities better understand their systems through a lens of curiosity. Lewis asked questions such as: "How are we understanding the impact of our actions on the community?" and "How are we using data to inform our efforts?" to catalyze the thinking process of audience groups.
Built for Zero leaders worked together to map out elements of their system, and explore how they could improve it to accelerate their efforts to reduce and end homelessness.
---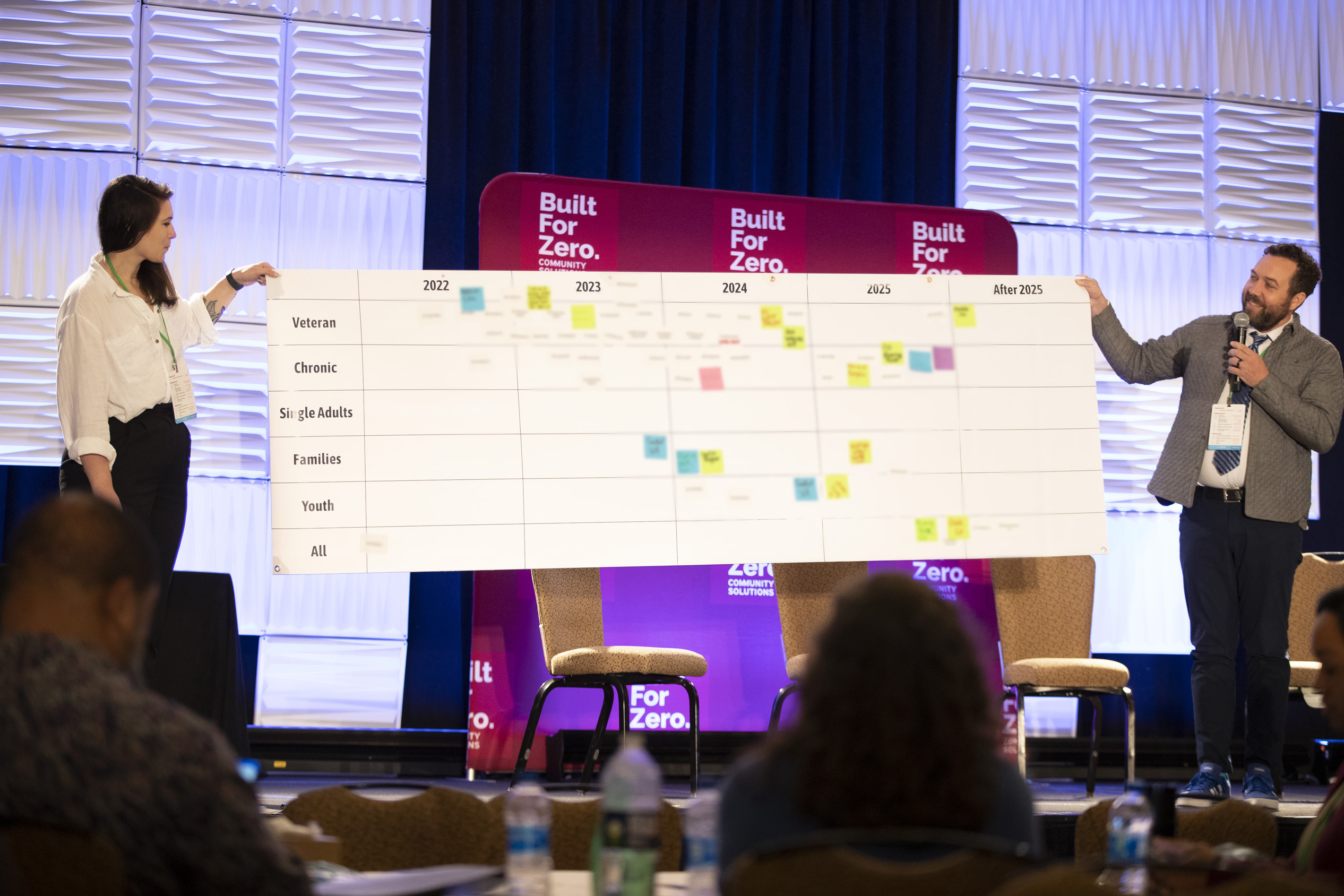 3. The first step of solving a complex problem is setting shared aims.
Communities in Built for Zero get started by setting a measurable, community-wide aim around reducing or ending homelessness. Leaders worked together to discuss the ambitious aims they were setting for the coming years, and the goals they must reach along the way.
"From my own experience working on the ground, I can attest to the fact that the work can feel really isolating when you're working towards this huge goal within your local geographic boundaries," Emma Beers said. "Being able to look down the line and see a hundred or more people from all over the country standing together and setting real, concrete aims to end homelessness is what powers this movement."
---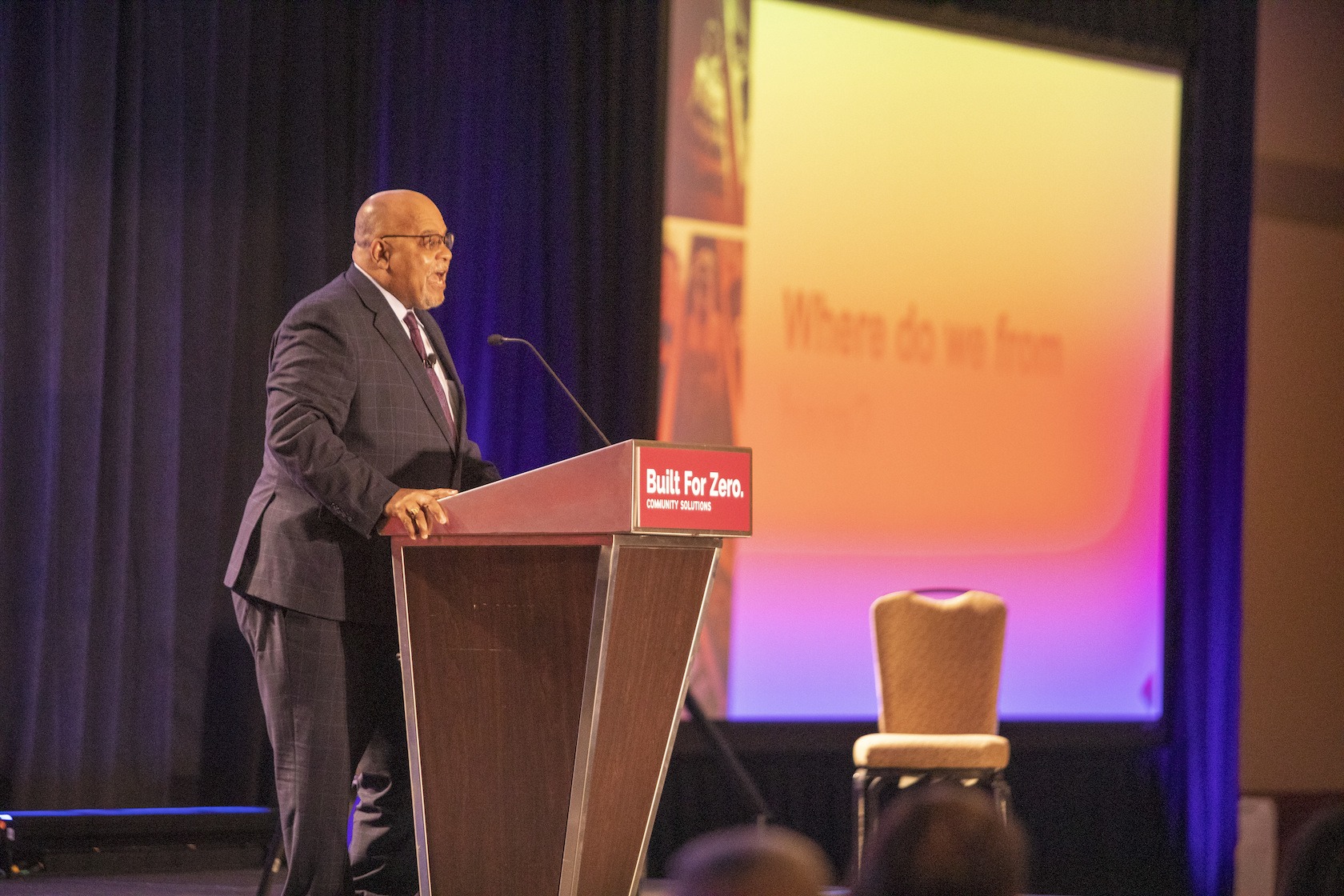 4. We must understand the racial disparities occurring within the homelessness response system and take action to address them.
Donald Whitehead explained how racial wealth gaps perpetuated across generations are responsible for cycles of homelessness in communities of color. "We know that redlining still exists. We know that assessment discrimination still exists," Whitehead said.
Vanessa White, a Portfolio Lead of Community Race Equity at Built for Zero, also spoke on the racial equity indicators applied to homelessness reduction. These indicators seek to equip communities with signals of progress across four critical areas: equitable system decision-making power, lived experience, quality data, and system outcomes.
---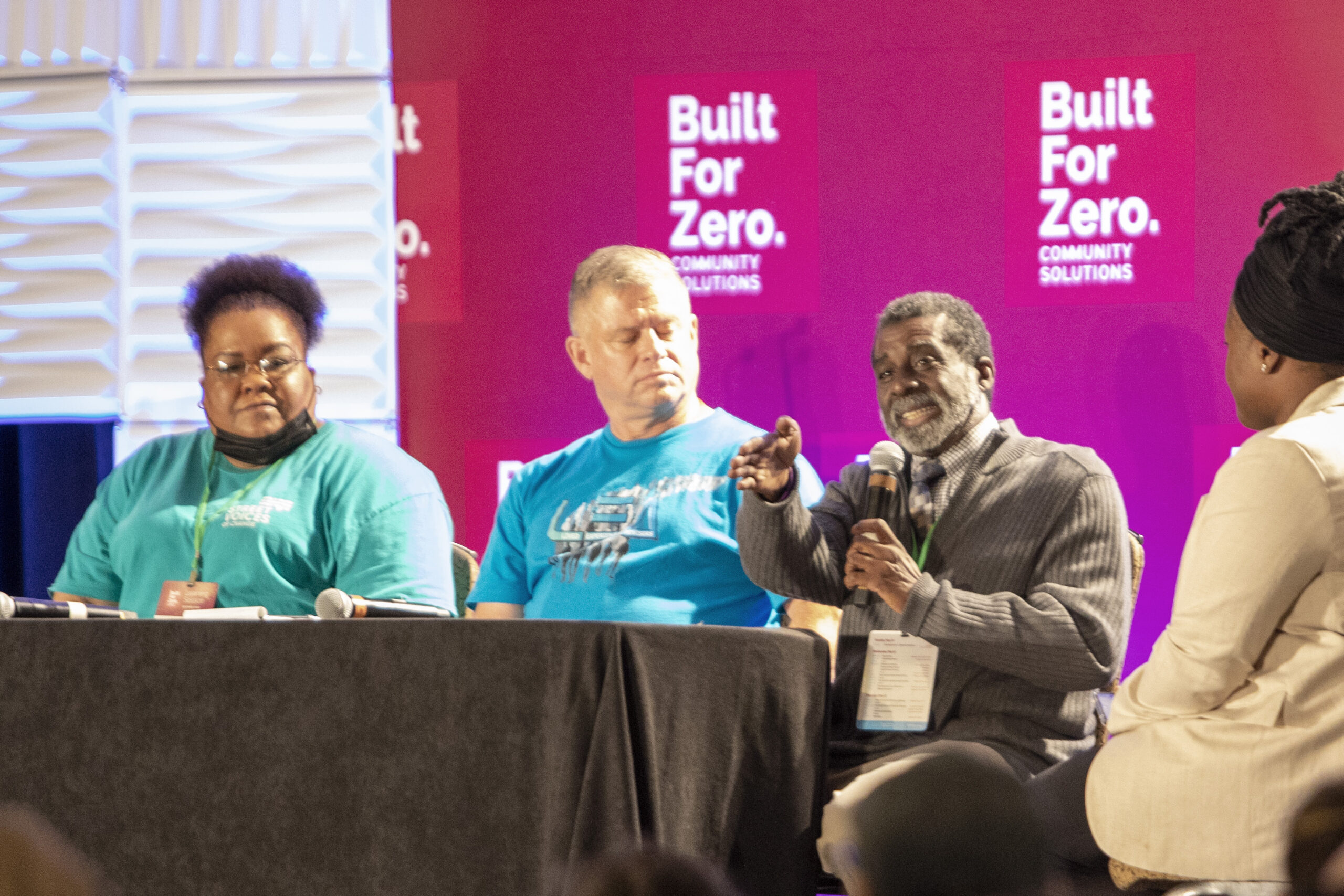 5. The perspectives of people with lived experience of homelessness are vital to ending homelessness.
"We need to better center their voices in this work," said Amber Chandler, Systems Improvement Advisor at Built for Zero. "We are engaging people with lived experience in homelessness (PLEH), people who don't have close proximity to power, who are disproportionately impacted by the system, and who are overly represented in the system."
Chandler led a panel on "Centering Lived Experience" at the Learning Session, and is part of a Built for Zero effort to engage people with lived experience as critical partners in developing new solutions to homelessness. This work is tied to the intention of creating more equitable approaches within homelessness response. "Homelessness is a systems problem. Money is not the problem. It's the services and care," says Tyra Thomas, a Lived Expertise Advisor for Built for Zero.
"PLEH are subject matter experts and are powerful advocates for change," Chandler says. "They are already doing advocacy work, they are working to change the system, so that people like them don't experience the same things that they've had to experience. They already have the solutions; we just have to listen."
---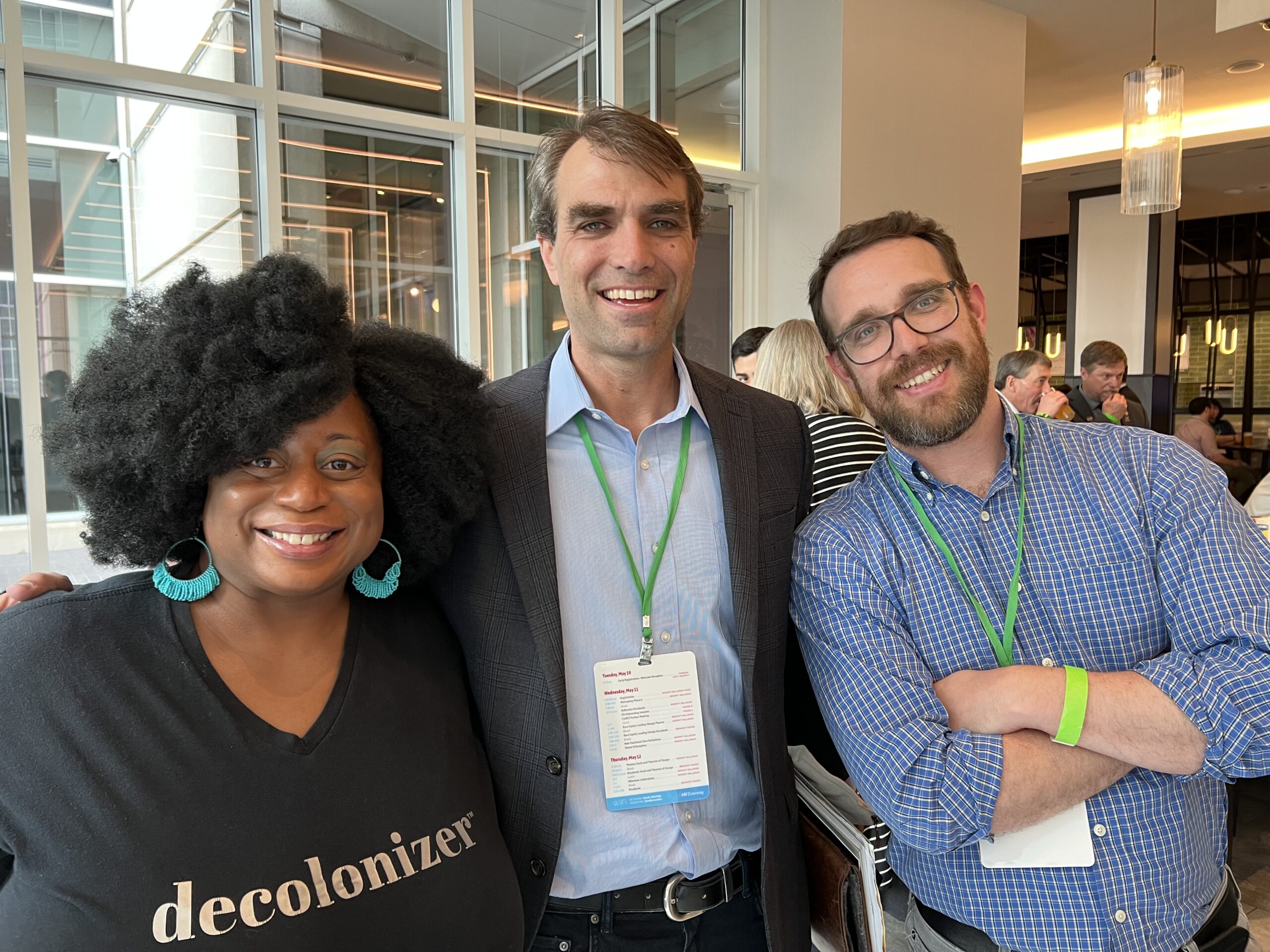 6. We all have a role in ending homelessness and delivering on the promise of an equitable society.
Partnerships — across cities, systems, and sectors — have been critical to helping communities bring the Built for Zero movement where it is today, and to building a future where homelessness is rare and brief, for everyone.
---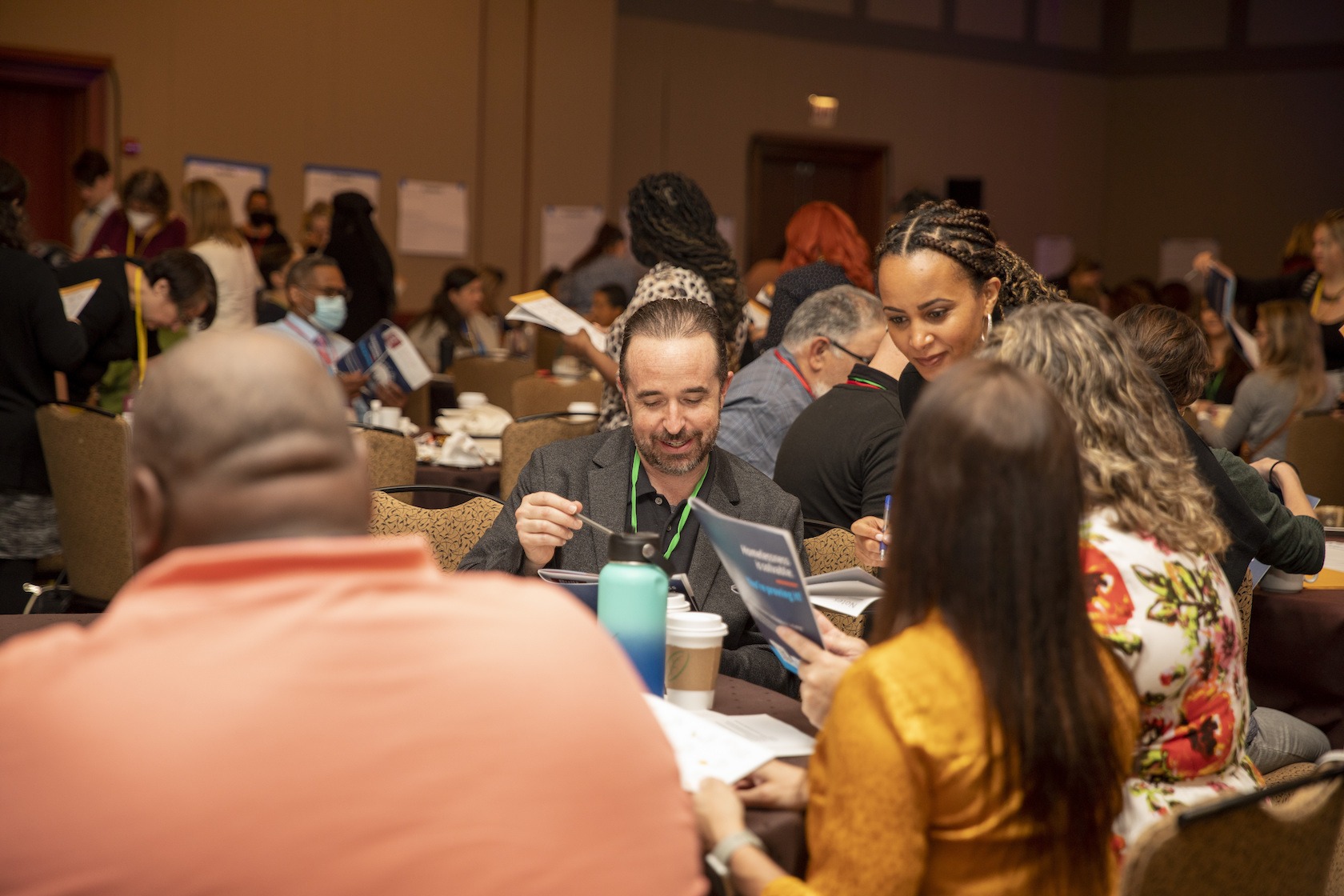 7. We are always learning from one another.
During breakout sessions, communities convened to share learnings and compare efforts across peer organizations. Groups exchanged the learnings and innovations of their Built for Zero teams, bringing new insights back to the work of ending homelessness in their own regions. We can't wait to see the impact of the solutions generated at the Chicago Learning Session and how they will accelerate the path to zero.