Veteran homelessness is solvable. Built for Zero communities across the country are proving this through the reductions in veteran homelessness they're making.
But in some communities, the lack of affordable housing is a barrier to making sure that every veteran has a place to call home. Nashville is one of these places.
Recently, Community Solutions purchased Glastonbury Woods apartments and dedicated half of the 144 units to housing veterans exiting out of homelessness. The property is linked to the local Nashville and Davidson County homeless response system, to ensure that units go to those who need them to escape homelessness.
Nashville is part of the Built for Zero movement to end homelessness, and they maintain quality, by-name data on every veteran experiencing homelessness there. This data is used to connect units at Glastonbury Woods to veterans in need of a home.
This is the story of one veteran who lives there.
A new home at Glastonbury Woods
Raymond is one of the newest tenants of Glastonbury Woods in Nashville. A veteran of the Air Force, he originally connected with HUD-VASH and VA services in California, where he lived for 20 years. Raymond retired in 2016 after a career spent as an industrial maintenance worker, helping construct power plants and skyscrapers along with engineering water and sewer lines.
Originally from Savannah, Tennessee, a small town situated on the east side of the Tennessee River, Raymond made his way West after his time in the service, ending up in southern California for an extended period.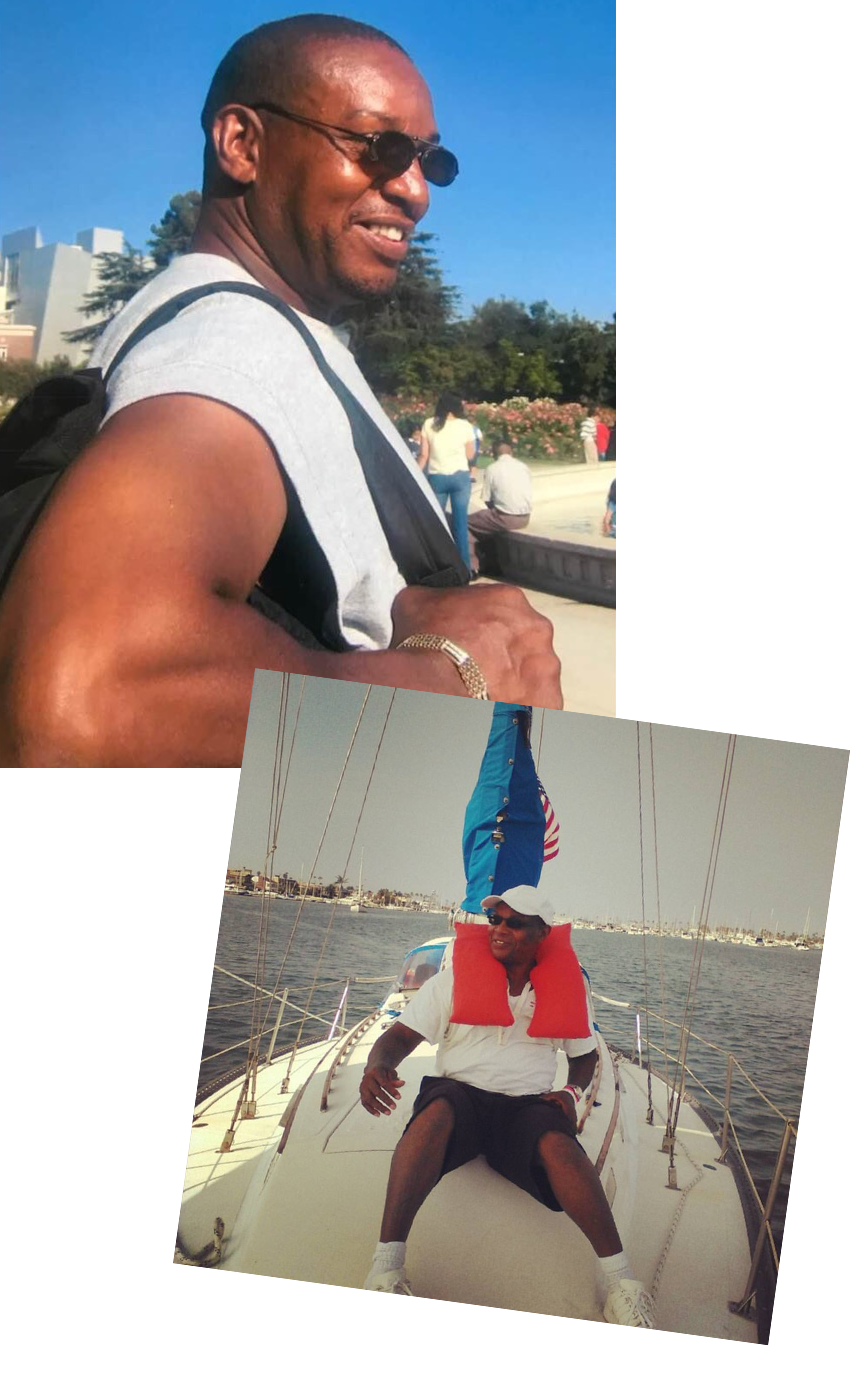 "I lived in so many places, traveling in order to stay busy working," he explained. "I spent the last seven years of being retired in Los Angeles until I just got ready to go and get close to home."
Upon his return to Tennessee, Raymond's path to stable housing took a few turns, including staying with his younger brother in Nashville, sheltering in an abandoned vehicle, and then living in transitional housing until he could find a permanent place.
After two months of searching for an apartment with support from his case manager at the VA, Raymond found Glastonbury Woods and discovered they were taking applications for veteran tenants in the coming weeks. This available housing, which prioritized veterans experiencing homelessness, combined with a housing voucher from HUD, sounded promising.
But once he had applied for his apartment, Raymond found out his credit score wasn't very strong, since he had not been using financing for purchases or holding any credit cards for years.
At many apartments, Raymond's low credit score could have meant the difference between signing a lease or not. But Glastonbury Woods is unique; they use a model called "property management plus," which means they offer support designed to get people stably housed. In Raymond's case, this meant they were willing to offer him an apartment, despite his credit score.
"And at that point, learning about FICO scores, which I learned from the leasing office manager, Antonio, I started working on my credit score," he said. "Now I've got a savings account, and now I've got a secure credit card from my bank, which helped me establish even better credit."
The stability offered by his new home has already allowed him to tackle some important personal goals he has set for himself.
"I'm more conscientious today about finances since I acquired this apartment from the leasing office. And on top of it too, I'm better out financially. I'm happy, I'm excited about it — I want my score to be perfect."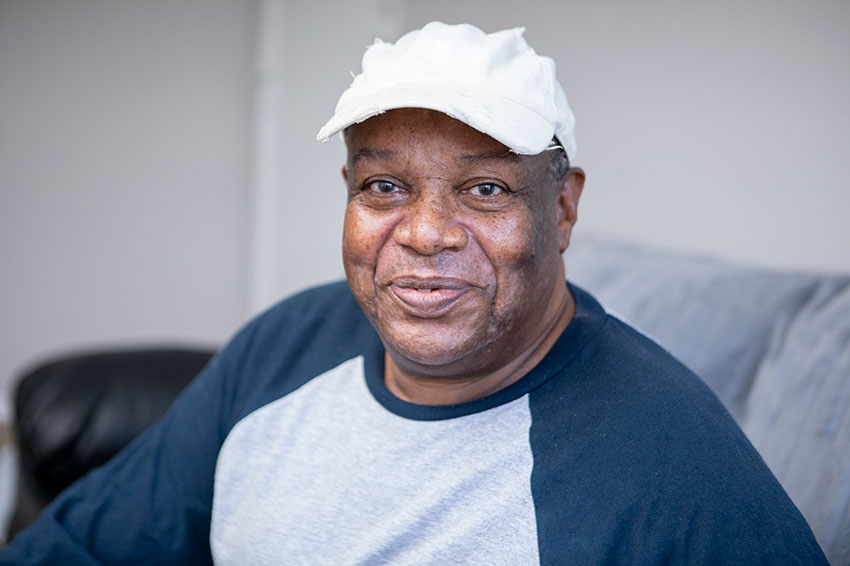 "The process of me moving home and being closer to my family is very well appreciated, and the help that I've gotten from the VA and HUD-VASH — I'm very happy. I'm better off now than I ever was."
—Raymond
A perfect start
In late October 2022, Raymond moved into his own one-bedroom unit in Glastonbury Woods. A local donation program helped to furnish his new home with items like a bed, chest, dining room table, and couch. He plans to purchase more home essentials with his strengthened finances.
"It's a perfect start. I can add more to it as I financially go along," he said. "Everything's going great. The apartment is really nice. I'm really happy and thankful."
Since Glastonbury Woods connects services to support tenants exiting homelessness, Raymond has been to the dentist and the eye doctor in recent weeks. He has low vision, so a social worker from the Low Vision Clinic has visited to recommend better lighting options for his kitchen and dining room, so he can more easily read there or go through his mail.
Raymond is still settling in, but he's already met several of his neighbors in the building, many of whom are also veterans. He even recommended Glastonbury Woods to a few veterans he had previously met who have since moved in as well.
"I like my apartment. I love the building. The neighbors are fine — and it's great," he said.
Part of the reason Glastonbury Woods was selected as a property for veterans is its location — close to public transit and a three-minute drive away from the closest VA clinic. Raymond has learned the bus route for the line that stops right by the building, which allows him to run errands to places like the local grocery store, mall, or drug store.
"I can just run out and catch the bus to many places that I would need necessities from. It's a little adventure when I do it," he said.
"And it gets me out of the house for a minute. And when I'm inside, I'm well-entertained."
In his free time at home, Raymond likes to watch TV, especially westerns, documentaries, and sitcoms from the '60s and '70s. Having been a voracious reader since he was a boy, he also loves scouring the internet to learn more about topics ranging from countries around the world to different animal species.
Though Raymond has only returned to his home state these past few months, he's already noticed a change.
"I feel better being here, back here in Tennessee, close to everybody," he said.
"The process of me moving home and being closer to my family is very well appreciated, and the help that I've gotten from the VA and HUD-VASH — I'm very happy. I'm better off now than I ever was."
Housing solutions
Glastonbury Woods is part of a growing portfolio of mixed-income properties aimed at increasing affordable housing units and reducing veteran homelessness. These properties are harnessing an innovative housing and financing model used to support communities participating in Built for Zero, a movement of more than 100 communities working to measurably and equitably reduce homelessness.