In July 2020, Built for Zero community of Chester County, Pennsylvania, experienced a devastating fire at the Ashwood Apartment building, which destroyed 45 homes and displaced 50 families. One hundred people in total lost their homes and everything in it, creating vulnerability for inflow into the community's primary homeless response system after the events of a single night.
The rapid response of the community's residents, faith-based organizations, and homeless response system ensured that the former residents of the Ashwood Apartments had both their immediate needs met and solutions in place to secure permanent housing. The Chester County Built for Zero team and community was able to supercharge their homeless response system in the face of an immediate crisis, rehousing all 50 families displaced by the fire. This also created a blueprint for how to respond to other events that could lead others toward homelessness — including flooding from Hurricane Ida in 2021.
"I do think as a system that we did the very best that we could do," said Kelly Raggazino, Executive Director at Open Hearth, a local homeless services provider. "I'm really, really proud. In my 22 years, it's probably one of the things I'm most proud of."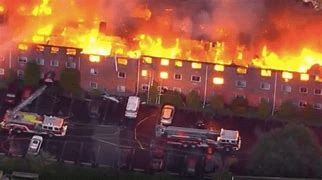 "There was such a community outpouring. It was amazing, but it was overwhelming from the very first minute."
— Kelly Raggazino, Executive Director, Open Hearth
Providing immediate emergency response
In a matter of hours, the residents of the 45 units of Ashwood Apartments lost everything they owned. The Red Cross provided immediate assistance, securing short-term housing for residents with family or friends and addressing emergency needs.
After the displaced families were temporarily housed, a longer-term plan was needed. The location of the Ashwood Apartments outside of a town made ownership of next steps unclear. Who would take up the mantle?
"Open Hearth isn't in emergency services, but does serve all of Chester County," commented Raggazino. "I knew we had to step in."
Within days of the fire, Open Hearth convened a meeting with more than 30 participants across the community, which included representatives from the Tri-County Community Network, Chester County Government, the local United Way, and other nonprofit organizations and members of the religious community. The Department of Community Development, which oversees Coordinated Entry for homeless response and Emergency Services, joined in to help lead the efforts.
Members across the county and neighboring towns quickly rallied to meet the imminent needs of these families. The local fire department became the de facto hub for physical donations like food, clothes, and funding, with the Branch Life Church, led by Pastor Josh Park, managing the distribution of supplies. Raggazino was one of many who brought donations to the firehouse. Once there, though, she realized the enormity of the task ahead.
"There was such a community outpouring. It was amazing, but it was overwhelming from the very first minute."
Leading the charge
With the support of Chester County's 211, Open Hearth led the weekly case conferencing in order to rehouse all 50 families displaced by the fire, while the Chester County Department of Community Development managed the data. Because they ran the by-name list and had the tools in place, Raggazino knew her organization was up for the task of leading this extra effort.
"It was fantastic that different provider organizations decided to step up to the plate and offer services on top of their day-to-day jobs. We've never had anything like that before."

Amber Campman
"It was the commitment from the core group not to allow these folks to enter our regular homeless response system," said Raggazino.
This core group included Hilary Haake, the manager of the street outreach team at the Department of Community Development (DCD) and Data Lead for the Chester County Built for Zero team. Because of the Covid-19 pandemic, the outreach team was already overloaded managing 100 clients temporarily housed in hotels prior to the fire.
However, under the leadership of Pat Bokovitz, the Chester County DCD decided to tackle managing the data, with support from the Tri-County Community Network. Haake played a critical role, first examining data collected by the Red Cross at the time of the fire to see who was impacted, then reorganizing the data within their HMIS system.
These organizations collaborated to make sure that people were rehoused as quickly as possible so they could start rebuilding as quickly as possible, explained Raggazino. Clients from the Ashwood fire were diverted to emergency hotel stays or temporary housing with family or friends. All of the agencies involved made a concerted effort to coordinate case management services for all of the households, regardless of whether they were staying in a hotel or with family or friends.
"No one organization could case manage all of these folks," said Raggazino.
The decision was made to split the clients up across providers, who all offered voluntary services on top of their day-to-day work. Organizations from outside of the county where the fire occurred — like Pottstown Salvation Army in neighboring Montgomery County — even volunteered to case manage 11 households.
"It was fantastic that different provider organizations decided to step up to the plate and offer services on top of their day-to-day jobs," noted Amber Campman, By Name List Manager at Open Hearth. "We've never had anything like that before."
Problem-solving through case conferencing
Some households resolved quickly and secured housing on their own, but many needed additional support once the dust settled. Through their work with Built for Zero, Open Hearth and the Chester County team knew the importance of case conferencing.
"I know things wouldn't have come together in the way they had without knowing how to do case conferencing," said Raggazino.
The team referred clients to the county's existing housing locator program, provided by the Housing Authority of Chester County, to help connect them to available rental units. "We relied on partnerships and relationships that we had with lots of other housing providers to be able to elicit help," Raggazino explained.
Some local landlords expressed their wish to specifically help the families displaced by the Ashwood fire, so the team set up a designated email address where landlords could share units they had available in both Chester and Montgomery Counties. Housing locators even connected with Ashwood clients through a Facebook group set up for survivors of the fire.
"In so much of our work, things are so siloed that my goal was to break down as many siloes and connect as many dots as I possibly could," said Raggazino. "We were always saying 'How can we do this?' 'Who do we know?' There were brainstorming sessions all of the time."
A snapshot of housing challenges
Figuring out how to find suitable housing to match the needs of all of the Ashwood Apartment residents proved particularly challenging. This "unicorn of a housing complex" had many long-term residents who enjoyed an affordable, lower-than-market-value rent in a great school district.
The Chester County team had to also take into account the significant trauma these residents had just faced. "I feel that often in the work that we do, the goal is always to get people housed more quickly," said Campman. "But these folks were still trying to process the fact that they lost everything that they had. So some people weren't even ready to mentally or emotionally take on the task of then finding another place to live yet."
"It was like a snapshot of putting all of the housing challenges possible in one building and then trying to figure it out — but we did!"

Amber campman
Through case conferencing, they also learned that some of the residents had been struggling with limited incomes, but they had been able to make it work at the Ashwood Apartments specifically, because of the affordable rent.
"But they were really going to have a challenge with the typical housing stock that we see in the community," noted Campman.
Consequently, case managers had to have more conversations about connecting people to the voucher programs. However, many residents wanted to live in the bordering Montgomery County, but vouchers were often only available for Chester County housing.
Additionally, the apartments had a lot of extended families who decided to live separately afterwards, resulting in more households to find housing for than were originally displaced. On top of that, there were residents with medical and mobility issues requiring specific types of housing and support.
"It was like a snapshot of putting all of the housing challenges possible in one building and then trying to figure it out — but we did!" said Campman.
A year and a half after the fire, almost all of the families have been rehoused, with only one entering into homelessness.
Planning for other disasters
The team continued weekly case conferencing for three months until November 2020 until most of the Ashwood clients had resolved or had housing plans in place. They scaled back to bi-weekly meetings, and by early 2021, the crisis pace had resolved.
The community faced another recent disaster, with Hurricane Ida sweeping through on September 2, 2021, causing flooding, displacing more than 400 residents, and wiping out housing stock across the county. The team is taking a lot of what they learned from the Ashwood fire to respond to this challenge, offering case conferencing support, with the Department of Community Development taking the lead on case management for displaced households.
As of November 2021, the county has 80 households who were flood victims housed in hotels. "We're still learning as they come. We have noticed that there seems to be an increased frequency of weather-related displacement," said Campman. "Moving forward, this means that we're going to have to figure out what system is going to be in place. We've had these examples of parts that have worked and those that might not work long-term."
"The next step is to look at what we've learned to see what will be sustainable when this happens again, because it will. And we need to be more ready in that way"