What does it take to bring investment back to a community? A lot of teamwork.

On Saturday we broke ground on the Swift Factory, a $33 million project to transform an abandoned factory into a food business hub for North Hartford, and recognized our many partners who have made this redevelopment possible.
Senator Richard Blumenthal, Representative John Larson, Mayor Luke Bronin, and Northeast Neighborhood Revitalization Zone Chairwoman Darlene Robertson-Childs joined community residents in celebrating the redevelopment of the historic factory, which was once a prominent gold leaf manufacturing business and important source of jobs for the neighborhood.

The M. Swift & Sons Factory operated out of this North Hartford site since 1887. When the business closed in 2005, the building sat vacant for several years and came close to being demolished. Neighborhood leaders enlisted the help of Community Solutions to save the property, which was donated by the Swift family.

"Many people looked at this project and said it was impossible. There was no way to put together the financing or attract tenants in this neighborhood," said Dave Foster, a Principal at Community Solutions who leads the Real Estate division. "For us 'impossible' was not an option— 'impossible' meant giving up on this community and so many others like it across the country. We were simply not willing to accept that vision of America."

The factory's redevelopment is made possible through an innovative blend of public and private capital— including New Markets Tax Credits, Historic Tax Credits, government grants, economic and community development loans, and philanthropic capital— enabled by the federal Promise Zone designation and the support of local and national funders. Senators Chris Murphy and Blumenthal and Representative Larson, along with city and community organizations, worked to secure North Hartford's Promise Zone designation in 2015.

Local restaurant group Bear's Smokehouse BBQ will be an anchor tenant, producing their line of sides and sauces onsite. The redeveloped factory will also include a 35,000-square-foot indoor farm run by FreshBox Farms, and a commercial kitchen space and incubator for developing local food businesses. The two historic houses on the property are also being redeveloped for community uses. The project is expected to bring 150 long-term jobs to North Hartford.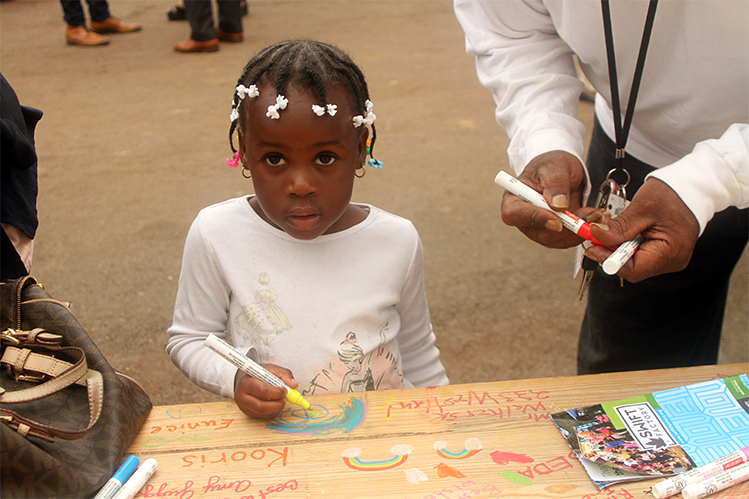 Community members were invited to sign a beam at the groundbreaking, which will be installed in the redeveloped building. The event featured performances by local bands the Music Pals from Thirman Milner School and Michael Scott Jr. and Da Heartbeats and included food from the factory's future anchor tenants, Bear's Smokehouse BBQ and FreshBox Farms.

The groundbreaking event brought together many of the people who helped make this project possible— including neighbors, funders, elected officials, future tenants, and the Swift family. We thank everyone for their support of the project and encourage you to explore the event's program, where we feature many of partners who have contributed to the Swift Factory's redevelopment.

Construction is expected to be complete in December 2019. For more information on the Swift Factory, visit www.swiftfactory.org and follow us on Facebook to watch the building transform.

Swift Factory Groundbreaking and Community Celebration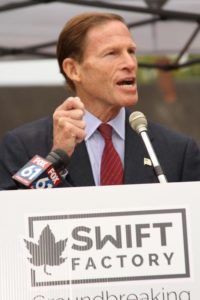 Senator Richard Blumenthal
"Today we celebrate a new chapter in the rebirth and revitalization of the old Swift Factory—soon to become once again an anchor of jobs, opportunity, and investment in the North End," said Senator Blumenthal. "I was proud to fight for the federal dollars that helped this project become a reality, and I will continue to work closely with community leaders to ensure the Promise Zone designation continues to provide tangible, lasting change for the neighborhood and its residents."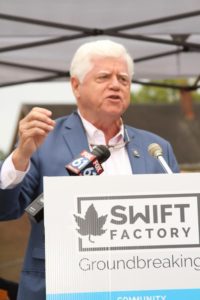 Representative John Larson
"Today is a historic day for the North End of Hartford. Today's groundbreaking is a step forward for the revitalization of the Historic Swift Factory. Its new role as a hub for food business, health, and jobs will make a huge impact on this community. I would like to congratulate Mayor Bronin and Community Solutions for all their work on this project," said Representative Larson.
Senator Chris Murphy
Senator Chris Murphy, who was not able to attend the groundbreaking celebration, was a champion of this redevelopment project and was instrumental in achieving North Hartford's designation as a Promise Zone. "Three years ago, I stood outside the Swift Factory celebrating the North Hartford's Promise Zone designation we had all worked so hard to win. President Obama started the program because he knew it could jumpstart neighborhoods like the North End, and it's projects like this one that drove me to convene community leaders and civic organizations a few years ago to make it a reality," said Senator Murphy. "I hope this excites the community and incentivizes a wave of development to create jobs and improve the lives of North End residents."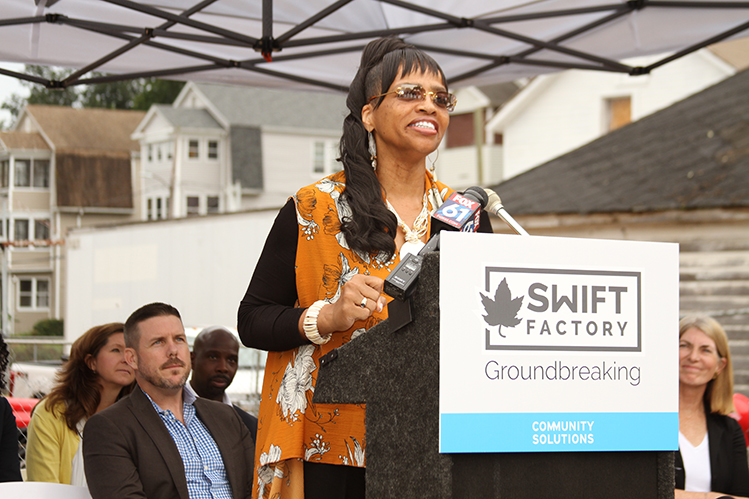 Northeast Neighborhood Revitalization Zone Chairwoman Darlene Robertson-Childs
"The Northeast Revitalization Association (NERA) supports Community Solutions vision to transform the Swift Factory, which had become a vacant, blighted brownfield site, into a genuine asset in the revitalization of the neighborhood," said NERA Chairwoman Darlene Robertson-Childs. "We need projects like this here to spark investment, entrepreneurial activity, and job creation."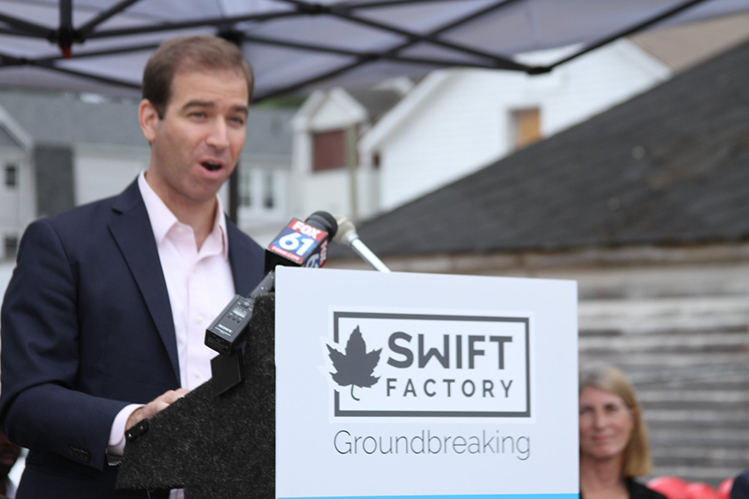 Mayor Luke Bronin
"For more than a century, the Swift factory was an iconic and important industrial facility in Hartford, and after years of lying vacant, it will soon come back to life as a hub for innovative, food-focused businesses," said Mayor Bronin. "This is a very large project and many partners have worked together over several years to make it possible. I want to thank everyone who is involved, from Community Solutions to our entire congressional delegation to city staff and CRDA staff for their tremendous work and commitment to transforming an eyesore into a new source of energy and employment in the North Hartford Promise Zone."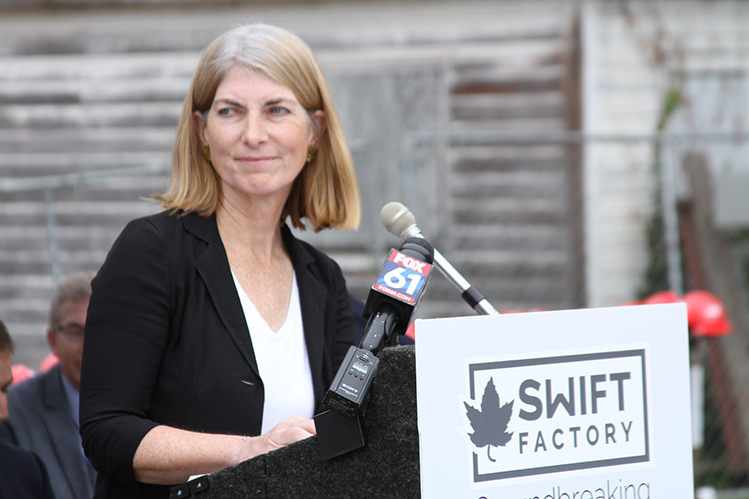 Community Solutions President Rosanne Haggerty
"We knew it was important to preserve this historic community asset, but it was community residents who made it clear that that the need was to bring good jobs back to the site," said Community Solutions President Rosanne Haggerty. "Making this happen required extraordinary creativity and collaboration. We are grateful to the local and national investors and partners who shared this vision and worked patiently to make it happen."