Using an all-hands-on-deck approach, bold innovations, and real-time, by-name data, the Built for Zero Chattanooga team has ended homelessness for veterans in their community. They are the 12th community overall to end veteran or chronic homelessness in the U.S.
On January 30, the Built for Zero Community of Chattanooga and Southeast Tennessee announced that they are the 11th community in the U.S. to reach functional zero for veteran homelessness, meaning there are fewer veterans experiencing homelessness in their community than can be routinely housed within a month.
Reaching the milestone in October 2019, Chattanooga has sustained functional zero for three months as of January 2020, indicating they have had less than seven veterans experiencing homelessness at any given time. By reaching functional zero, the community has proven it has built a system that can ensure homelessness is rare and brief, even if new veterans experience housing crises over time.
When Chattanooga became part of the Built for Zero Collaborative in 2016, they joined more than 80 U.S. communities committed to measurably ending homelessness by using real-time, person-specific data to change how their local homeless response systems work and the resulting impact they can achieve.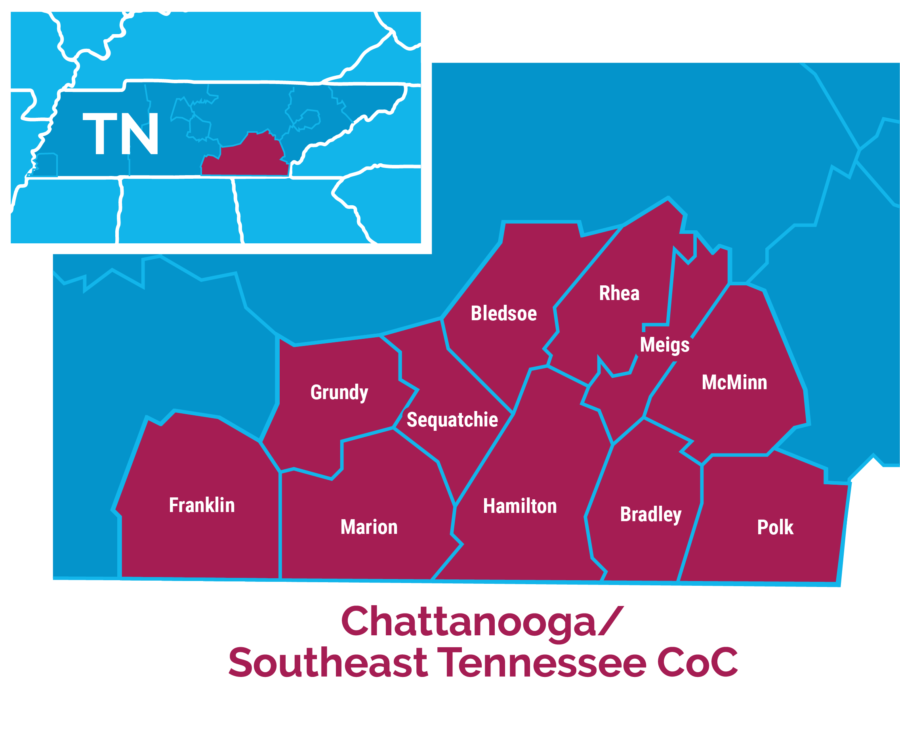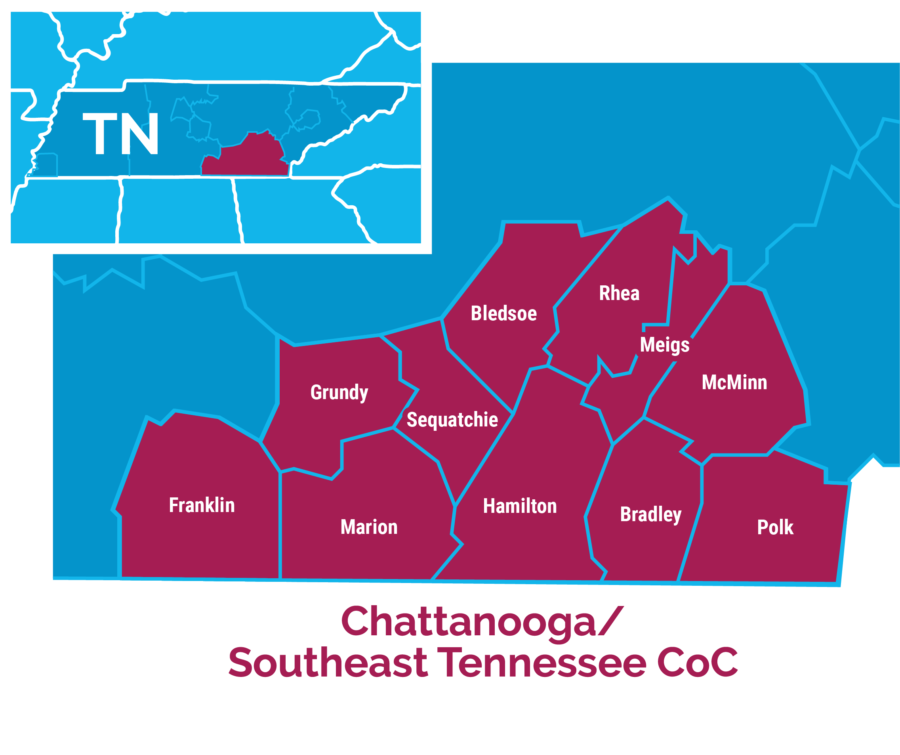 COVERAGE AREA
Cities: 47
Counties: 11
Total Population: 699,988
BUILDING A UNIFIED REGIONAL TEAM
Prior to joining Built for Zero, agencies throughout the community were working separately to house people, though it was not adding up to an end to veteran homelessness. To remedy this, the team unified the efforts of 10 key agencies working locally to end veteran homelessness across an area that spans 47 cities and 11 counties. This dedicated group met regularly to match their collective resources with the needs of each veteran experiencing homelessness.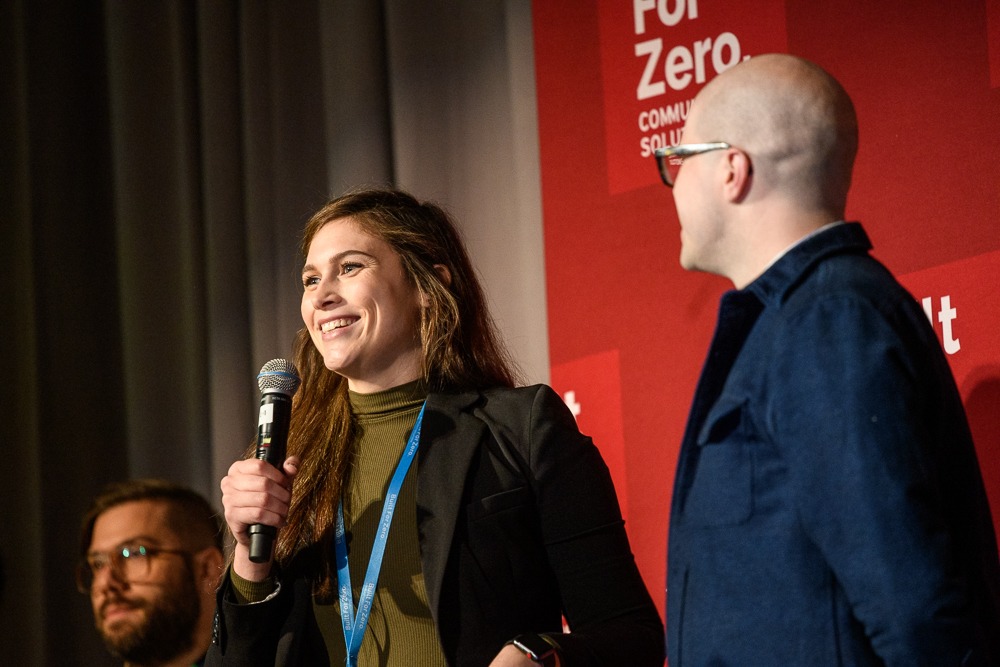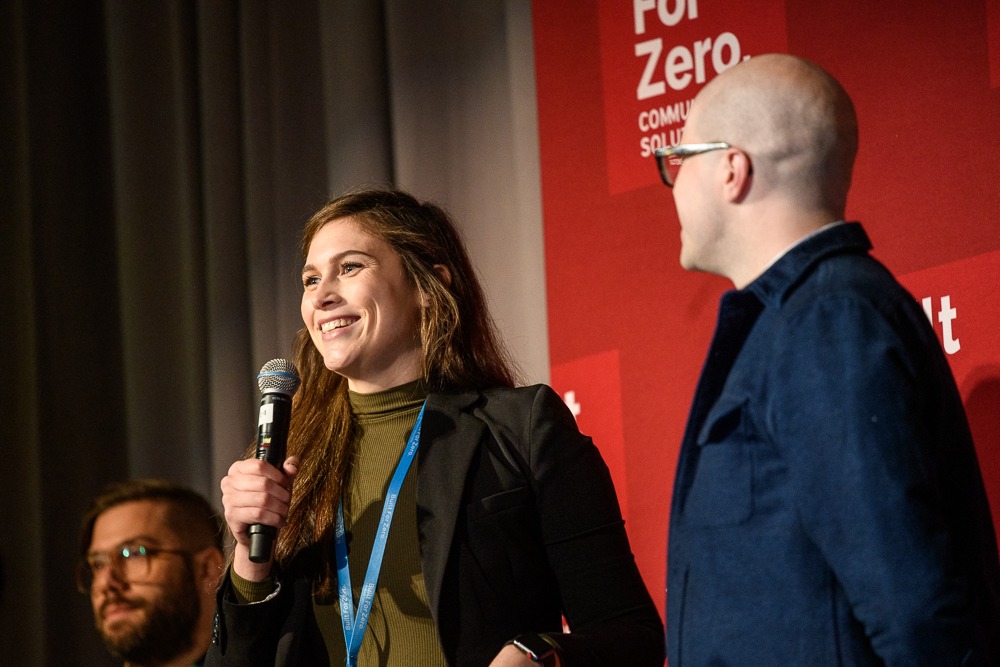 Change was not something that I used to feel as excited about as I do now.
– Emma Beers, Chattanooga/Southeast Tennessee Built for Zero Team Lead
"The team became so collaborative through a regular practice of meeting called case conferencing, where they were aggressively setting goals and taking an 'all hands on deck' approach to meeting them," said Eddie Turner, the Built for Zero Improvement Advisor. "Agencies were helping each other out, taking action steps to house each other's clients."
As Built for Zero Community Lead Emma Beers explained, "Change was not something that I used to feel as excited about as I do now."
CAPTURING REAL-TIME, BY NAME DATA FOR EVERY PERSON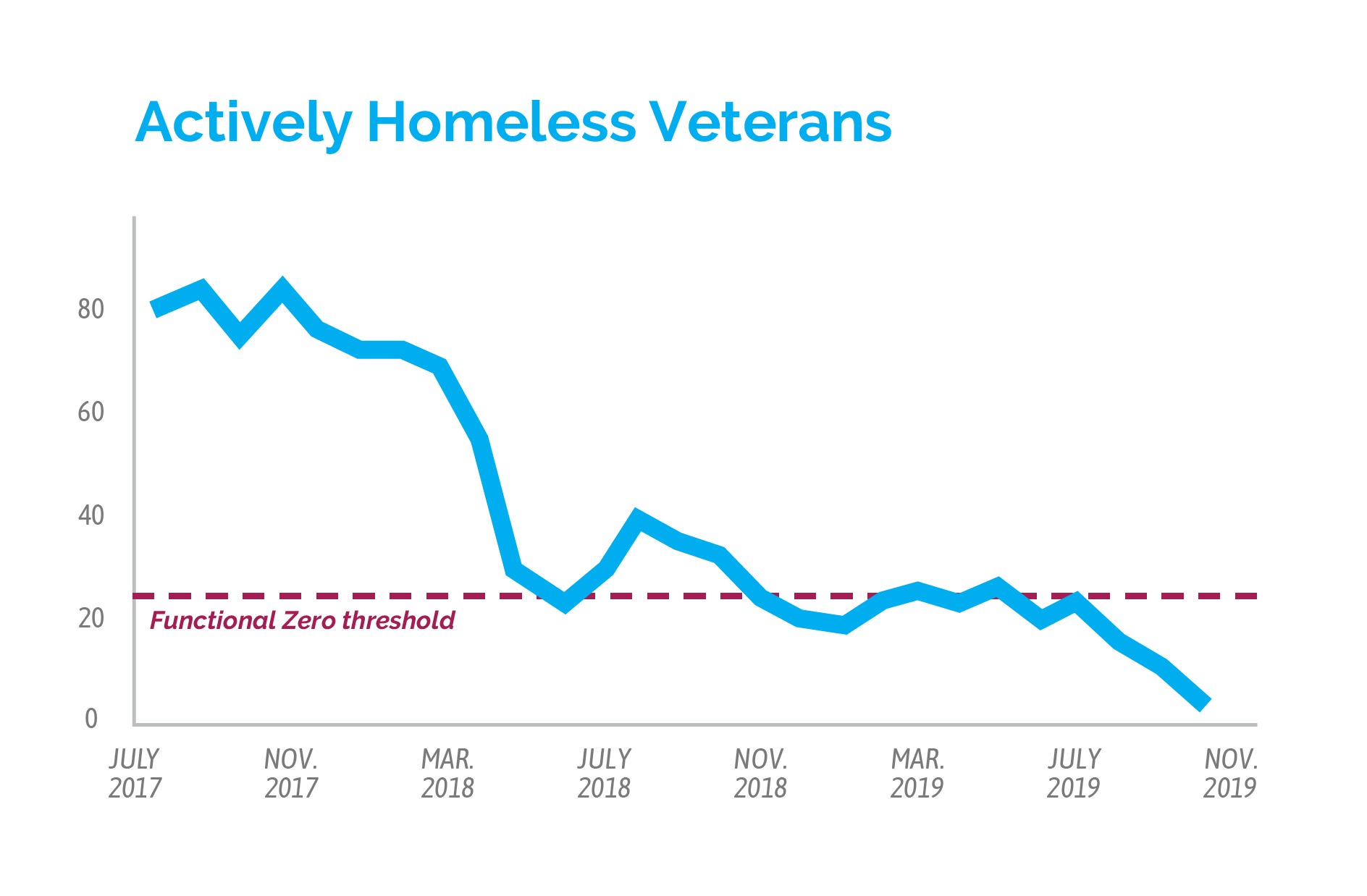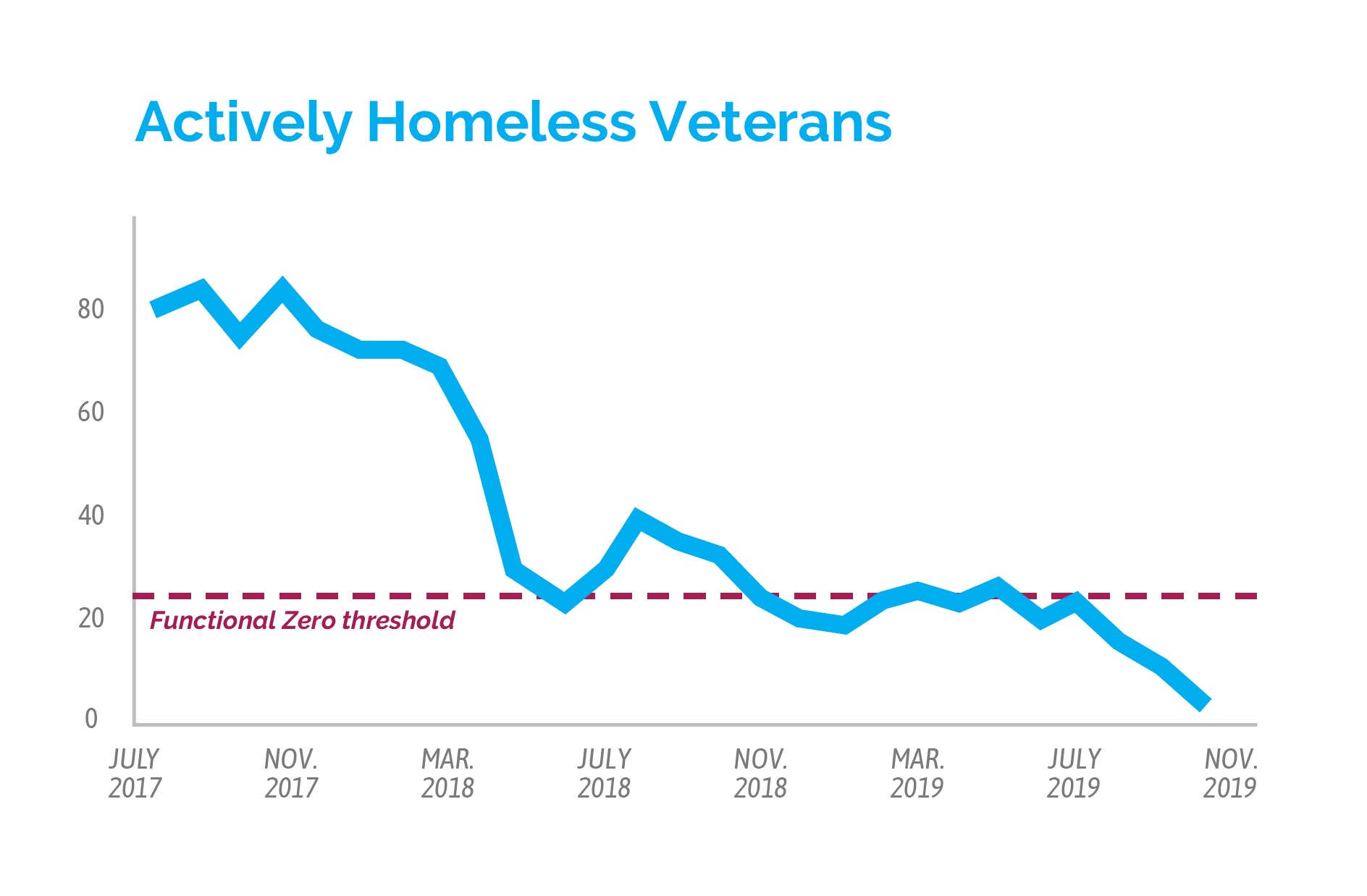 Through the work of this unified team of agencies, the community was able to identify and know in real time every single veteran experiencing homelessness by name. Maintaining this accurate, dynamic picture across the region gave the team the insight they needed to solve for the whole.
"We were able to say: Where do we focus our efforts? What was an issue that was happening because there was a real barrier that someone was facing? What were we not thinking creatively enough about?" said Beers. "There was no longer a mystery over whether something was a contributing factor."
TESTING NEW IMPROVEMENTS TO THE SYSTEM
Embracing a paradigm shift in their thinking was an important step towards their goal. The team realized that even if their system was operational and functioning well, "it's not optimal if you're not doing any kind of innovation," said Beers.
Once they had comprehensive by-name data, the Chattanooga team was able to better understand the entire population of veterans experiencing homelessness, allowing them to test ideas to drive down homelessness. For example, the data revealed that it was taking far too long to move veterans from their by-name list into housing, so they addressed the issue by bringing on a new team member, Jamie Ascarte. Her role focused on helping veterans navigate the housing system, eventually resulting in a measurable reduction in the length of time it took to house them.
"Having someone new in the community sparked energy," Beers said. "Within a month or two, we saw drastic changes in our system. We were able to knock down the length of time to access and house these people."
The team also began conceptualizing their work differently. Visualizing the sequence a user went through the system allowed for further improvement. "We were definitely the community that thought we didn't have resources, but it turns out it wasn't true at all," Beers said. With system changes and new staffing design, "Suddenly change started happening without it."
WHAT'S NEXT
"Nobody ever stops to say, 'This is too big, we can't do this.' Because we've seen what it's done and that's it's worth the effort."

emma beers, chattanooga built for zero team lead
Though they are proud of reaching functional zero for veterans, the tenacious Chattanooga team is not stopping there. While sustaining functional zero for veterans, the team's next goal is reaching functional zero for people experiencing long-term, or chronic, homelessness.
Even just a few years ago, the Chattanooga team said they would have felt overwhelmed at the thought of taking on new ideas or big changes. But now, no one questions it — team members frequently suggest innovative ideas to test. Beers explained, "Nobody ever stops to say, 'This is too big, we can't do this.' Because we've seen what it's done and that's it's worth the effort."
Interested to read more about how Chattanooga reached functional zero for veterans?