Community Solutions and the Rocket Community Fund are proud to launch a new Homeless Resource Locator, a searchable, user- and accessibility-focused map developed to help people experiencing homelessness quickly and easily locate contact information for their nearest homeless service provider.
This new tool, which will be available here on Community Solutions' website and linked to the U.S. Department of Veterans Affairs' website, utilizes the power of Google Maps to visually display the names and contact information of more than 900 homeless service providers across all 50 states and territories.
A demonstrated need for easy-to-find info on nearby homeless providers
The idea to create this tool came as a response to a demonstrated need — as veterans and other people experiencing homelessness reached out to Community Solutions and Rocket Companies for help locating their nearest homeless service provider.
Since 2018, Rocket Companies, via the Rocket Community Fund, has been a core partner of Community Solutions. Through this partnership, Rocket Companies' flagship brand, Rocket Mortgage, has supported the Built for Zero movement in a variety of ways, including the launch of several high-profile national advertising campaigns. In the fall of 2019, Rocket Mortgage launched A Home for Every Vet, a cause campaign dedicated to raising awareness around the issue of veteran homelessness in the U.S. and the work of Built for Zero.
"An important part of the mission to end homelessness is convincing the world that it's possible," said Rob Frappier, Creative Director for the Rocket Community Fund. "Our marketing campaigns helped elevate stories of success within Built for Zero and raised awareness about the unique role that we all have to ensure everyone has a safe place to call home."
As a movement dedicated to ending homelessness, Built for Zero supports service providers themselves, rather than offering direct services. While the Home for Every Vet campaign ramped up, the organizations began receiving numerous requests for help from veterans across the country.
Many of them were on the brink of losing their home or had been experiencing homelessness for some time, and they were reaching out to ask for help to identify local assistance. We realized there was a need for a user-friendly tool designed to help someone experiencing a housing crisis simply and swiftly locate homeless services near them.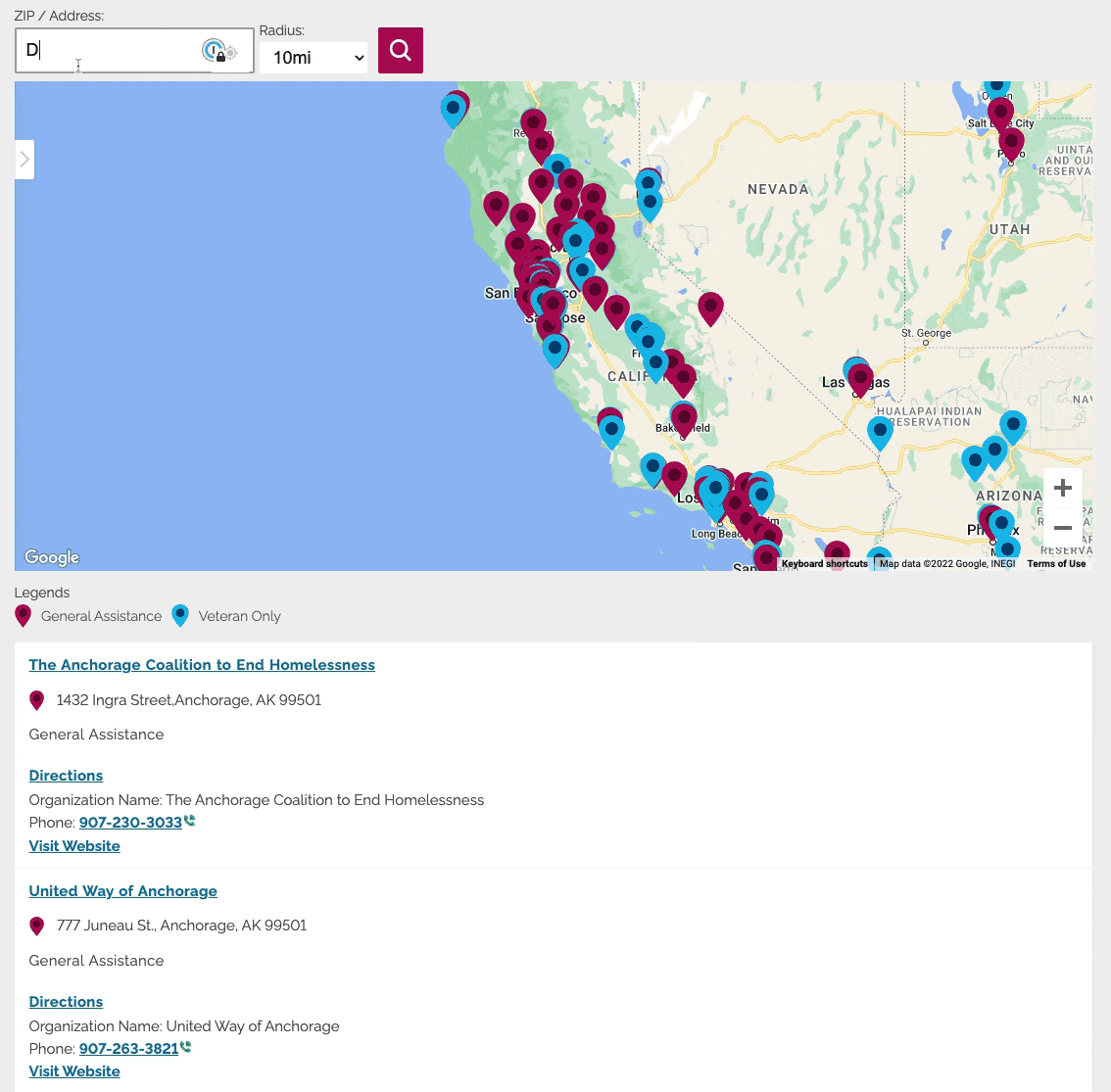 Consolidating sources, with a focus on the user
Before this tool's creation, we would research and share helpful contact information tailored to each inquiring individual. However, we recognized that a person experiencing a housing crisis may not have the time or ability to search through and map out the locations of their nearest service provider.
"Accessible design is just one more thing we can do to help people live independent lives."

Harold Jankowiak
Now, the Homeless Resource Locator lists at least one provider per Continuum of Care offering general assistance to anyone experiencing homelessness, along with details on 300 providers offering veteran-specific assistance. This information was sourced from the Department of Housing and Urban Development's list of grantees from each Continuum of Care and information from the VA's directory of Supportive Services for Veteran Families providers.
"VA remains committed to ending veteran homelessness because it is our nation's duty to ensure all veterans have a place to call home," said Monica Diaz, Executive Director of the VHA Homeless Programs Office. "This work depends on our ability to quickly connect veterans to programs and services like SSVF and others to address their housing crises."
To develop the tool, Community Solutions connected with the Rocket Community Fund's Volunteer Engagement and Giving team, which identified several technical experts and web developers from across Rocket Companies who were interested in tackling this project. Together, Rocket's skilled volunteers and Community Solutions embarked on a project to create a more user-centered, searchable database leveraging the power of Google Maps.
Designed with a focus on accessibility and usage on a mobile device, the Housing Resource Locator visually displays the location and relevant contact information of over 900 providers.
"We knew the people we were trying to reach were already facing difficulties, so we didn't want a complicated design or non-essential features getting in the way of usability," explained Harold Jankowiak, Senior Product Owner and project lead at Rocket Companies.
"We wanted our technology to be able to assist those who may have physical or cognitive limitations, so everyone could self-serve and not be dependent on anyone to connect them with supportive services. Accessible design is just one more thing we can do to help people live independent lives."
Community Solutions, the Rocket Community Fund, and the Rocket Companies volunteers are thrilled to make this Homeless Resource Locator widely available to anyone who may need it. We encourage other providers or organizations to link to it as well. Many thanks again to our partners at Rocket Companies, the Rocket Community Fund, the U.S. Department of Veterans Affairs, the Supportive Services for Veteran Families program, and the VHA Homeless Programs Office for lending their resources and expertise to create this locator.
Would you like your organization to be added to this list of homeless service providers in our locator?
We are happy to add in those who offer general homeless services to anyone or veterans specifically.