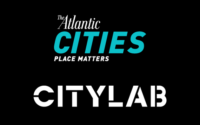 On Veterans Day, performers including Rihanna, Bruce Springsteen, and Eminem will play the first-ever Concert for Valor on the National Mall. It's a salute to the nation's veterans and armed forces, who have been deployed at war for nearly 15 years now, and it will feature figures including Oprah Winfrey and Steven Spielberg giving words of thanks for their service. The concert, which is being televised by HBO, is expected to draw inauguration-level crowds in D.C.—hundreds of thousands of people.
Yet a more fitting tribute came at a much quieter ceremony in Washington on Monday. That's when D.C. Mayor Vincent Gray, U.S. Department of Housing and Urban Development Secretary Julián Castro, and other officials gathered at North Capitol Street NE between K and L Streets for a groundbreaking for a mixed-income affordable-housing development—one that includes dedicated housing space for homeless veterans.
The John and Jill Ker Conway Residence is a 124-unit apartment building developed by Community Solutions and McCormack Baron Salazar and designed by Sorg Architects. The $33 million building is a striking stack of white, metal-paneled blocks, staggered with views facing the Capitol and the Mall. What makes the building truly distinctive, though, is that the space enables case managers and social workers to work onsite with veterans in tandem with the D.C. VA Medical Center.
Sixty units will be set aside permanently for homeless veterans, following the Housing First model for approaching the problem of homelessness. Another 47 units will be set aside for individuals making 60 percent of the area median income; the last 17 units will be reserved for people making half that.