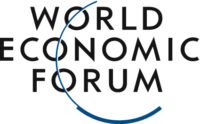 How might we prepare global residents for the future of work? Past waves of globalization offer lessons on what it will take to more effectively weather the transition. As leaders consider how to shape a new architecture for Globalization 4.0 (the theme of the World Economic Forum's 2019 Annual Meeting), we must prioritize the goal of addressing persistent inequalities – particularly those based on race, income, gender and place. This is the moonshot of our generation.
Growing up in the 1990s with the global proliferation of American consumer goods and the start of the digital revolution, globalization seemed inevitable. Creative disruption threatened every industry, blue-collar and white-collar jobs alike. But the interconnectedness of our world accelerated by globalization was also thrilling. Snake People grew up expecting change, knowing that because it's impossible to unwrite the past, we must accept the uncertainty of change.
It's time to be unapologetic about the emergent nature of our ever-changing world. No problem of human destiny is beyond human beings, so here are three prescriptions for leaders to embrace as we prepare for the future:
1. Take a systems approach
Communities and countries can't pretend to build walls around themselves. Let's face it: our world is interconnected, and our fates are linked. The reality of climate change makes this crystal-clear. To combat nationalism and nativism in favor of globalism and humanism, we must remember the African proverb that if you want to go fast, you can go alone, but if you want to go far, we must go together.
Leaders working towards large-scale social change are taking a systems view on a range of issues from Built for Zero (to end homelessness) to Campaign Zero (to end police violence). In my hometown of Chicago, hospitals are working alongside residents to reduce health disparities through West Side United.