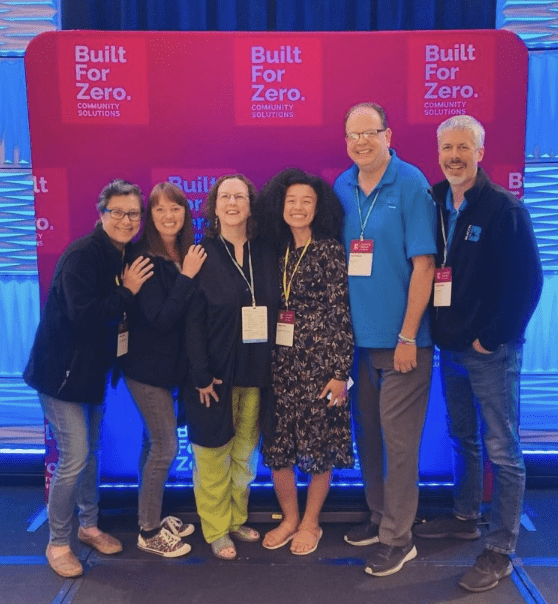 In May 2022, Heading Home formed a regional team to join Built for Zero. Built for Zero is a national network of more than 100 communities working to measurably and equitably end homelessness. As we pass our one-year anniversary with Built for Zero, it's a good time to reflect on how far we've come.
First, we want to thank our team members for their contributions to these efforts: Melissa Burgess (HealthNet), Forrest Gilmore (Beacon), Bob Goodrum (WellSpring), Mary Morgan (Heading Home), Emily Pike (South Central Housing Network), Danielle Sorden (Region 10 Coordinated Entry Lead), and Tatiana Wheeler (Heading Home) for dedicating their time to improve our system and its outcomes for residents.
Our Built for Zero journey began with a national conference in Chicago, Illinois. At this conference we were introduced to Built for Zero's philosophies and data-driven strategies for ending homelessness. We were amazed at the size of the gathering – about 500 people from across the nation who were dedicating their time to ending homelessness in their communities. To say it was inspiring would be an understatement.
Initial Work
We found out early on that our local South Central Indiana team would be supported by Built for Zero data coaches. From May to December 2022, we were placed in a cohort for new Built for Zero communities. This cohort was tasked with completing a "Single Adult Scorecard" to assess the quality of our system's data. This scorecard helped our community identify bottlenecks within our system. Through the help of our data coaches we were able to identify solutions to these challenges.