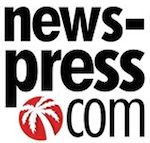 Leo Stack tugs on his sunglasses, making sure to hide his eyes and the emotion that's about to pour out of him.
Stack is homeless. He's been homeless for 25 years. A 56-year-old veteran who once owned a business and home is living on the Fort Myers streets, unsure of where his next meal will come from. There are times when Stack struggles to make it through the day, especially when it comes to thinking about his three children whom he hasn't seen in years because of an ugly divorce.
"You see just how important it is to have fathers in connection with their children," said Stack, tapping his chest. "It's a necessity for social health."
Stack was one of about 1,000 homeless or impoverished Fort Myers residents who attended the 15th annual Lee County Homeless Service Day on Saturday at City of Palms Park. Myriad agencies and volunteers handed out blankets, shoes, pants, shirts, flu shots, haircuts, bus passes and other supplies. Counselors also discussed employment assistance and Veterans Affairs benefits with the homeless.
Lee County Homeless Coalition puts together the event to unite all resources. This week, the coalition is conducting its annual Lee County homeless count. In years past, the count would be conducted in one day. This year, the Coalition is surveying the population over a full week because it joined the federal government's Zero: 2016 campaign to end veteran homelessness. Last year, Lee County had 871 homeless people, a 2.7 percent increase from 2013.