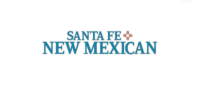 Santa Fe Suites was an extended-stay hotel, and Sanders said 25 previous tenants stayed on at reduced rents. The Christus St. Vincent Regional Cancer Center also owns a handful of units.
City records show the property cost a little over $9 million — nonprofit Community Solutions spent $3.9 million; the city spent $2 million in CARES Act funds; the New Mexico Mortgage Finance Authority gave a $2 million grant; nonprofit investors gave around $600,000; and the federal government reimbursed around $500,000.
Community Solutions, based in New York, says it plans to eventually hand over complete ownership to St. Elizabeth. Community Solutions Principal David Foster said the mixed-income model for affordable housing can be sustainable to pay the mortgage and operating costs thanks in part to real estate investors not looking to turn a profit and the lack of construction costs.
"When communities got money in response to the pandemic, a lot of them used it to subsidize individuals in hotels for a finite period of time. Here's a way to take that money and invest it in something much cheaper per unit," Foster said. "Across the country, we are nowhere near generating enough affordable units. This is one way."