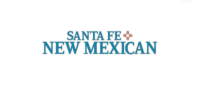 Santa Fe Suites, a supportive apartment complex for low-income residents, is in line for a face-lift.
The Santa Fe City Council's Public Works and Utilities Committee on Monday recommended the acceptance of more than $844,000 in state capital outlay grant funds — approved by the Legislature in 2020 for work on a facility for homeless and below-market renters — to provide upgrades and renovations to the 123-unit complex.
---
The complex opened last year through a partnership between the city, a few local nonprofit organizations and the New York-based nonprofit Community Solutions.
The purchase price was about $9 million. Community Solutions provided the bulk of the cost at $3.9 million. The city kicked in $2 million in federal CARES Act funds, while the New Mexico Mortgage Finance Authority gave a $2 million grant, and nonprofit investors gave around $600,000. The federal government reimbursed about $500,000 of the cost.
Some of the residents of Santa Fe Suites had been members of the homeless community or had spent time in behavioral health recovery programs. Some pay the full $850 monthly rent for a housing unit, while others pay a subsidized cost. The complex also offers some wrap-around services for residents.