TIMELINE
October 2018: joined the Built for Zero movement

January 2019: reached quality data through their by-name list

September 2019: started weekly meetings, known as case conferencing, with all veteran service providers

February 2020: Lynchburg area reaches the functional zero threshold for veterans
---
Unlike many other communities, Lynchburg and the four surrounding counties, which form the Central Virginia Continuum of Care, did not have a local veteran homelessness provider. This posed challenges to understanding who was experiencing homelessness and what they needed to escape it.
"Veterans were flying under the radar," said Sarah Quarantotto, Executive Director of Miriam's House. "The community didn't really know the extent of the issue, who was out there, and what the system was like for them."
Today, the community has become one of just 12 to reach functional zero for veteran homelessness. They know every veteran experiencing homelessness in their community by name and have a system to ensure veteran homelessness is rare overall and brief when it occurs. Reaching this milestone means that there are fewer veterans experiencing homelessness in their community than can be routinely housed within a month, which in their community is a threshold of three.
"Working with Built for Zero to get to functional zero helped shine a spotlight on veterans experiencing homelessness in our community," said Sarah Quarantotto, Executive Director, Miriam's House.
The community first reached the milestone in February 2020 and continued to hold it, even through the onset of COVID-19.
"When COVID first hit, the perception was 'Man, we're not gonna hit our goal, we're going to be over the threshold,'" Sarah Fuentes, Homeless System Coordinator, said. "But then we looked, and the numbers showed that they were still decreasing."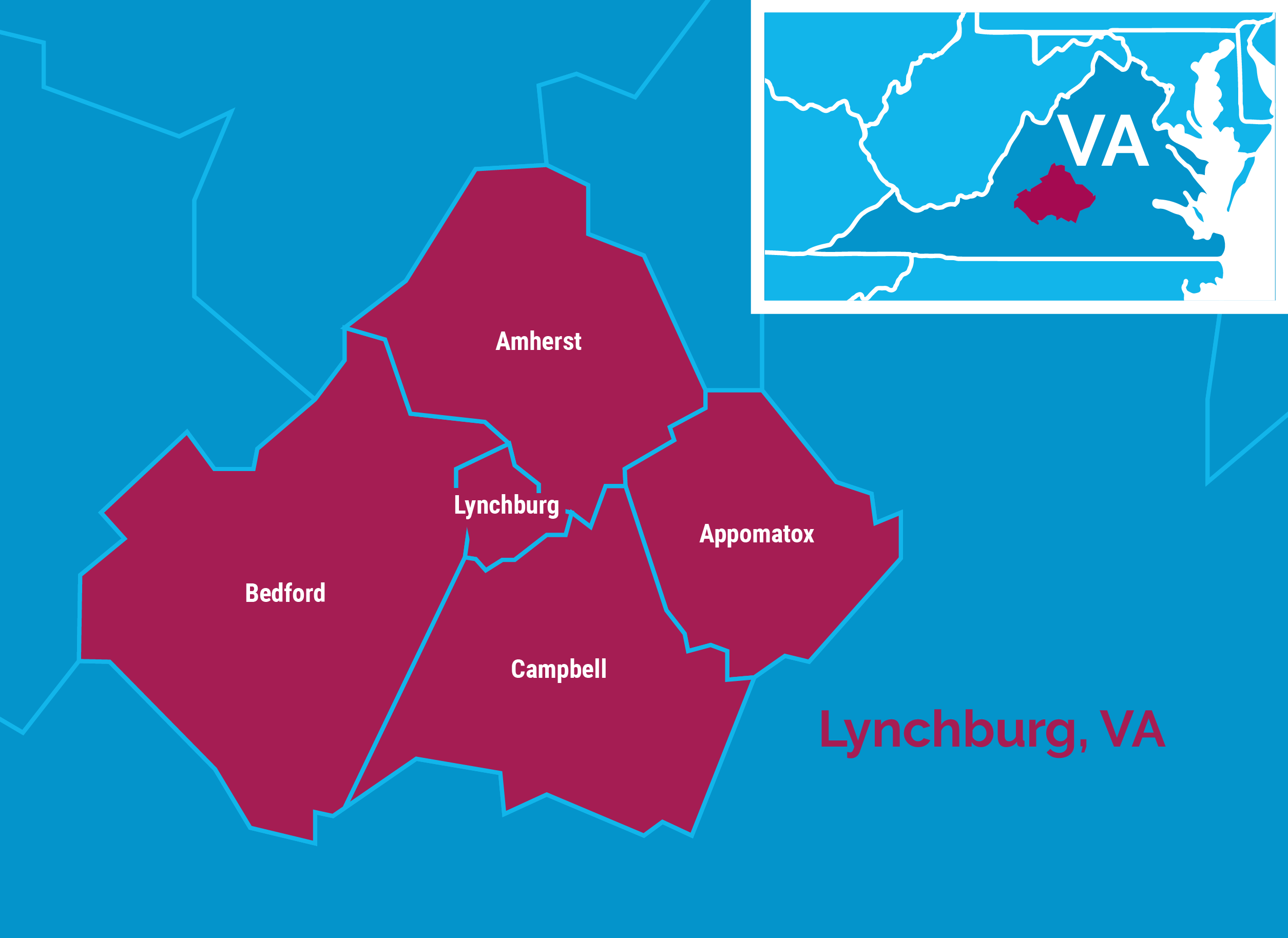 Cities: 1
Counties: 4
Total Population: 261,214
---
USING DATA TO UNDERSTAND VETERAN HOMELESSNESS
The Lynchburg community's journey to functional zero began with a priority on veterans and a more comprehensive understanding of all who were experiencing homelessness. In January 2019, veteran housing providers began to enter information about the people they were serving into a shared data system, known as the Homeless Management Information System (HMIS).
"We really started to tighten up our understanding of who was homeless in the community and what needed to happen to get them into housing," Fuentes said. "It was a game changer."
Every week, since September 2019, you can find all key partners and agencies working together to end veteran homelessness, one person at a time. They use these case conferencing meetings, called their Veteran Huddle, to go through their by-name list, a real-time, person-specific list of every veteran experiencing homelessness in their geography.
"With better communication, we've had an idea of who is out there and what the flow through the system is like," Quarantotto said. "And honestly, we were initially surprised to see the numbers of veterans in our system — it was much higher than we had anticipated."
DRIVING TOWARD FUNCTIONAL ZERO, TOGETHER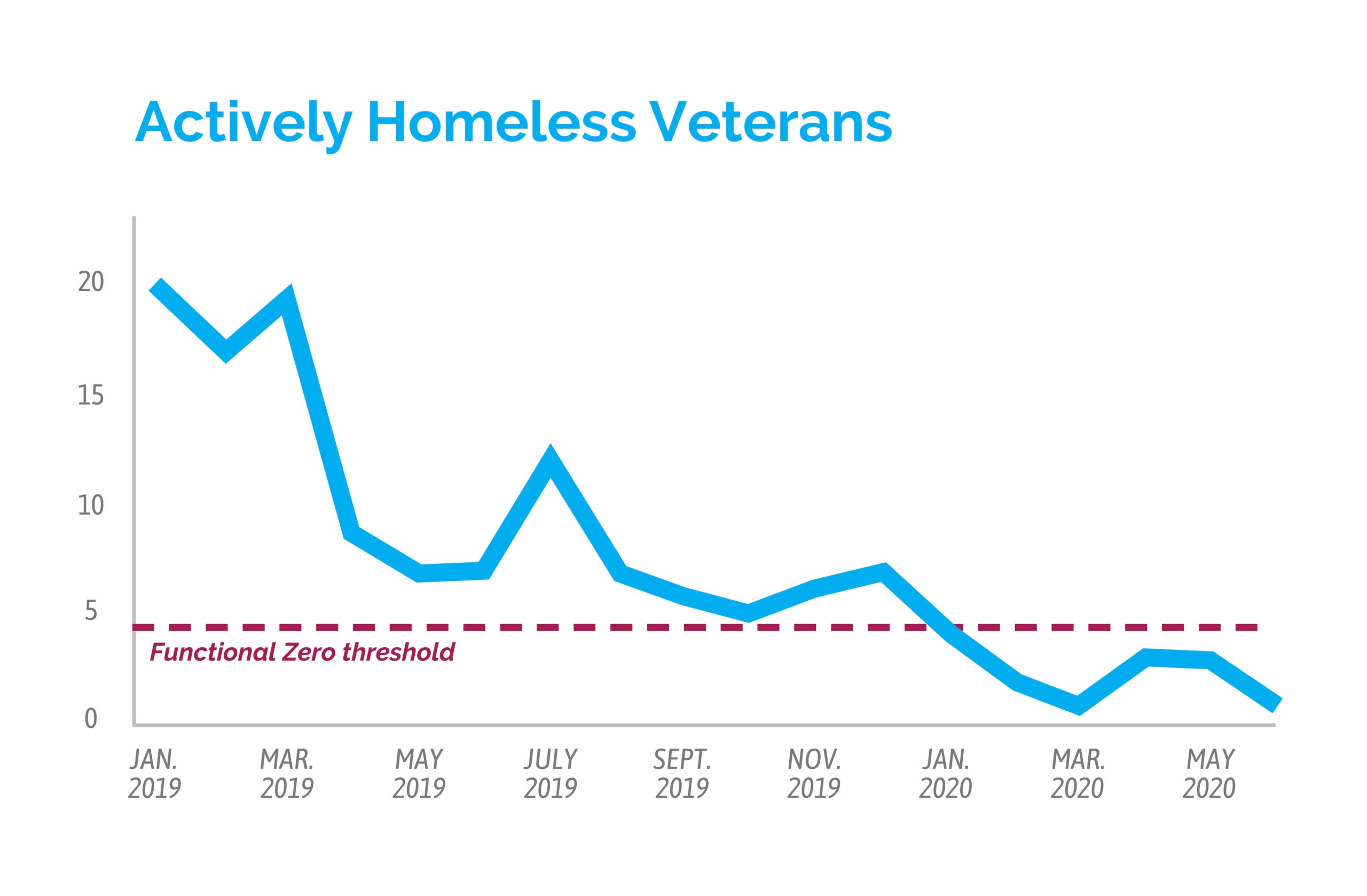 Through those meetings, the Lynchburg community was able to tackle those numbers and reduce them, one person at a time.
The team set target dates to move veterans into housing, the number of veterans they wanted to house that month, and continued to make progress toward those goals. This work of systematically helping individuals — and driving the overall number of people experiencing homelessness down — required collaboration from the various actors working to serve veterans in their community. This included people from the local veteran council, employment specialists, providers from nonprofit organizations, and staff from different agencies.
"This professionalism was important for demonstrating that we had the right intentions, the right data, and that we were committed for the long run," Quarantotto said. "Through these weekly veteran huddles, the veteran council could see our success and were quick to come on board."
These partnerships unlocked new opportunities. Through the veteran huddle meetings, the group realized that many veterans couldn't afford an entire apartment on their limited benefits. With that information, the veteran council decided to rent a house and rent out the three bedrooms to veterans experiencing homelessness.
"We could create solutions as a team," Fuentes said.
LOOKING AHEAD
Any community knows that the work of achieving an end to a dynamic problem like homelessness is continual. As cities and counties grapple with this crisis in the midst of a global pandemic, they are particularly aware of the challenging road ahead.
In Lynchburg, the pandemic has disrupted their everyday practice, and seeded concerns about the impact on immediate and longer term homelessness in their community. Like other communities, they are concerned about the expected surge of new homelessness due to economic consequences of COVID-19, as well as impacts of eviction moratoria being lifted across the country. These expiring bans on eviction were put in place by the federal government, as well as many states and cities, to protect renters from losing their homes.
"We're very aware of the potential impact that COVID-19's fall out will have on all of our populations experiencing homelessness," Quarantotto said. "Our last recession resulted in increased inflow into homelessness and we're hopeful that we have learned lessons over the years to prevent this occurring again."
Reaching functional zero indicates what is possible, but it's not a finish line. The Lynchburg community will continue to strengthen their system of homelessness response to ensure they can sustain an end to veteran homelessness, as they also focus on ending chronic homelessness.
"We are grateful for the collaboration of our community partners and for the support provided through Community Solutions that has helped us achieve the goal of reaching functional zero for our homeless veterans," Quarantotto said. "It has provided the template to duplicate this for all of our homeless neighbors."
---
Community Solutions is grateful for Cassiopeia and its generous support for communities in Virginia participating in Built for Zero.