Adam Holmes proudly served in the U.S. army from 2003 to 2006, serving in Afghanistan. Prior to that time, he had worked as a Senior IT Network Engineer. After finishing his service, he experienced a series of hardships, which led to battles with health issues, ensnarement in the criminal justice system, and challenges finding employment.
As he struggled to find the support he needed, he stayed on his friend's couch. Within a month, he found himself experiencing homelessness.
"I didn't know where to go," he said.
With the support of the Lynchburg community, he now has a home. He goes to the gym twice a day, and has enough money to pay all his rent and groceries. He is able to call his parents two to three times a day.
"The best thing about having my new place is that I have a bed to sleep in," he said. "I have my freedom now."
---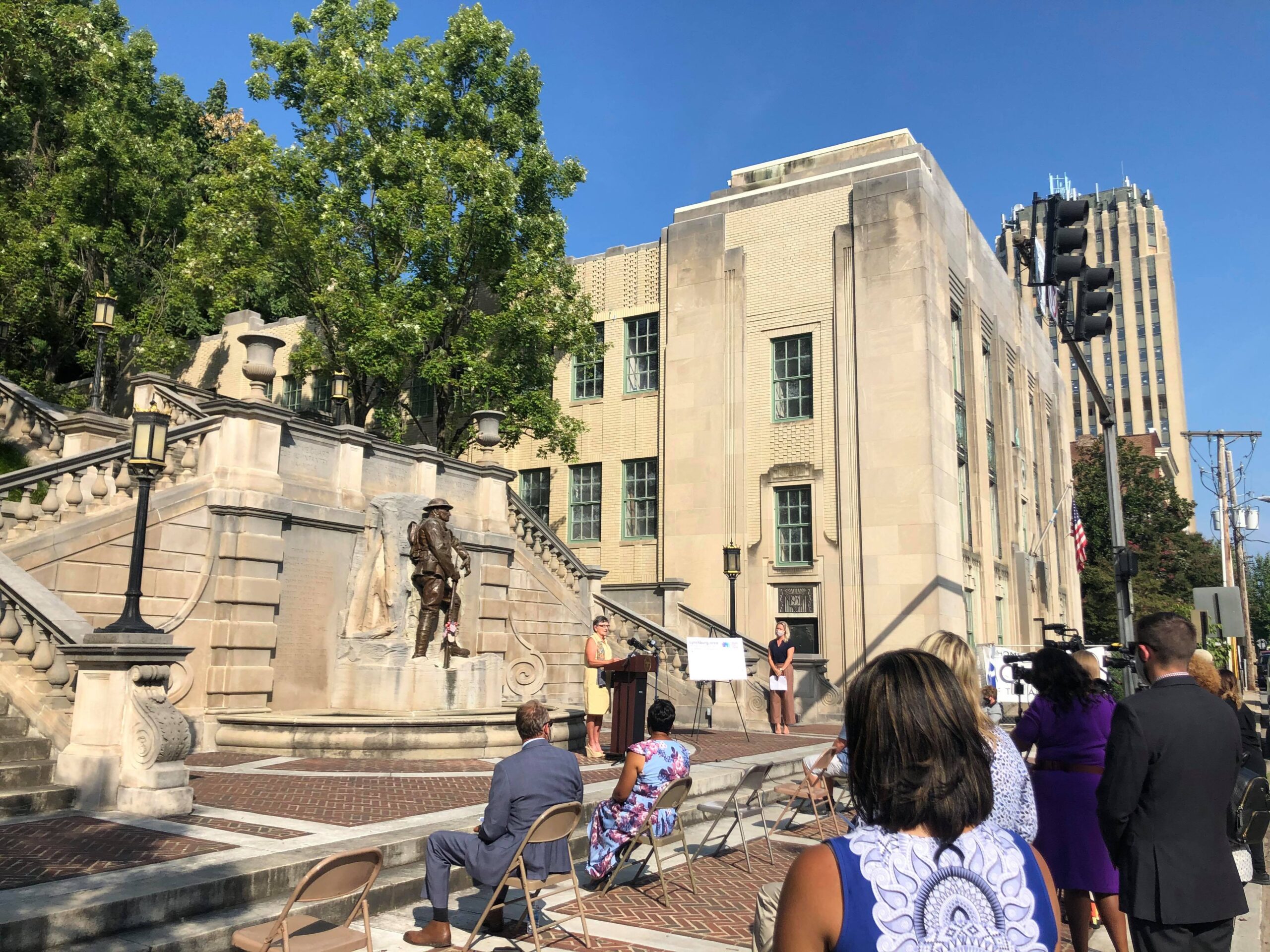 Holmes was just one of 20 people in attendance at a socially distanced press conference to celebrate the announcement that Lynchburg, Virginia, had reached functional zero for veteran homelessness.
"Our veterans, those who have dedicated their lives to our country, are an integral part of our community," said Sarah Quarantotto, Executive Director of Miriam's House. "They are our family members, co-workers, and neighbors. And ensuring they have a safe place to call home is one of the ways we can honor their service."
The community reached the milestone, demonstrating that they have fewer veterans experiencing homelessness than can be housed in a month, in February. At the time of the announcement, the community had managed to sustain this milestone for six months, despite the COVID-19 pandemic.
Though homelessness has always been a matter of life and death, the COVID-19 pandemic has underscored this reality in a more stark and urgent way than ever before. And in even greater threat to vulnerable populations, the pandemic is poised to drive an unprecedented surge in new homelessness.
"We understand it will be critical for us to continue working together to sustain this progress in the face of this global pandemic," said Lynchburg Mayor MaryJane Dolan.
The community has taken anonymity out of homelessness. And in the face of COVID-19, creating a system that can identify veterans experiencing homelessness, by name and in real time is as critical as ever. By reaching functional zero, the Central Virginia Continuum of Care, led by Lynchburg-based Miriam's House, has built a data-driven system that can keep homelessness rare and brief when it occurs. In total, it took the collaboration of 32 area organizations to achieve this milestone.
"Leading this effort, Miriam's House and the Central Virginia Continuum of Care have made great strides," wrote U.S. Senator for Virginia Mark Warner. "Using real time data and collaboration with other community organizations, they've ensured that veterans who do experience homelessness have the support and resources they need to be housed quickly."
---
This milestone built upon an achievement from 2015, when the United States Interagency Council on Homelessness (USICH) designated Virginia for ending veteran homelessness.
"Ending homelessness is not a one-time effort," said Matt Leslie, Assistance Director at the Virginia Department of Veterans Services. "It requires vigilance to sustain the work…I know how hard this work is, and I don't think it's ever been harder than it is now."
With historic rates of unemployment and eviction moratoria lifting across the country, Lynchburg is readying itself to address a massive inflow into homelessness. But with a system that has proven to promptly identify and support veterans, the Lynchburg-area team plans to protect its progress on veteran homelessness while expanding their efforts to end homelessness for their most vulnerable neighbors.
"While achieving this milestone is definitely an accomplishment to celebrate…it is not the end of our journey," said Tab Robertson, the Board Chair of the Central Virginia Continuum of Care. "Our journey does continue, as our focus moves to solving chronic homelessness.
It is only through our work together through our community that we can reach this journey's end."
Watch the Press Conference
Part 1
Part 2