Homelessness is an experience that can look completely different from person to person, and it isn't confined by geographic boundaries.
At a recent convening of Metro Denver elected officials and community partners, Missy Mish of the Veterans Affairs (VA) Eastern Colorado Health Care System shared a story about how one Colorado family's housing instability took them all across the region. A veteran, his wife, and their young son were living in Brighton, CO for 10 years before they both lost their jobs in a short period of time and fell into homelessness. After moving in with their mother-in-law in a different city, Broomfield, for one year, they ended up couch surfing across the entire region before they were connected to housing by the Denver community.
The story underscores how the homeless response system should be built around the experience of an unhoused person, and the power of Denver's regional, data-driven system of support to identify and connect everybody back to housing.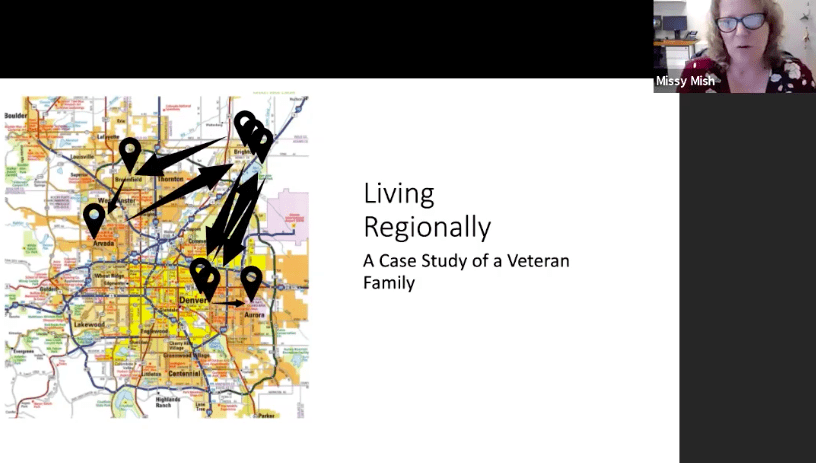 On March 18, Metro Denver Homeless Initiative joined Built for Zero, the Colorado Department of Local Affairs, VA, and elected officials across the seven-county Metro-Denver region to discuss regional coordination on homelessness. Focusing on the role of local coordination and maximizing resources, the region is using Built for Zero's framework to address homelessness.
"The more we act unilaterally, the more we are wasting valuable resources." said Denver Mayor Michael B. Hancock. "Coming together collaboratively as a region gives us the opportunity to be more efficient with the limited resources we have, whether it is the services we need to use to connect people to have their needs addressed, or housing."
An Operating System Built to End Homelessness
Metro Denver is one of the 84 communities working to end homelessness as part of Built for Zero.
"To be accountable for this problem, it takes more than just resources. It takes an operating system in your community for ending homelessness across your entire community or region," said Jake Maguire, Co-Director of Built for Zero.
This operating system consists of five critical components communities like Metro Denver are using to measurably reduce and end homelessness at the population-level:
Shared, measurable aim
Nimble command center team
Menu of proven technical strategies
Rapid, by-name feedback loop
Flexible housing + service resources
A Regional, Data-Driven Approach
"Falling into homelessness comes down to one simple fact: how far you have to fall."

Dr. Jamie Rife, metro denver homeless initiative
Communities need by-name data on everybody experiencing homelessness in their region in order to solve housing crises efficiently as a team and in real time.
John Giles, Mayor of Mesa, Arizona offered insights from another Built for Zero city. One critical key the Mesa team used to reduce veteran homelessness by 15% across the Phoenix metro region? Shared, person-specific data.
But it's not just about numbers. Dr. Jamie Rife of Metro Denver Homeless Initiative emphasized the importance of the lived experience and unique stories behind each piece of data.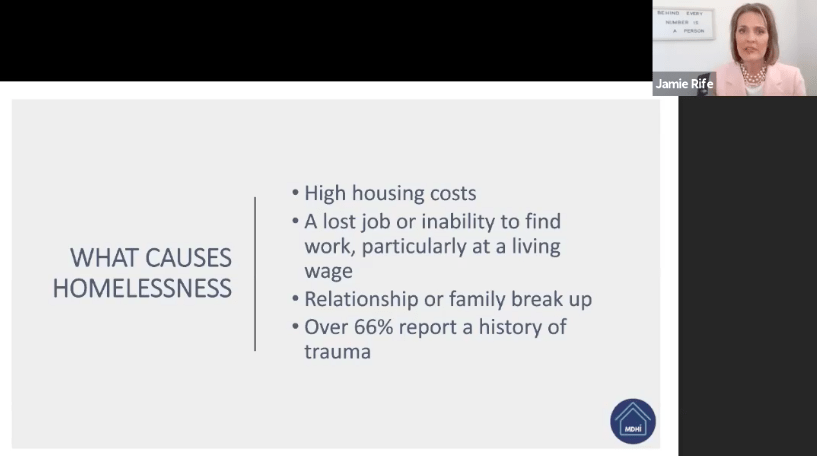 "Falling into homelessness comes down to one simple fact: how far you have to fall," said Rife, who has experienced homelessness herself.
Rife explained that homelessness isn't a choice or a personal failing — it's the result of larger forces, like structural racism, a history of trauma, or economic inequality.
"We are individuals with different barriers, different journeys, and different needs. I can also tell you that homelessness is not a choice. It's not the result of our mistakes, or our personal flaws."
Because no one's experience navigating the homeless response system is the same, communities must be equipped with coordinated, data-driven systems to ensure equitable outcomes for our most vulnerable neighbors. It takes a regional approach to make sure no one falls through the cracks of the homeless response system.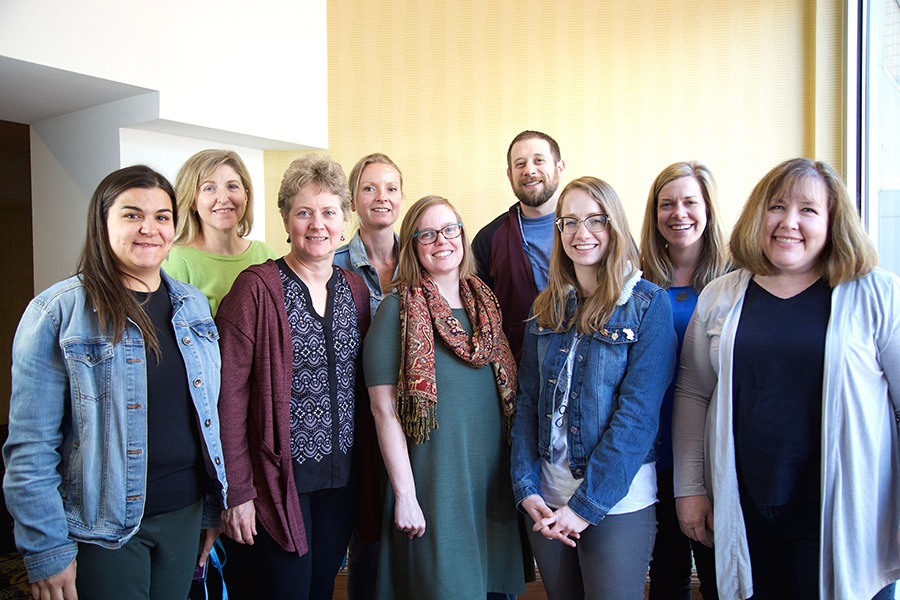 "We want to create a future [where homelessness] is rare and brief, and that when it occurs, no one is left behind. Because that safety net is so strong between our systems that we can support people in times of crisis."
– Alison George, Colorado Department of Local Affairs
A Shared Pledge to End Homelessness
Rebecca Mayer and Matt Meyer of the Metro Denver Homeless Initiative also joined to discuss the power of a collaborative system that brings together a region to work on ending homelessness together.
"We want to create an ongoing and engaged feedback loop," Meyer said, referring to the shared, real-time data a region must use in order to quickly track and test strategies that reduce homelessness together.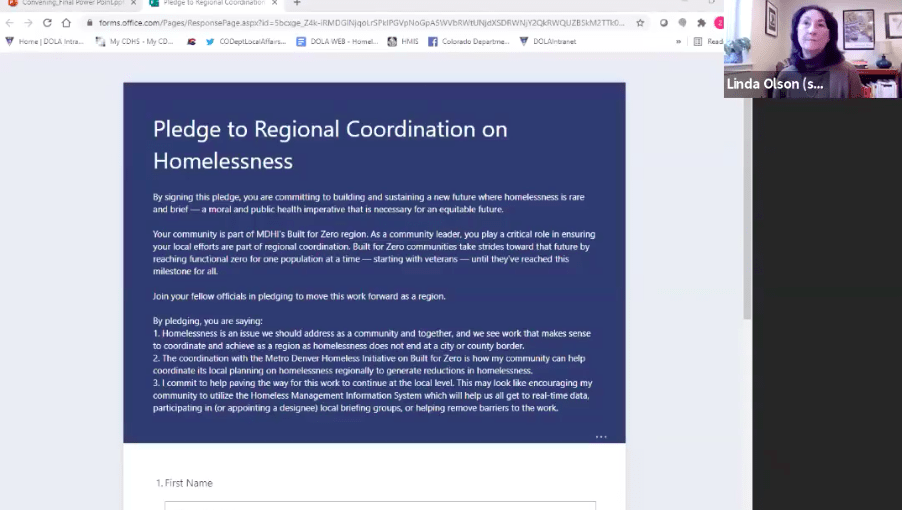 Mayor Linda Olson of Englewood, located in one of six counties across the Metro Denver region, introduced the #MetroDenverPledge. It's a pledge communities could sign on to signify their commitment to building and sustaining a new future where homelessness is rare and brief. It's also a moral and public health imperative necessary for an equitable future, and a mission that will require what she calls "radical collaboration."
"All of us have to come to the table to make it work." Olson said. "And the complicated nature of it is that we need various voices at the table in order to solve it well together."