Will Dawson is a Colorado resident, father, grandfather, Air Force veteran — and someone who has experienced homelessness. Today, he is a resident at Abrigo Apartments, a building supported by Community Solutions. This Veterans Day, the power of his story inspired an unexpected surprise that touched him and 34 veterans.
"It was a challenge. A lot of valleys. A lot of hills," he told them. "But if you've got no one else but yourself, you gotta keep going."
Word of what he's been through — and his commitment to supporting other veterans — reached The Home Depot Foundation, a partner of Community Solutions for nearly a decade. On Tuesday, the day before Veterans Day, they asked him to join a call.
"We were so inspired by your story," said Erica Headlee, Manager of Programs at The Home Depot Foundation. "We wanted to pay your rent for the month of December as a thank you."
He was shocked, but said that the most meaningful announcement for him came just moments later.
"We were so moved by your passion to support your fellow veterans, that we decided to pay the rent for all your fellow veterans [living at Abrigo] for the month of December," she said. "It's the least we can do."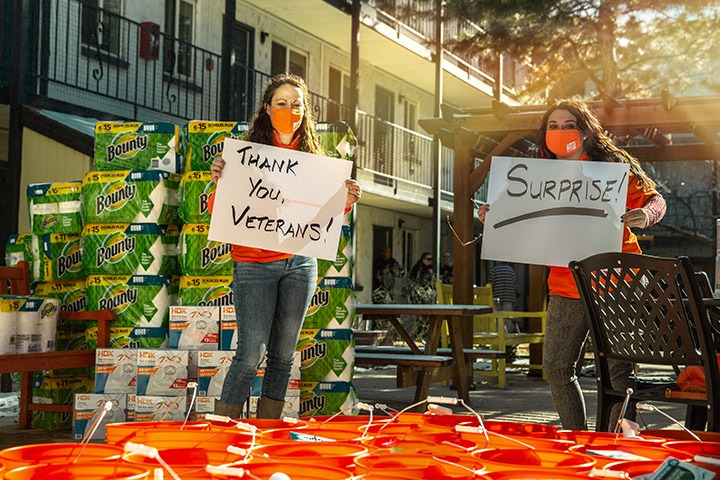 Hours later, residents of Abrigo Apartments — half of whom are veterans — welcomed special visitors to their courtyard in Aurora, Colorado, just outside Denver. As a part of this year's "Operation Surprise" service campaign, Team Depot volunteer associates from across Metro Denver made a socially-distanced visit to Abrigo to deliver the announcement.
"I couldn't think of a better way to celebrate Veterans Day." Dawson said. "So many need it, especially around the holidays."
All Abrigo residents also received a gift of specially-packaged "care kits" with over $100 worth of home improvement essentials and supplies.
"Last year, as part of our service campaign Operation Surprise, Team Depot volunteer associates donated their time and sweat equity to enhance Abrigo's courtyard and exterior landscaping," Headlee said. "We are invested in the success of those living at Abrigo and honored to have returned this year to share rental assistance with the veterans living onsite and home care kits with all residents."
"These are my brothers," he said. "Regardless of what they're going through, they're still veterans. They were there for America when it needed us, now America should be there for us."
---
The Home Depot Foundation works to improve the homes and lives of U.S. veterans through their commitment to end veteran homelessness. The foundation has supported the work of Community Solution since 2011 and invested more than $350 million in support of veterans in need.