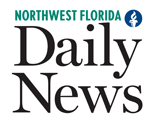 It's 7 p.m. in an empty lot across from First Baptist Church Thursday. Dozens of people crowd around the fire pit, hands shoved deep into the pockets of their coats.
To the right, there's a line of volunteers pouring soup into Styrofoam bowls and stirring small cups of coffee. It looks like a party. Some people are laughing and even snapping pictures.
It's a Fort Walton Beach Chamber of Commerce event – yes – but one that requires warm jackets, not green ones.
About 40 people participated in the One Hopeful Night fundraiser, which involved 12 hours of living as a homeless person. Participants were required to sleep outside on a slab of cardboard or pay extra money for luxuries such as sleeping bags or opting to sleep in your own car. Proceeds went to One Hopeful Place, the long-awaited homeless shelter project from the local non-profit Community Solutions.
"Twenty percent of the homeless are working people who may have to sleep in their cars and go to work the next morning, that's what we want to replicate tonight," says Ted Corcoran, director at large of Community Solutions and president of the chamber.