Homelessness is solvable. Our nation's progress in reducing veteran homelessness is a testament to our ability to make homelessness rare and brief for entire populations.
---
Proof that solving veteran homelessness is possible
Boulder, Colorado, has reached quality data for veteran homelessness.
---
Detroit reduced veteran homelessness by 50%.
---
Nevada County, California, is in the last mile of ending veteran homelessness.
---
Fremont County, Colorado, has achieved functional zero for veteran homelessness.
---
Abilene, Texas, has reached functional zero for veteran homelessness.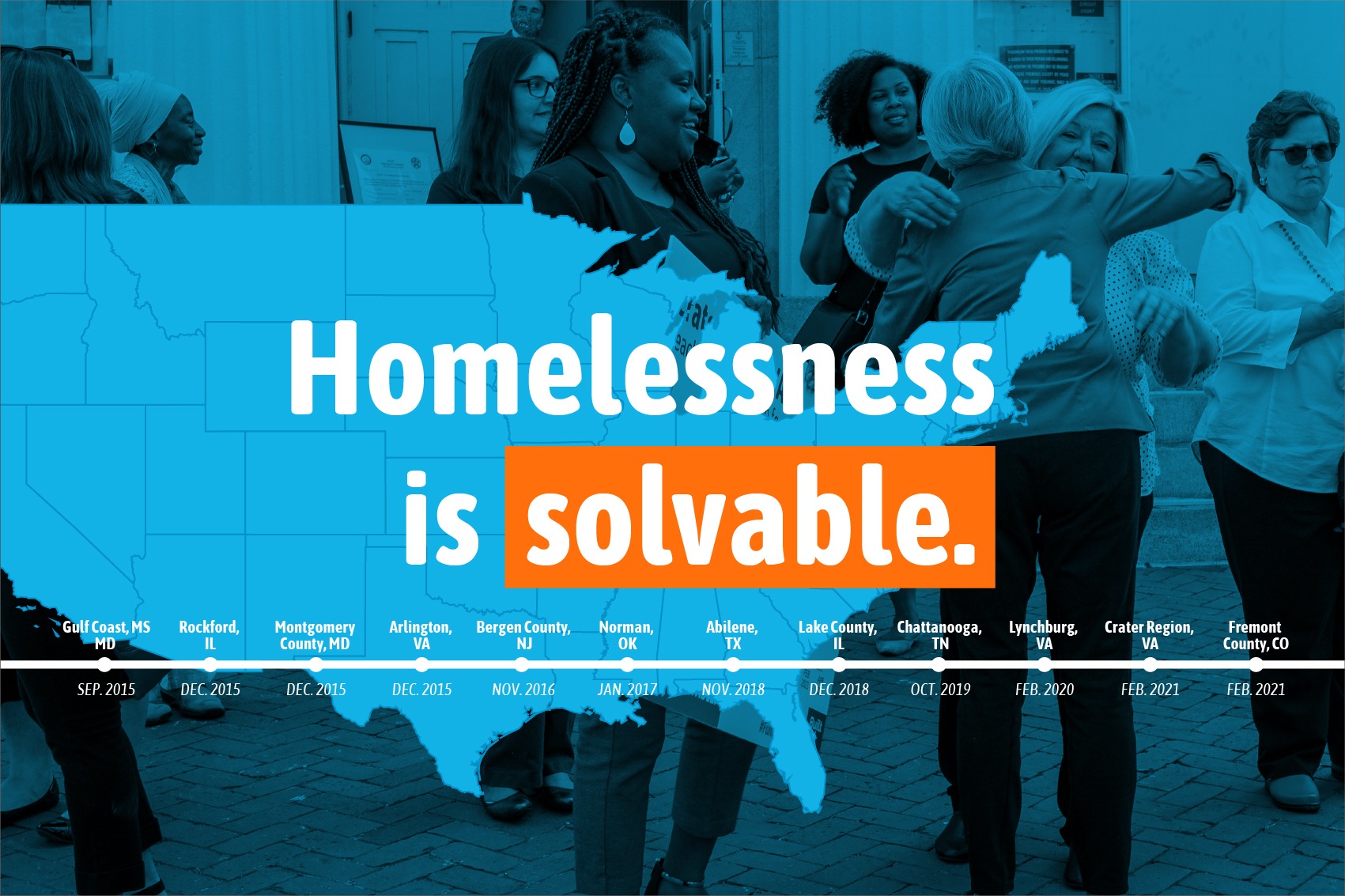 PRESS RELEASE
12 communities prove it's possible to solve veteran homelessness
These communities have reached a standard for making veteran homelessness rare and brief, known as functional zero.
How reaching functional zero for veteran homelessness benefits the whole community
Achieving functional zero benefits entire communities. From the homelessness response system, to health care, criminal legal, and emergency, driving homelessness to zero supports collective wellness and stability.
In Bergen and Lake Counties, data showed that after functional zero, fewer people entered homelessness for the first time, people spent a shorter time homeless on average, and fewer people returned to homelessness after exiting to permanent housing.
In Montgomery County, organizations are leveraging their budgets while in alignment with service partners. Coordinating across systems enabled a shared understanding of goals, values, and metrics.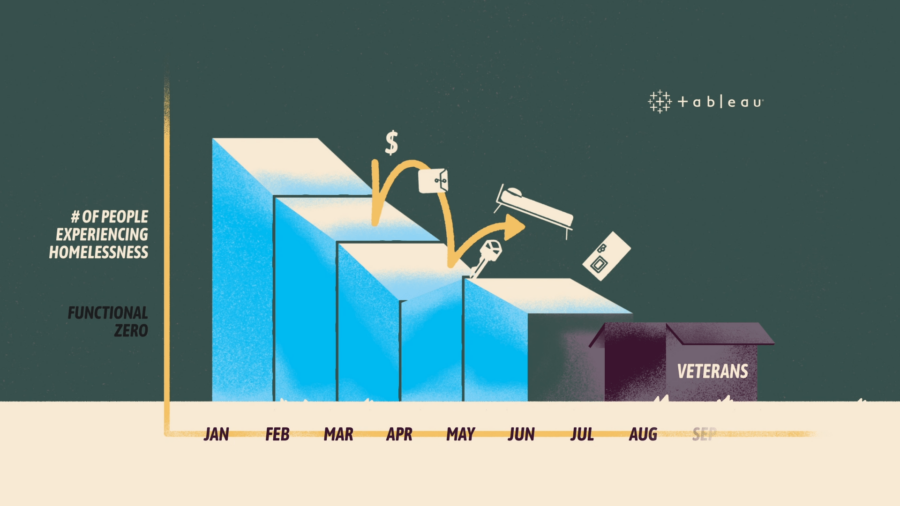 Communities are driving real estate innovations to reduce veteran homelessness.
These efforts include converting temporary shelter into permanent housing and expanding access to affordable housing in partnership with social impact investors.
Meet Raymond, a veteran tenant in Nashville.
Recently, Community Solutions purchased Glastonbury Woods apartments and dedicated half of the 144 units to housing veterans exiting out of homelessness. The property is linked to the local Nashville and Davidson County homeless response system, to ensure that units go to those who need them to escape homelessness.
This is the story of one veteran who lives there.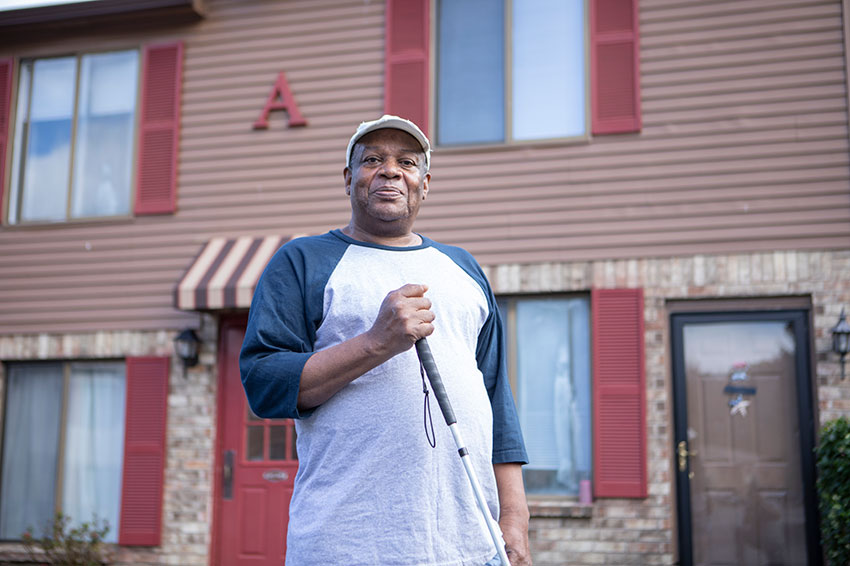 ---
D.C. Property Converts to Permanent Affordable Housing to Help End Veteran Homelessness
The Chesapeake Health Education Program, Inc. is converting temporary housing for veterans in D.C. into permanent housing, allowing them to help even more veterans exit homelessness and quickly achieve housing stability.
As part of the Built for Zero movement, Washington, D.C. is dedicated to reducing veteran homelessness toward functional zero. Since working with Built for Zero, the community has decreased veteran homelessness by nearly 50% and are working toward reaching functional zero in the coming years.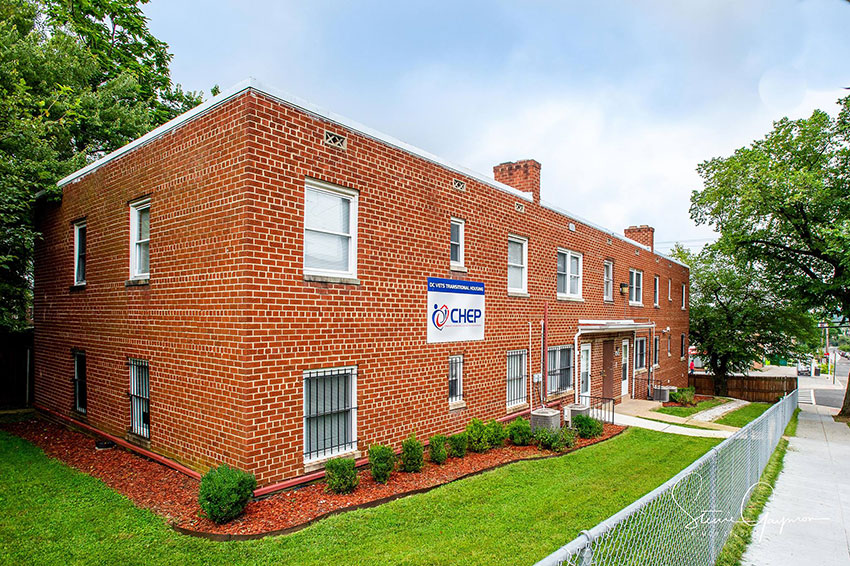 Homeless Resource Locator Connects Users with Service Providers Across the U.S.
The tool responds to a demonstrated need amongst veterans and other people experiencing homelessness in locating their nearest homeless service provider.
Community Solutions and the Rocket Community Fund have launched the Homeless Resource Locator, a searchable, user- and accessibility-focused map developed to help people experiencing homelessness quickly and easily locate contact information for their nearest homeless service provider.
This new tool, which is available on Community Solutions' website and linked to the U.S. Department of Veterans Affairs' website, utilizes the power of Google Maps to visually display the names and contact information of more than 900 homeless service providers across all 50 states.
📣 Use your voice | Social media toolkit
Built For Zero communities are proving that a future where homelessness is rare and brief is within reach.
This Veterans Day, we're calling attention to the urgent matter of veteran homelessness. Help us spread the message.
If you have any questions about this toolkit, please contact kstasa@community.solutions.
Graphics
Download the graphics below and include them in your posts
Social Copy
Please include the included links in all posts. If you choose to develop your own messaging, please include the hashtag #VeteransDay, #HomelessnessIsSolvable and/or tag @cmtysolutions or @BuiltForZero. Please feel free to tag other partners.
TWITTER
FACEBOOK
We want to thank and celebrate our Built for Zero communities across the country who are endeavoring each day to make veteran homelessness rare and brief.
Through this commitment to ending veteran homelessness, Built for Zero leaders work to improve their homeless response systems so they can quickly and stably help veterans secure permanent housing. Reaching functional zero for veteran homelessness would not be possible without our invaluable partnerships with the U.S. Department of Veterans Affairs and other government agencies.
We are grateful to all of our Built for Zero community members and leaders, many of whom are veterans themselves, for their dedication to supporting and housing the brave people who have served in our armed forces.